Discussion Starter
•
#1
•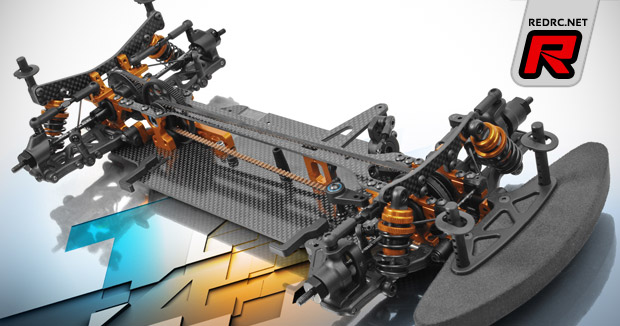 We didn't have to wait long for the full details on the new Xray T4, following the teaser we published earlier today, with the Slovakian company releasing the complete product details and images of their new touring car. The goal of the new car was to get it as low as possible, lighter and with the most optimum and even flex characteristics. While it is a completely new car the T4 all about refinement and attention to detail.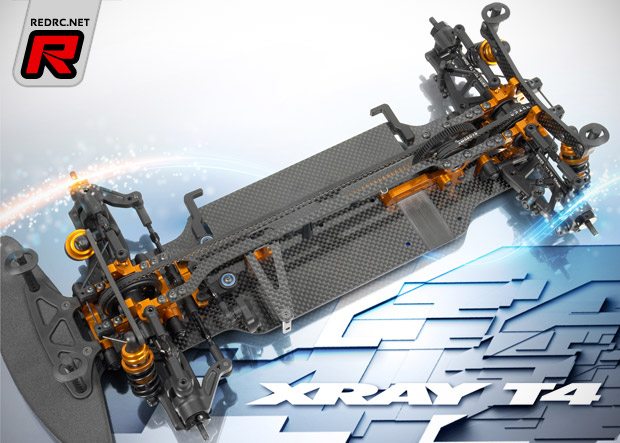 All-new T4 Features in Detail:
- Completely redesigned all-new T4 platform
- Designed for highest performance at all levels of racing, with specific attention paid to the smallest details
- New thinner 2.2mm graphite chassis designed for increased traction, steering, stability, and improved cornering speed
- New graphite top deck for increased in-corner steering and traction
- New super low profile shock towers to lower the CG and improve stability of the car
- New SLP (super low profile) aluminium shocks to further lower the CG and improve stability of the car
- New 4S shock springs developed & designed for the new SLP shocks
- New bulkheads, lightened and strategically placed closer to the center of the chassis to provide more steering and traction for the car
- New super low profile motor mount machined separately from layshaft bulkheads and featuring a new tweak free mounting system
- New upper bulkhead clamps designed for the new super narrow placement of the bulkheads
- New redesigned front alu lower suspension holder designed for easier access for Ackermann adjustments
- New rear alu lower suspension holders, redesigned for increased durability and moved closer to the chassis centerline to increase steering
- New alu steering plate for dual arm steering system with central mounting of the steering linkage
- New servo mounting system for improved balance and for elimination of unwanted tweak
- New servo saver with additional positions for servo linkage mounting
- New anti roll bars revised to fit super narrow bulkheads
- New rear uprights from hard material for increased stability of the car
- New composite hubs for differentials to fit super narrow bulkheads
- New front body mounts shortened to lower CG
- New low profile foam bumper to lower CG
- New race tested and tuned shock positions
- New rear 50mm drive shafts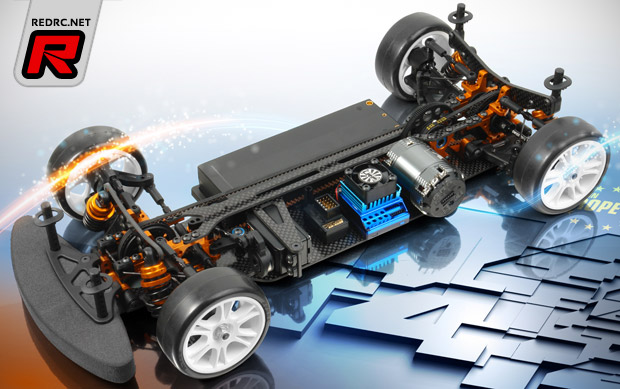 Main Features:
- New T4 platform is the next evolution of the hugely successful T3 platform
- Chassis designed to provide maximum traction and steering
- Chassis specifically designed for the newer generation of heavier electronics and batteries
- Redesigned top deck for super narrow bulkheads, providing more rear traction and in-corner steering
- SLP aluminium shocks have been shortened by more than 7mm to provide maximum stability under all track conditions while reducing traction roll under high traction conditions
- C2.7 front and C2.3-2.6 rear progressive springs are shortened to fit new SLP shocks and the spring rates have been optimized to provide maximum steering and traction
- 3mm thick graphite shock towers shortened by 15mm to maximally lower the CG
- Completely redesigned bulkheads have been lightened and the mounting system has been revised to provide maximum traction, steering and stability
- Motor mount bulkhead features the lowest possible motor position, compatible with all standard brushless motors
- Unique super light and low profile motor mount is designed to lower CG, eliminate tweak and move the motor 3mm closer to the centerline of the chassis
- Rear suspension holders positioned towards the centerline result in narrower rear track-width* for more in-corner steering
- Servo mount allows the servo to be suspended near the chassis centerline, providing better balance while eliminating tweak and allowing for additional traction
- Alu steering plate for dual arm steering system servo linkage to be mounted in the center of the plate, providing quicker direction changes while mechanically limiting steering throw for smoother steering characteristics
- Servo saver with extra hole for new steering linkage mount positions
- Steering is isolated from chassis flex, ensuring tweak-independent steering for super precise and constant steering characteristics
- Narrower anti-roll bar wires designed to fit the new super-narrow bulkheads
- Super low profile front bumper made from lightweight, high-resilience foam
- Included harder rear uprights for increased stability
- LiPo-specific composite battery holders prevent batteries from moving in crashes
- Suspension holder system allows suspension arms to be mounted independently from diff bulkheads allowing for elongated chassis flex to generate more traction
- Independent suspension holders allow for more precise and fine set-up adjustments via different-thickness shims
- Hard front steering blocks increase steering response while decreasing front tire overheating in high-traction conditions
- aluminium rear suspension holders feature integrated toe-in
- 38/20T (1.9) internal gearing for efficient drivetrain and highest performance
- Lightweight black-anodized Swiss 7075 T6 aluminium turnbuckles
- Super-lightweight Swiss 7075 T6 aluminium rear drive shafts, hard-anodized, color-coated and laser-engraved, 38% lighter than standard drive shafts
- Super-light drive axles with 35% less rotating mass
- Super-smooth, super-light maintenance-free composite gear differential
- Centered layshaft and split bulkheads provide enhanced balance due to optimum weight distribution of the motor towards centerline, giving quicker left-right transitions
- Super-light composite front Solid Axle with Xray's own smart quick-change outdrive system for easy outdrive exchange; no servicing or replacement of drive shaft blades needed, translates into reduced servicing costs
- Independent front and rear diff height adjustment and belt tension adjustment in both front and rear bulkheads
- Long front & rear suspension arms for improved traction and easier handling featuring ideal shock mounting positions
- Suspension arms feature integrated anti-roll bar mounts; rear arms feature 3 different anti-roll bar mounts for super-fine adjustment of the rear anti-roll bar
- Includes both front and rear anti-roll bars (front 1.4mm & rear 1.2mm)
- C-hubs with large openings for quick and easy assembly/disassembly of the CVDs; prevents collision of CVD with C-hub in serious crashes (compatible with the ECS drive shafts)
- C-hubs available in standard caster angles (2°, 4°, 6°); available in two hardnesses (M – medium, H – hard)
- Rear uprights with integrated 0° toe-in prevent suspension geometry changes in serious crashes; available in two hardnesses (M – medium, H – hard)
- Steering blocks available in two hardnesses (M – medium, H – hard)
- 84T 48P spur gear* – extra-hard material, wobble-free design
- Orange-anodized aluminium parts for stylish and distinctive look
- Reduced sensitivity to changing track conditions, giving super-consistent performance during runs
- EFRA, ROAR, FEMCA spec compliant for modified and stock racing
- Designed specifically for LiPo batteries and brushless motors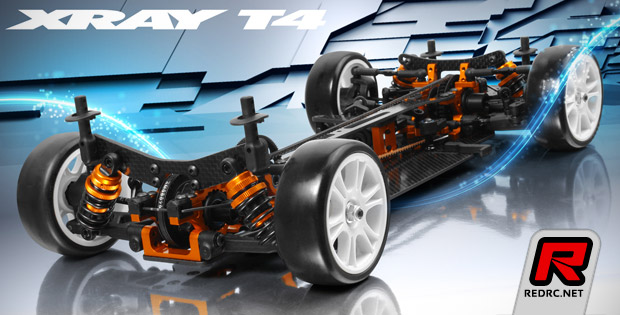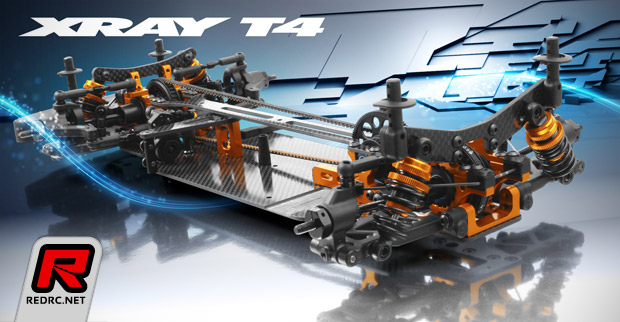 Source: Xray [teamxray.com]
More...