Discussion Starter
•
#1
•
Wow, I thought I had lost these pictures. I used to work for a company named Cormans and Associates who built large displays for companies and clients. I won't get into details about everything they did, but I use to work in their airbrush dept., then their finish dept. and finally their art dept. I would scarf all the leftover peices of this and that and bring them home. I got the idea that I wanted to try and build a large Seaview. This was 1997 and there was no sign there would ever be another Seaview kit other than the Lunar Models version which I just could not afford. I might add this was done from memory as I did not have many pics to go by. I know the manta fins are larger than they should be but hey not bad for memory specs. So here is what I used.(Please do not laugh at this list of parts!
)
I used yellow carving foam leftovers and shaped the front manta fins and nose of the sub, the upper and lower fins as well as the engine pods and upper ballast housing, the conning tower and dive plane fins.
The missle hatches are large furniture tack glides and the escape hatches were the metal washer rings from old spray guns that didn't work.
The lenght of the body was a PVC pipe which was heavy. all this was assembled together with fiberglass resin, bondo, and super glue. then painted and black bumper sticker material was cut down for the windows and limber vent holes. here are the shots I have found so far. One is a shot almost completed and the other is completed in the same spot. the model was about 34" long.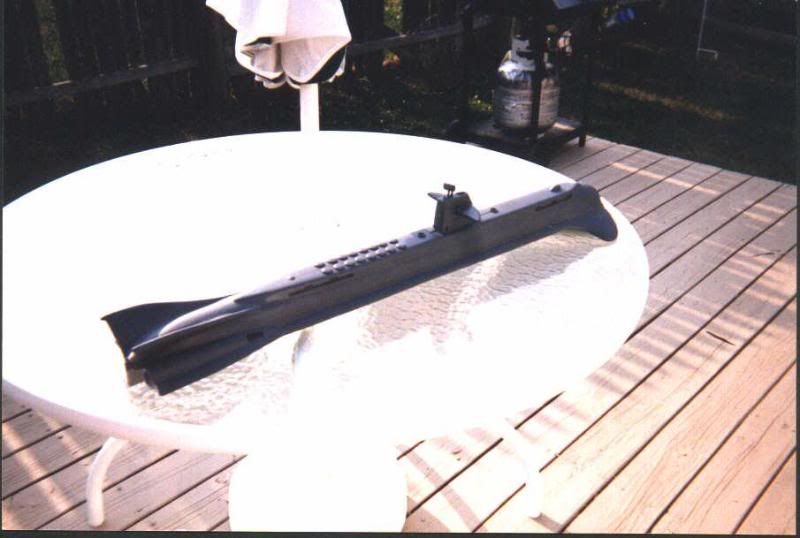 I later built the parts for a television version and sold this as a kit on ebay back in '98.