Discussion Starter
•
#1
•
Hi Guys
I thought I would start a thread on using the very small SMD (Surface Mount Device) LED chips for modeling.
LEDs often scare people and these teeny tiny ones can be especially daunting, but they are not too difficult to use and can help create amazing models.
I don't claim to be an expert in this area so I encourage people to add to this thread with their hints and tips. And ask questions of course.
Lets go.
Here is an example of just some SMD LEDs with a standard 5mm LED as a reference.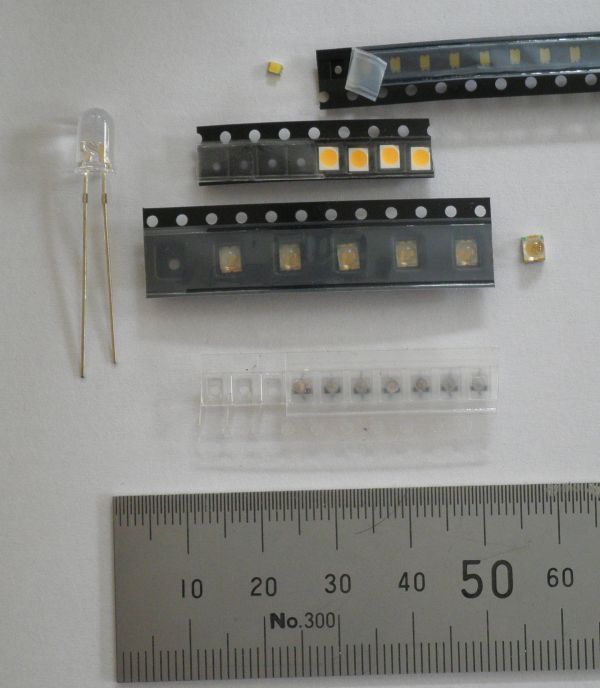 SMD LEDs are packaged in 'tape' form. This tape has containers for the LEDs and has a pull off retaining strip to stop them all falling out. (Sort of like a yogurt pottle, but a long line of connected pottles.) There are also sprocket holes down the length of the tape to enable automated machinery to accurately feed it.
SMD LED tape is designed to be loaded into 'Pick and Place' machines that automatically feed the tape through to a vacuum head that will remove the LED, orient it, and place it in the correct position on a printed circuit board that has solder paste applied. The printed circuit board will then head off to a 'reflow' oven where the solder paste is melted to solder the component down to the board.
The LEDs, as well as all other SMD components, are never touched by human hand.
Not so for us in the modeling world!
When you buy SMD LEDs from ebay, or other suppliers, you will typically receive a small length of tape containing your LEDs.
Size matters.
The size of an SMD LED is typically stated as a four digit number.
eg. 1206, 3216, 0805, 0603, 4040 etc etc
These numbers relate to the length and width of the LED.
And you must first identify if these measurements are in imperial or metric.
1206 = 0.12" x 0.06" (Each pair of numbers is 100th of an inch)
3216 = 3.2mm x 1.6mm (Each pair of numbers is millimetres times 10)
Eagle eyed readers will note that 1206 and 3216 is actually the same size.
Because we are not placing these LEDs on a board, we need to solder wires onto them.
Let the fun begin.
Really small LED's can be blown off your work bench with a sneeze, and like that small styrene part that was sitting beside it, you will never find it again.
My best tip is to use spring loaded pointy tweezers (Reverse action.) and pick up one of the LEDs so that its connection points are easily accessible.
Polarity
Your LEDs data sheet will tell you how to find which end of the LED is the anode (Positive) and cathode (Negative)
Some SMD LEDs have what looks like a squashed capital 'T' printed on their underside. The top of the 'T' is the anode and the bottom is the cathode.
Others may have a line or a dot close to one of the connections. This identifies the cathode.
Of course you can just connect it up to your power supply and see which way it lights up. (That's cheating.
)
Wire me up
Thin 'magnet wire' or 'wire wrap' wire is good to use. Any thin wire will do, but it has got to be thin enough to thread through your particular model.
Tin the end of the wire with solder. (Obviously strip any insulation off first.)
I like to apply a very small amount of flux paste onto the LED. This helps the solder stick and allows for a quick solder job so not too much heat is applied to the LED.
Put a small amount of solder on to your soldering iron tip. Hold your tinned wire in place on the LED (Secured in your tweezers.) with one hand. Touch the soldering iron on to the connection of where the wire meets the LED with your other hand.
Hopefully the flux will sizzle and the joint will be made.
Turn over your tweezers and repeat the process for the other side of the LED.
It does take a bit of practice but it is not that hard to achieve a good result.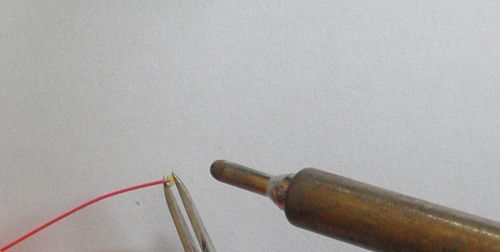 Now you have a teeny tiny LED with wires attached...
Time for mounting in your model??
Not quite!
Time to test it and make sure you can see the light.
Connect a power source to the wires you have soldered on.
Don't forget an appropriate dropping resistor!!!!
If you have not done so already, you may also like to identify the positive and negative wires.
Mount up!
The LEDs can just be glued directly into your model. I tend to use a clear epoxy glue to do this.
Sometimes placement of the LEDs can be critical so I often drill a hole in some styrene sheet, or a cut off piece of rod, and epoxy the LED into it. The hole needs to be just big enough for the raised head of the LED to fit into. Slop some epoxy over the LED and wire connections to secure it all in place.
Once dried, you can use your favorite plastic cement to attach it to your model.
Easy!
Here is a LED that has been glued into a styrene donut made from a cut piece of rod with hole drilled through. It will become one of the flood lights in the small Moebius Flying Sub model.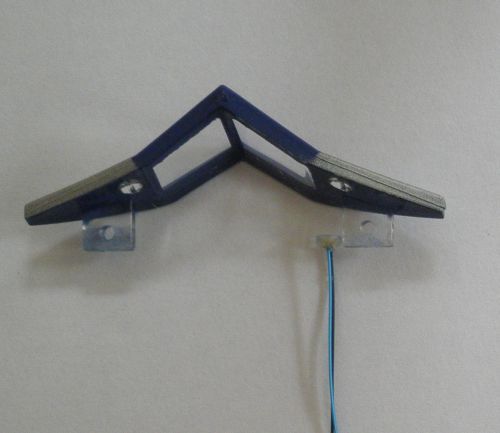 And just a word of advice. This applies to any bright LED. Don't stare into a brightly lit LED at close range. These suckers are a very bright, pin point, light source and can damage your eyes.
Its hard to make models when blind!
.
Alien