Discussion Starter
·
#1
·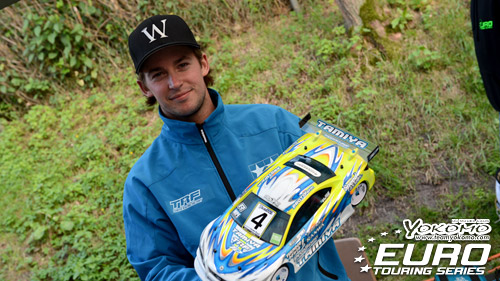 Fresh from winning the prestigious Reedy Race of Champions in California last weekend Viktor Wilck took the win in the opening A-Main of the Yokomo Euro Touring Series this evening in the Netherlands, the Swede getting the better of team-mate & Top Qualifier Marc Rheinard to secure a Tamiya 1-2 ahead of the Kyosho of Christopher Krapp.
A first lap coming together between the No.2 starting Tamiya of Jilles Groskamp and the No.3 Serpent of Marc Fisher at the first corner allowed Rheinard and Wilck to break clear of the field with a very fast starting Atsushi Hara third.* Hara's HB was deemed to have started too quickly with the former World Champion having to come into the pit lane for a stop go penalty for a jump start promoting the Yokomo of Cyril N'diaye up to third.* Having increased the boost setting on his speedo for the race, Wilck's Thunder Powere equipped TRF417X found a way passed the World Champion's example on lap four.* Trying to retake the lead on lap 10 of 20 Rheinard made contact with the rear of the leader spinning him out but the German waited for the Swede to retake the lead, a lead he would maintain for the remainder of the the 5-minute encounter.
A mistake by Rheinard on lap 16 allowed N'diaye to go through to third and title contender Krapp to join the battle for second.* Managing to hold off the pole sitter for three laps the pair eventually touched, the Frenchman coming off worst as Krapp and the recovering Hara both got passed on the final lap dropping him to fifth with Andy Moore completing the Top 6.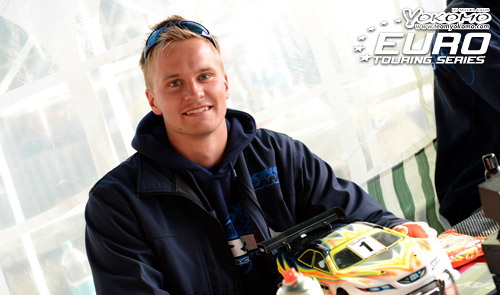 In Pro Stock, Top Qualifier Tony Streit put in a perfect drive to take the opening leg for Xray ahead of the Tamiya TRF417 of former Apeldoorn winner Rob Janssen while ETS Gran Canaria winner Marek Cerny, who started last on the grid, came through the early chaos with his Yokomo to finish third.* Defending champion Martin Hofer was one of the casualties of the chaos with Bart Wubben receiving a Stop Go penalty for bringing an early end to the Schumacher driver's race.
Ride Modified A-Main leg 1 results
1.(4) Viktor Wilck (SE) – Tamiya/Thunder Power – 20/5:06.996
2.(1) Marc Rheinard (DE) – Tamiya/Speed Passion – 20/5:10.086
3.(6) Christopher Krapp (DE) – Kyosho/Orion – 20/5:11.487
4.(7) Atsushi Hara (TH) – Team HB/Reedy – 20/5:12.058
5.(9) Cyril N'diaye (FR) – Yokomo/LRP – 20/5:17.546
6.(10)Andy Moore (GB) – HB/Hobbywing – 19/5:00.748
7.(8) Shin Adachi (JP) – Team HB/Reedy – 19/5:00.870
8.(5) Yannic Prümper (DE) – Yokomo/Thunder Power – 4/1:05.323
9.(3) Marc Fischer (DE) – Serpent/Speed Passion – 2/0:33.250
10.(2)Jilles Groskamp (NL) – Tamiya/Orion – 1/0:20.884

​
Xray Pro-Stock A-Main leg 1 results
1.(1) Tony Streit (DE) – Xray – 18/5:15.606
2.(5) Rob Janssen (NL) – Tamiya – 18/5:127.036
3.(10)Marek Cerny (CZ) – Yokomo – 18/5:01.129
4.(4) Vasco Christiaanse (NL) – Kyosho – 17/5:02.829
5.(8) Oliver Franke (DE) – Hot Bodies – 17/5:03.288
6.(7) Zdenko Kunak (SK) – Xray – 17/5:05.530
7.(3) Bart Wubben (NL) – Xray – 17/5:05.871
8.(9) Remi Callens (FR) – Xray – 17/5:11.187
9.(6) Ivan Laptev (RU) – Awesomatix – 4/1:17.870
10.(2)Martin Hofer (DE) – Schumacher – 2/0:38.919

​
View the complete event results
here
.
View the event image gallery here.
More...