Discussion Starter
•
#1
•
I just recently bought my spendiest slot ever. So how deep do your pockets go? And I mean for the purchase of any ONE car. Buying a huge lot including that one car you've been wanting and paying thousands doesnt count! Here's mine:
http://cgi.ebay.com/ws/eBayISAPI.dll?ViewItem&item=220520538465&ssPageName=STRK:MEWNX:IT
I know its pretty small potatoes to you T-Jet guys--I can hear some of you snickering right now--but before this, around $60 was the most Id ever paid for any of mine. Ive been bidding on these for many years now, but always got bid up. This guy wanted $6 to ship, so I bid $94.01, making my total cost a hundred bucks and a penny. Well thats exactly what I paid, and it was totally worth it! On the card, Ive seen these go well north of $200. This is better, since I dont have to break the seal to fire it up and enjoy it the way a slot was meant. And the US-1s are slow enough that even the worst wreck would barely scuff the paint.
As you can see, its about as dead mint as you'll ever find without building a time machine and going back to '85.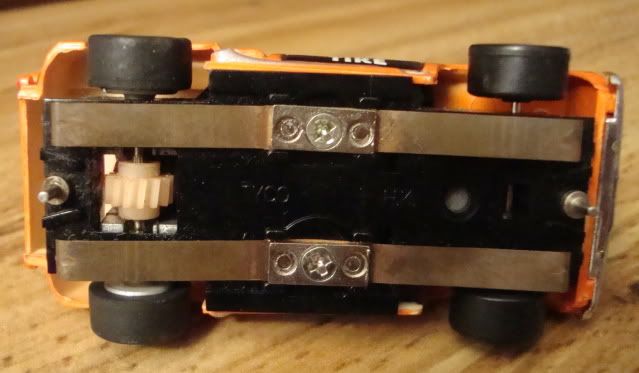 I prolly spend WAY too much on slots, just like the rest of us. But there are some positives:
--Ive never ONCE bought any slot on credit. If I dont have the cash I dont buy it.
--I never bid more than what I see the same car going for on a regular basis, and I dont usually get the 'have to have it' mentallity.
--Slots are usually a solid investment. If you stick to those rules, you can always get your money right back. Might lose a couple bucks, might make a few, but it'll all even out. I cant say that about all the nites out at the pub!