Discussion Starter
•
#1
•
A LOT of great cars...that's what! Thanks to the post by PWSchuh for letting us know of the 70% sale at EAW, I'm now broke!
Let's see what you guys picked up in the sale as well. Here is my haul....
1) 1963 AC Cobra 289 by BANG
Pretty neat piece of history with this casting. This is one of three Cobras to make their very first racing debut in the 3 hour long, 1963 Daytona Continental (now the 24 Hours of Daytona). Driven by Skip Hudson, this car fought for and lead the race before a flywheel explosion resulted in a crash! So you can say it all started right here!
2) Mazda 757 from the 1987 24 Hours of Le Mans by SPARK
This car DNF'd in the '87 race (as shown here) but the same car wearing number 203 won it's class and finished 15 overall in 1988.
3) 2004 Porsche 911 GT3 R by Minichamps.
This #60 Brumos Porsche finished 13th in the 2004 Rolex Grand-Am BARBER 250 in Alabama. I think this car just has a great , lean look to it!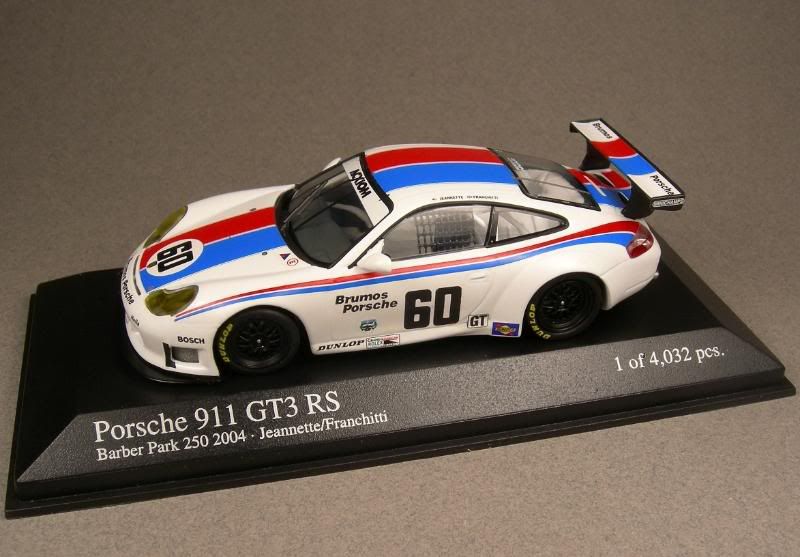 4) 2005 AUDI R-8 R by MINICHAMPS
This Dallara built, gas powered Audi R-8 Finished 2td in the 2005 ALMS Sebring 12 hours classic.
This car (cassie #505) has an AMAZING long competition history for a endurance sports car. From 2001 through 2005, this car racked up a ton of great finishes including winning the ALMS Petit Le Mans in 2004 AND '05, as well as finishing 3th in the '05 24 Hours of Le Mans. One of their most successful "petrol" cars.
5) "Winning, Dirty Version" of the 2007 Audi R-10 TDI by IXO.