Discussion Starter
•
#1
•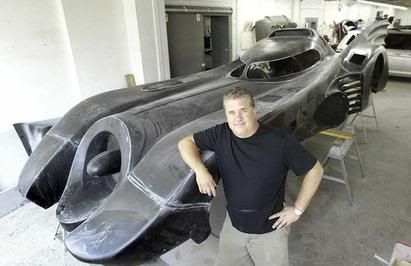 Matt Miller, owner of Carls Body Shop is in the process of building two "Gotham cruisers." One emulates the Batmobile driven by Adam West in the original 1966 Batman, while the other, pictured, is a replica of the car driven by Michael Keaton in the 1989 movie.
DAYTON OHIO— No, your eyes are not deceiving you.:wave:
The menacing structuring in the window of Carl's Body Shop, at 1120 Wayne Ave., does look just like the car that actor Michael Keaton's Bruce Wayne drove in the 1989 movie "Batman."
And back in the bowels of the shop is a ride that will eventually replicate the metal chariot that Adam West's Bruce Wayne cruised Gotham City in the original 1966 "Batman" TV series.
The cars are kits now, but eventually they will be full-blown cars.
Carl's Body Shop specializes in collision repair, detailing and custom paint jobs.
Matt Miller, the shop's owner, hopes to have the 1966 version road ready by spring. The 1989 cruiser will hit car shows and other community events by Christmas 2010.
Batman captured Miller's imagination when he was a kid, and Miller hasn't let it go.
"Spider-Man jumped around, and Superman flew around, but they didn't have the cars," he said.
Miller bought kits — they retail for about $8,000 a piece — for the cars last summer from Harrison Twp.-based Gotham Cruisers (
www.gothamcruisers.com
).
The 5-year-old business, one of only a few of its kind, makes replicas of the 1966 and '89 cars as well as the Dark Knight's 1966 motorcycle.
It has sold kits from New England to New Mexico, said shop owner Doug Hines, 45, of Beavercreek.
A finished replica cruiser can take up to three years to complete. The 1966 replica model can sell for as much as $200,000.
Hines grew up watching reruns of "Batman" and other 1960s shows. He has a Christmas photo of himself at age 2 sitting on a kiddie car replicating the 1966 car.
That car's design has stood the test of time, he said.
"It is still a futuristic looking car," the former letter carrier said. "We are still talking about it."
Hines has been building a replica bat cruiser since buying his own kit about 10 years ago. His intent was to build kits for other people to finance his own car's completion.
"I still don't have a car," said Hines, who has a background in body shop.
Building the cruiser kits allows Hines and his staff to stretch the possibilities.
Besides the kits, the shop replicates other gadgets and 1960s TV technology, such as the "Lost in Space" robot.
"We get to make something out of absolutely nothing," he said. "We are just limited by our imaginations, and we have wild imaginations."
The business also can help build bat accessories — like flame throwers, blades and rams — or point customers in the right direction.
They once built a kit that came complete with working parachutes.
"We like crazy people with money," Hines joked. "As long as their check clears it is alright with us."
But don't expect a replica from the most recent Batman movie.
"We have no intention of doing the new car," Hines said. "I don't like that car. It is not a car; it's more of a tank."