Discussion Starter
•
#1
•
​
Defending Yokomo Euro Touring Series Champion Ronald Volker got his 2012/13 campaign off to the perfect start on Day 1 of the season opener in Germany as he backed up his practice topping pace with a TQ run in the first round of qualifying. The German was one of the few drivers to keep his car on four wheels for the 5-minute run and took the round by a comfortable 2.5 seconds from Team Associated's Juho Levanen with Yokomo team-mate Yannic Prumper completing the Top 3.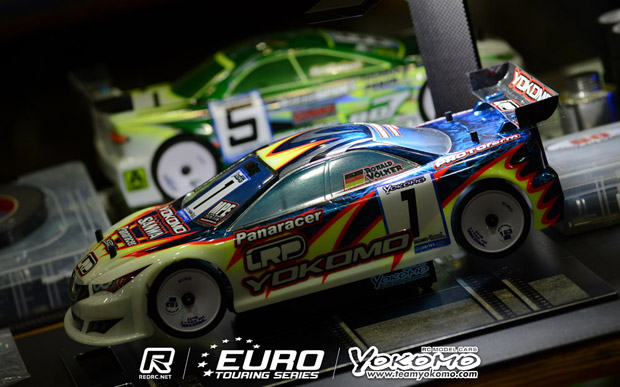 ​
Volker, who dominated this event 12 months ago from start to finish, said conditions for Q1 felt trickier than during the earlier practice runs but his BD7 was still comfortable to drive. Having caught a glimpse of a number of cars rolling early in the heat, including arch rival Marc Rheinard, he said he didn't push 100%, instead focusing on ensuring he kept 'rubber side down'. Declaring his 24/5:05.321 run as a 'good' start to the event, Volker added he hopes he can build on that pace over tomorrow's three remaining qualifiers.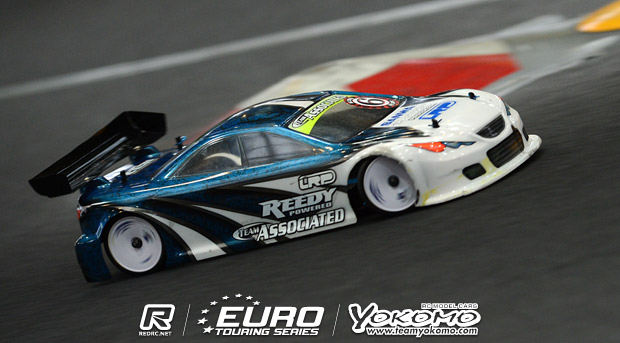 ​
Deciding to leave his top deck tight and instead reduce his shock rebound along with lowering the ride height on his TC6.1, Levanen said the car was now 'really good'. Also put off by Rheinard's early roll which like Volker caused him to drive on the side of caution, the Finn said if he had known how close to a TQ pace he was he certainly would have pushed harder. Pleased with his competitive start to the event the former European Champion has a renewed air of confidence going into Day 2.
​
Traction rolling twice, Prumper was happy to claim the third fastest time but said he needs to find a better set-up to make his BD7 less aggressive. Planning to try shorter front camber links in Q2, the ETS Austria winner, said he may also change shock oil but he would make that decision closer to the time of his heat.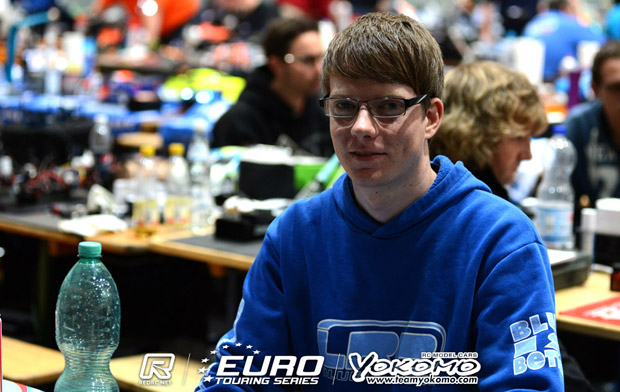 ​
'Better than expected' was how Sudhoff summed up his run to the fourth fastest time. Suffering one traction roll, which he said was down to the condition of the track, 'Fast Freddy' said he planned to leave his Awesomatix the same for tomorrow but would try a different tyre prep.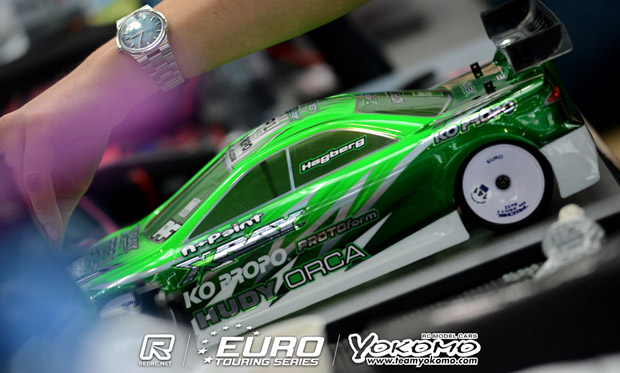 ​
Running in the second highest heat, due to a tough practice, Team Xray's Alexander Hagberg was pleased to be able to set the fifth fastest time but added his car is a 'handful'. Knowing his only chance of a Top 10 was to keep his T4 on four wheels but admitted he didn't expect to make the Top 5. For tomorrow the Swedish ace will try gluing the wall of his front tyres which he hopes will help turn things around.
Having just recently signed for Serpent, David Ehrbar got his first major race with the company off to a great start as he took his S411 to the sixth fastest time just ahead of Kyosho's Christopher Krapp.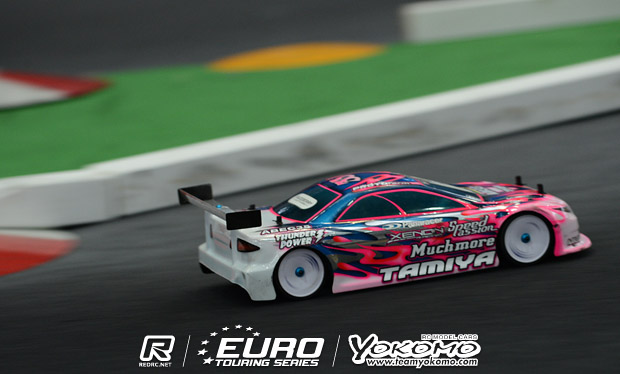 ​
Setting the fastest lap of the race Rheinard completed the Top 10 in Q1. Suffering a number of rolls the former three time World Champion said they were his own fault as he hit the curbs. Putting his early mistake down to not applying additive to his front tyres for long enough, the German said for tomorrow he just needs to improve his driving as the car is working well. Team-mate Viktor Wilck who is in the same heat as Hagberg was on a very strong run until his car came to halt 2-laps from the finish with an over heated motor.
Having set the second fastest time in practice, Adrian Berntsen didn't have a good opening qualifier but the young Norwegian was quick to put his hand up and say he got caught up in the moment and just over drove.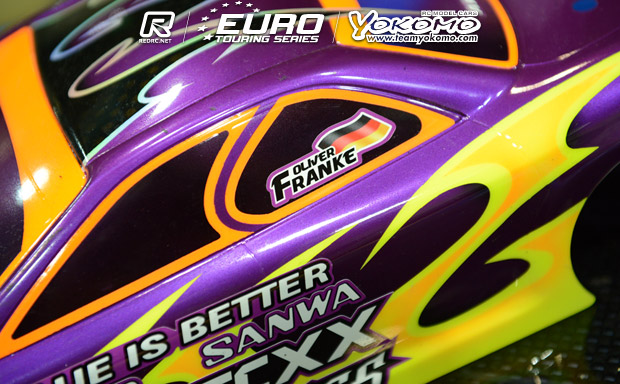 ​
In the Xray Pro-Stock class Oliver Franke TQ'd the opening qualifier ahead of Serpent driver Jan Amser and former Champion Martin Hofer. Viljami Kutvonen was on a TQ pace setting the fastest lap with his Awesomatix but hit problems and had to pull up after 3 and a half minutes. In the Speed Passion Formula class Jan Amser went one better to take Q1 ahead of Roman Pichler and defending champion Herbert Weber.
Ride Modified Q1 times
1. Ronald Völker (DE) – Yokomo – 24/5:05.231
2. Juho Levänen (FI) – Associated – 24/5:07.990
3. Yannic Prümper (DE ) – Yokomo – 24/5:10.934
4. Freddy Südhoff (DE) – Awesomatix – 24/5:13.329
5. Alexander Hagberg (SE) – Xray – 23/5:00.326
6. David Ehrbar (DE) – Serpent – 23/5:02.084
7. Christopher Krapp (DE) – Kyosho – 23/5:02.421
8. Vässmar Magnus (SE) – Xray – 23/5:03.257
9. Oliver Franke (DE) – HB – 23/5:03.327
10.Marc Rheinard (DE) – Tamiya – 23/5:03.485

​
Xray Pro Stock Q1 times
1. Oliver Franke (DE) – HB – 22/5:01.386
2. Jan Asmer (DE) – Serpent – 22/5:03.068
3. Martin Hofer (DE) – Schumacher – 22/5:03.932
4. Ivan Laptev (RU) – Awesomatix – 22/5:04.843
5. Tobias Hepp (DE) – Xray – 22/5:05.251
6. Max Mächler (DE) – Awesomatix – 22/5:05.378
7. Philipp Neudinger (AT) – Awesomatix – 22/5:05.391
8. Joe Streff (LU) – Xray – 22/5:06.207
9. Dominic Vogl (AT) – Awesomatix – 22/5:06.479
10.Christoph Thiele (DE) – HB – 22/5:06.711

​
View the complete event results
here
.
View our event gallery here.
More...