Discussion Starter
•
#1
•
They arent just for T-jets, Tomys, and narrow Tyco 440s, if you use a little imagination! There are several other chassis they'll fit if you experiment a little.
4 'E' Depth chrom 'Stahl' style wheels meant for T-jets, mounted on .064 axles on 'sloppy front axle' AW XT chassis, used under a custom painted AW Jeep CJ. They look a LOT like Weld Rock Crusher wheels on trucks and 4x4s:
'Alufelge' 'E' rears, 'C' fronts meant for Tomy/Tyco and mounted on Aurora G Plus chassis with custom painted AFX Escort MKII. Just shorten the rear axles and open up the pass thrus for the front stub axles and use a solid 1-piece front axle:
Cromodoras in the E and C sizes meant for tomy/tyco mounted on a Lifelike M chassis with Boss mustang body. Its a direct fit just like a tyco, and Lifelikes are popular in Germany, Im surprised Vincent doesnt push this. And those 'stahl' wheels like on the Jeep are available in solid black, so the NASCAR bodies are just waiting to get those for a proper look.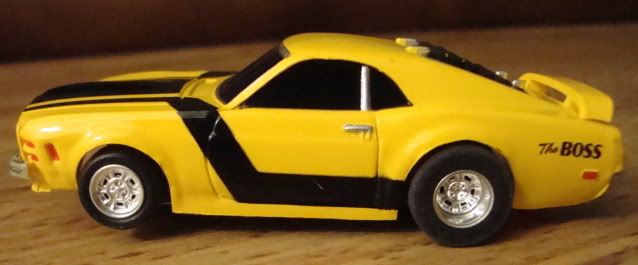 Alpinas in Tomy/Tyco E and C sizes mounted on a tyco curvehugger. The front tires are from AW Tuff ones since they widened them. These have to stretch a bit, but they fit and they actually have the height to support the front of the chassis. This would work with an HP-7, HP-2 or widepan 440 also.