Discussion Starter
·
#1
·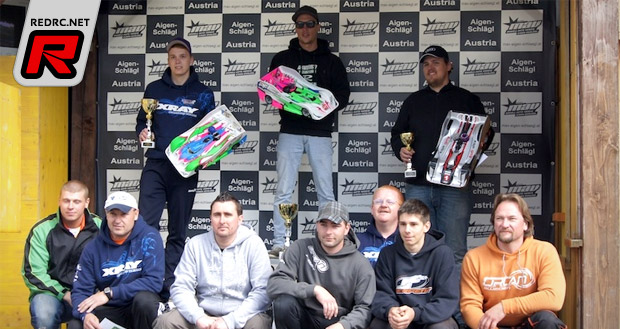 Last weekend the Austrian EFRA GP for 1/8th Onroad was held at the 2013 1/8th Euro-B track in Aigen/Schlaegl Austria. Only 28 entries showed up but the reigning world champion Robert Pietsch was also there. A lot of drivers started already with practice on Thursday in perfect weather conditions and on Friday most of the drivers had already arrived for practice. On Saturday the weather changed completely, the whole day with rain for Qualifying and only 2 drivers tried to run on the wet track. Weather for Sunday was good but cold which was very good for the engines and everybody could feel the extra horsepower from the good and fresh air.
Top-4 after qualifying
1. Robert Pietsch – Mugen/Novarossi
2. Maximilian Vogl – Shepherd/Novarossi
3. Philipp Eberle – Serpent/Xceed
4. Michael Klausner – Mugen/Novarossi

​
Semi-B was won by Michael Klausner before Tobias Hepp
Semi-A was won by Robert Pietsch before Toni Gruber
In the Main Final Robert Pietsch got away very easily from the field, doing new lap records on the first 3 laps. For second place the was a very close battle between Michael Klausner, Tobias Hepp, Philipp Eberle, Toni Gruber and Gerhard Kandelhart but most of the drivers hit problems with their tires at 15-16 minute mark. Only Robert Pietsch and Michael Klausner expected to have more than one tire change in final and Robert changed at the 16 and 32 minute mark and made a perfect final with a easy win. Tobias Hepp was able to run with one tire change only, with permanent good lap times for second place. Michael Klaunser changed 3 times because the 2nd set of his tires did not work very well, so he ended up 3rd. Philipp Eberle had similar problems and after his tire change his car was very difficult to drive and he crashed at the end of the straight.
The big issue was tire wear and tire treatment, how to use, what to use and the problem if you use tire additives your car is running completely different from the beginning to the end, so some of the drivers did not use treatment and also got into the final.
Final Results
1. Pietsch Robert – 168L 45:03.805 (Mugen/Novarossi/Contact)
2. Hepp Tobias – 164L 45:10.356 (Xray/Orcan/ATS)
3. Klausner Michael – 162L 45:05.337 (Mugen/Novarossi/Contact)
4. Hedlund Christofer – 159L 45:01.384 (Xray/Orcan/Xceed)
5. Gruber Toni – 156L 45:17.037 (Serpent/Xceed/Xceed)
6. Moser Björn – 154L 45:04.914 (Xray/Orcan/ATS)
7. Lefevre William – 151L 45:04.320 (Mugen/Boss/Contact)
8. Schiff Christian – 149L 45:07.266 (Xray/Novarossi/Contact)
9. Eberle Philip – 145L 41:01.135 (Serpent/Xceed/Xceed)
10.Kandelhart Gerhard – 58L 15:43.770 (Xray/Sonic/ATS)

​
Thanks to Michael Selner for the report.
More...