Given the different registries in the various editions of the Star Trek Encyclopedia, if the first starship
USS Carolina
was NCC-160, then this is the second
USS Carolina
NCC-235. This is the Alabama-class heavy cruiser. A successor to the Daedalus-class, it is significantly larger.
The design was based on a few different Jefferies sketches cobbled together to come up with something that looked appropriate to the post-Romulan War era c.2170.
The bridge is the standard domed shell with turbolift shaft in the back used for about a hundred years.
The Bussard collectors are from the 1/650th kit and will have probes on the fronts.
The deflector is domed (a "defdome?") similar to the Daedalus class. IMHO, the domed deflectors work better aesthetically with the spherical hulls vs. the open deflectors.
The scale is 1/650th mostly constructed from PVC pipe, fittings, and clear acrylic globe with a few parts from the 1701 model kit and one from the 1/537th AMT/ERTL refit kit (the cowling at the front of the secondary hull). Epoxy putty was used to blend the parts in the secondary hull.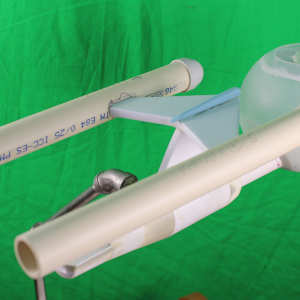 The nacelle struts are constructed from thick flat polystyrene plastic from a old product advertising sign at work. The piece on top is from the AMT/ERTL K'tinga kit and was used for applying the rub-down decals, IIRC.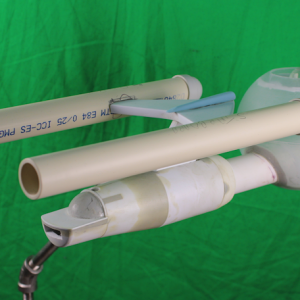 The rectangular opening below the flight deck is meant to house an impulse deck. There will also be port and starboard impulse decks on the primary hull--the aft quarter sections. The plan is to light it up.
Not sure if I'm going to put some sort of end caps on the nacelles or leave them flat as on the Daedalus.
The mounting stand is made from 1/8th inch stainless steel plumbing pieces and, using rectangular brass tubing connectors, can hold different models with the same connection.