Ive shown these before, but with fairly craptastic pics. Ive been a fan of the twisted metal video game for a long time, even tho gaming isnt my thing. Something about cars with special weapons freely able to blast the crud out of each other is just AWESOME!!!
The most famous of TM characters, Sweet Tooth. This one is based on a HW armored car mounted to a 440 X2 widepan, and actually resembles the ST from TM4.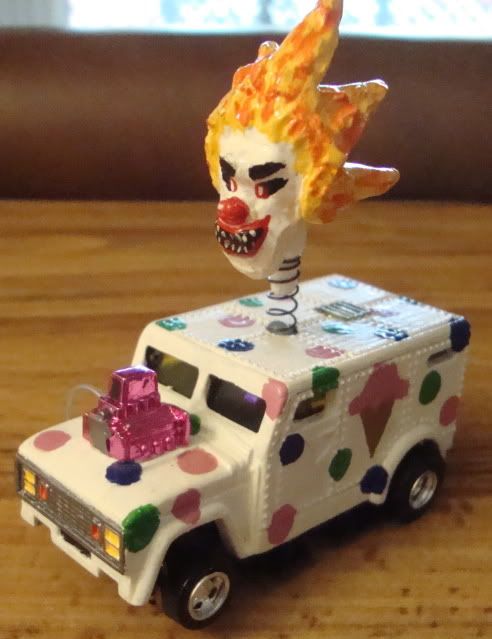 Some famous TM cars all based on modified Tyco bodies: Roadkill from TM2 (red mazda RX-7), Pit Viper from TM1 (tan camo turbo hopper) Grasshopper from TM2 (lime green turbo hopper) Darkside from TM1 (black semi w/sleeper) and Warthog (brownish green Hummer)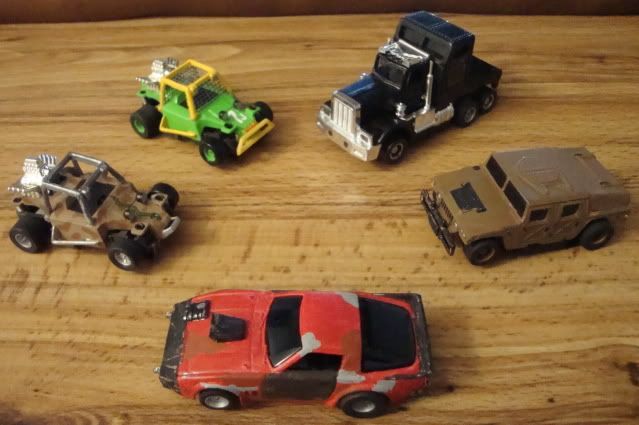 2 versions of Hammerhead--my favorite character from the game! The black Cherokee panel truck (one of my resincasts) is built up to look like the HH from TM2, and the red CJ-7 (heavily modded Tyco CJ) is the version from TM3.
And some bodies that I need to stop dragging my feet and get busy building: Spectre from TM2 (corvette grand sport) Firestarter from TM3 ('32 roadster), a new and improved Sweet Tooth (police stepvan), Twister (F1 car) and 3 canidates for Outlaw, depending on whether I go with the version from TM 1, 2. or 3.
Some TM cars I resin cast from diecast cars, and mounted to tyco chassis: Club Kid from TM3 (black minicooper) Crimson Fury from TM1 (red VW W12 concept) Yellowjacket from TM1 (taxi) and Thumper from TM1 (pink '63 Impala lowrider)