Discussion Starter
·
#1
·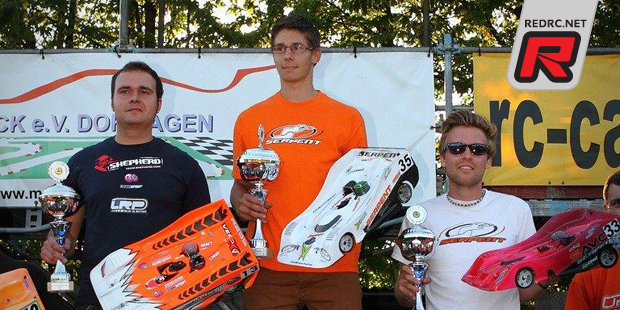 ​
Toni Gruber is the 2012 German 1/8th nitro on-road champion. In the 45 minutes finale on the demanding Dormagen track Shepherd driver Daniel Sieber and Serpent fellow Merlin Depta completed the podium of the top level class 1. In class 2 it was Torsten Mueller who brought his Shepherd home on a title-winning first spot with Martin Baumann (Serpent) and Michael Kammer (Capricorn) in second and third place. For the second time in a row the one-event German Nationals were held in Western Germany. But different to Bad Breisig with a total of 88 competitors in 2011 only 67 participants joined the race weekend in Dormagen, located in the north of Cologne. Among those who did not made it to the event was World and European Champion Robert Pietsch. Nevertheless, those who did not attend missed one of the best German Championships of the past years. The organising MCK Dormagen club did an excellent job all around. The 268 metre track was well prepared including new painting and finally the numbers of damages caused by the concrete barriers have been less than expected.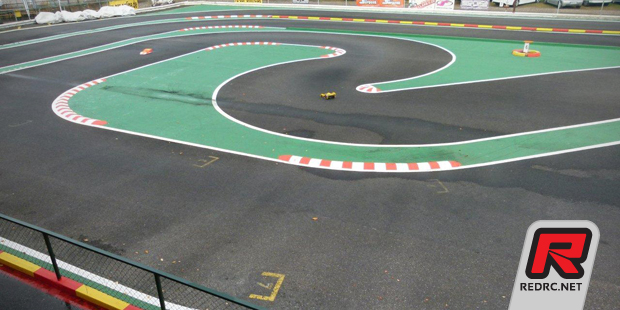 ​
Unfortunately rain hampered the action during practise. On Thursday only a few drivers tried to tackle the track in the early evening that still showed some dangerous wet spots on the track. On Friday racers had four rounds of practise before the rain came back for the last two rounds. Shepherd racer Lars Hoppe, winner of the warm-up race in Dormagen one month ago topped the practise ranking with 45.550 seconds as the sum of the best three consecutive laps. Also Tobias Hepp (Xray/45.837) and Michael Salven (Serpent/4.910) stayed under the 46 seconds mark. These three were followed by the four Mugen drivers Frank Schewiola, Steven Cuypers, Christian Wurst and Thilo-Alexander Toedtmann and by the three Shepherd drivers Daniel Sieber, Maximilian Vogl and Oliver Mack.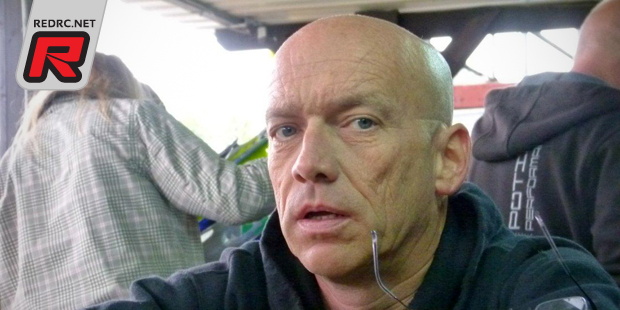 ​
Because of rain on late Friday the circuit was still wet come the qualifiers. Finally everybody had three or even four heats on a dry track instead of five. The fastest lap times were done in the fourth or even in the fifth and finale heat. Pole position went to Michael Salven, well-known as the "king of Dormagen". In his fifth heat he did a 45.246, a blistering performance including a new official lap record with a 14.951. He was the only driver to beat the 15 seconds mark during the whole event. "Mr. Serpent" was followed by his team mate René Puepke with impressive an 45.624. Lars Hoppe did a 45.735 but wasn't able to match his Friday time. With Thilo-Alexander Toedtmann (45.791) and a racily driving Christian Wurst (45.906) a total of five drivers were inside the 45 seconds frame. Nine drivers did a 46 seconds time to make it directly to the semi finales: Oliver Mack on sixth followed by Steven Cuypers, Daniel Sieber, Frank Schewiola, Tobias Hepp, Karl-Heinz Meister (Serpent), Maximilian Vogl, Uwe Baldes (Mugen) and Jean-Pierre Roenicke (Mugen).​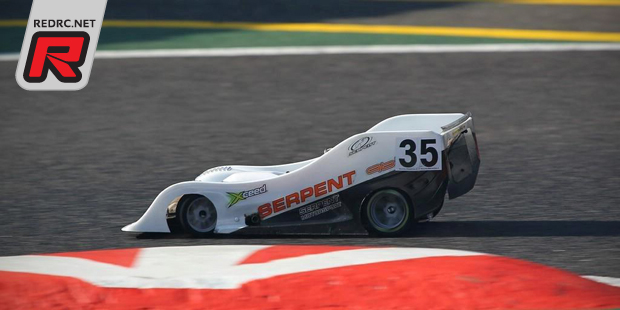 ​
The sun was shining on Sunday morning and on Saturday afternoon the weather was perfect for a great race day. After 56 laps Merlin Depta won the 15 minutes 1/4 finale A ahead of Serpent fellow Toni Gruber – both had surprisingly not managed to qualify directly for the semis. Nicolai Baehr (Shepherd) moved up as well doing 55 laps. Shepherd fellow Timo Schroeder won the 1/4 finale B with 55 laps in front of Claus Nauth (Xray) and Emil Kostadinov (Mugen), both completing 54 laps.​
Everybody knew that both semi finales over 30 minutes would be tough but the main goal was like the motorsport saying: To finish first, first you have to finish. The circuit, really a track to show the drivining skills, took its toll. The first to retire was Maximilian Vogl after 26 laps, followed by Emil Kostadinov after 72 laps. Jean-Pierre Roenicke, René Puepke and Timo Schroeder made it to the chequered flag but lost one to six minutes for getting issue with their cars fixed somewhen during the race. Finally Oliver Mack won this semi B with 109 laps just 2.5 seconds in front of Thilo-Alexander Toedtmann. Tobias Hepp was one lap down and finished in third. Saniel Sieber on fourth was already six laps down. With a steady drive Claus Nauth managed to bump up for the second time.
The 1/2 finale A was significantly faster. Toni Gruber, Merlin Depta and Christian Wurst, finishing on one, two and three, did 110 laps each and were separated by only six seconds. So Gruber and Depta moved up for the second time. Frank Schewiola on fourth did 109 laps. The battle for the last spot in the finale grid was decided on the very last lap. Uwe Baldes went for a tyre change and dropped back to eighth position. But the Western German Champion showed a strong final sprint to pass Karl-Heinz Meister and Nicolai Baehr who ran out of fuel in the last lap. Beside Meister and Baehr, who would have taken fourth in the semi B, it was Michael Salven, Lars Hoppe and Steven Cuypers who were the prominent victim of this semi finale. Salven crashed, touching the curb at the pitlane exit on high speed. Hoppe had engine issues right from the start, and the reigning Champion Cuypers was hampered by clutch issues.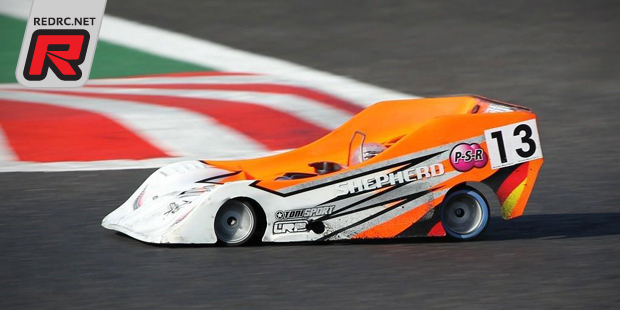 ​
So the grid for the 45 minutes finale was: Gruber, Depta, Wurst, Mack, Toedtmann, Schewiola, Hepp, Baldes, Sieber, Nauth. After a clean start into this challenging race it took only ten minutes before the first driver had to retire. Tobias Hepp was forced to stop with engine trouble, later a bad plug was found to be guilty. With only eight minutes to go the race was over for Oliver Mack because of gearbox troubles, following a first stop for repairs some laps before. While Claus Nauth came on eighth position, Christian Wurst had bad luck and lost valuable time because of a broken battery to be ranked seventh. Sixth place went to Thilo-Alexander Toedtmann who ran out of fuel twice. Frank Schewiola was able to catch up on Uwe Baldes running on fourth on the closing laps. This was the battle for the 40+ title. Schewiola tried hard while Baldes was saving fuel and did a long 19 laps stint at the end but was able to keep Schweiola behind by 1.3 seconds. Merlin Depta showed a strong performance and was in second place for a while. But he lost second in a dimmish situation when a marshal was on the track and he slowed down a bit with Daniel Sieber passing him at this moment to finish second just two seconds ahead of Depta. Having taken a couple of junior titles already the time was ripe for Toni Gruber to achieve a major title. With a faultless and fast drive and the advantage of no tyre change he won the race with 164 laps, while Sieber and Depta completed 162 laps. The cheering was huge, especially at his family with father, grandpa and grandma. And the impressive and well deserved success was celebrated with a barrel of the world's famous beer from Cologne, called "Koelsch".​
The top 10 1/8 class 1:
1. Toni Gruber –*Serpent/Xceed/Xceed – 164 laps
2. Daniel Sieber –*Shepherd/Reds/Shepherd – 162 laps
3. Merlin Depta –*Serpent/Novarossi/Xceed – 162 laps
4. Uwe Baldes –*Mugen/Orcan/Contact – 160 laps
5. Frank Schewiola –*Mugen/O.S./Contact – 160 laps
6. Thilo-Alexander Toedtmann –*Mugen/RB/Contact – 159 laps
7. Christian Wurst –*Mugen/Sirio/ATS – 150 laps
8. Claus Nauth –*Xray/Orcan/ATS – 149 laps
9. Oliver Mack –*Shepherd/Picco/Matrix – 123 laps
10. Tobias Hepp –*Xray/Orcan/ATS – 34 laps​
​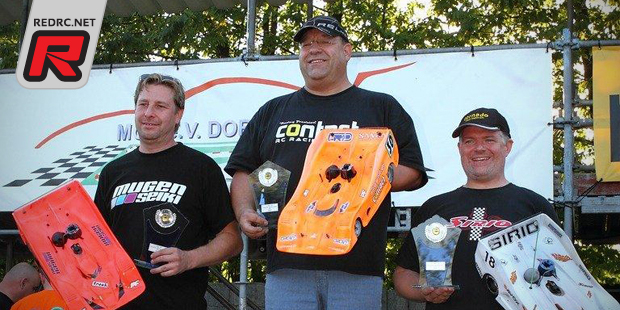 ​
As for the statistics, Mugen had four MRX-5 in the finale race, furthermore there were two each Serpent 966 TE, Xray RX8 and Shepherd Velox V8. The leading engine brand was Orcan with three GT7, one engine each came from Xceed, Reds, Novarossi, O.S., RB, Sirio and Picco. On tyres three cars each ran on Contact and ATS, two on Xceed and one each on Shepherd and Matrix. Uwe Baldes was crowned German Champion 40+ ahead of Frank Schewiola and Christian Wurst. Once more Toni Gruber won the junior title with Jean-Pierre Roenicke second.​
In class 2, run under the same technical regulations, Michael Kammer (Capricorn) topped the practise ranking with 47.855 seconds in front of Sebastian Scheidweiler (Serpent/48.412) and Luigi Pili (Motonica/48.667). Michael Kammer continued to be the big surprise in class 2 to catch pole position with his O.S.-powered Capricorn and a combined lap time of 47.030 seconds. So he had a clear advantage over second placed Torsten Mueller, who achieved 47.700. Arno Puepke (Serpent), Sebastian Scheidweiler (Serpent), Dominik Schrumpf (Mugen), Christian Roenicke (Mugen), Hans-Peter Holl (Serpent), Tim Vogels (Mugen), Martin Baumann (Serpent) and Christian Schnaedter (Mugen) took third to tenth position being in the 48 secondsframe. Also Luigi Pili (Motonica), Ralf Wacker (Mugen), Thomas Kroeger (Mugen) and Thomas Reiche (Serpent) on eventh to 14th position made it directly into the semi finales.​
Heiko Kube (Xray), Reinhard Zick (Mugen) and Martin Figge (Motonica) bumped up from the quarter final A (15 minutes), in B Maximilian Guenther (Motonica), Matthias Guenther (Mugen) and Josef Dragani (Serpent) covered the positions one to three. In the semi finale A (30 minutes) only Michael Kammer (105 laps), Hans-Peter Holl (102), Luigi Pili (101), Martin Baumann (100) and Thomas Kroeger (100) saw the chequered flag and were able to qualify for the main race. They were joined by Torsten Mueller (104), Christian Schnaedter (103), Tim Vogels (101), Christian Roenicke (100) and Matthias Guenther (97) from semi finale A which saw only three retirements.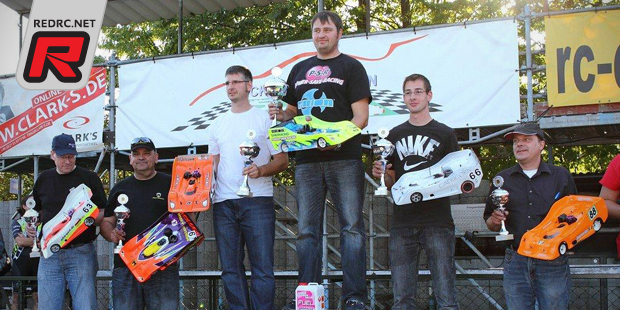 ​
The 45 minutes main race was still running in its first third when already five drivers had retired for different reasons: Schnaedter after four minutes, Roenicke after six minutes, Holl, Vogels and Guenther after 13 minutes. After 30 minutes also Pili was out. At the end only four cars were on the track. Also leading Michael Kammer had his deciding moment in the first third when he lost four minutes in the pits for repairing (front belt) on his Capricorn. Nevertheless he was able to make it to the podium. He finished third (146 laps), ahead of Thomas Kroeger (143). But the victory went to Torsten Mueller, who did 157 laps with his Team Orion powered Shepherd, nine more than second placed Martin Baumann, to give Shepherd a fine title win in class 2.​
The top 10 1/8 class 2:
1. Torsten Mueller – Shepherd – 157 laps
2. Martin Baumann – Serpent – 148 laps
3. Michael Kammer – Capricorn – 146 laps
4. Thomas Kroeger – Mugen – 143 laps
5. Luigi Pili – Motonica – 72 laps
6. Matthias Guenther – Mugen – 44 laps
7. Tim Vogels – Mugen – 41 laps
8. Hans-Peter Holl – Serpent – 33 laps
9. Christian Roenicke – Mugen – 18 laps
10. Christian Schnaedter – Mugen – 13 laps​
​
Statistics: In the finale race five Mugen were joined by two Serpent and one each Shepherd and Capricorn. Thomas Kroeger was crowned as the German Champion 40+ followed by Matthias Guenther and Hans-Peter Holl. Christian Roenicke became junior champion and Dominik Schrumpf youth champion.​
More...