To honor the 80th running of the world's greatest sports car race, I wanted to share my collection of cars represented in the 24 Hours of Le Mans. While the fabled twice around the clock classic will be over in a mere 24 hours, it has taken several years to gather these 44 cars. One of the fun, sub-categories I maintain in 1:64 scale.
In order to maintain a leash on my toy car budget, I only collect the winners in my preferred 1:43 scale. But in this smaller size, it's everything goes! My only criteria are that the car be produced in the correct livery as it actually participated in the 24 Hours. I like the variety of cars and classes as they are grouped here.
Thanks for the look. As with you, I enjoy sharing my cars with others and always welcome your comments and corrections if I have miss identified a car. I truly am passionate about Le Mans and like the variety of cars and classes as they are grouped here. I can see this collection growing for many more years to come!
Snapping a good photo was far harder than I would have thought. Though mirror backed cases were all the rage when I purchased these, I would never do it again. It's far too busy and almost impossible to shoot a good photograph with. Add to that the number of cars and a single close up photo becomes only a dream! None the less, here is my attempt. Of the several photos I took, these were the only two mediocre options so I include them both. …Enjoy!
Ward
Note: A full list of the cars and years follow the photos. These are listed in chronological order. Overall winners are designated with a W while CL represents a class winner.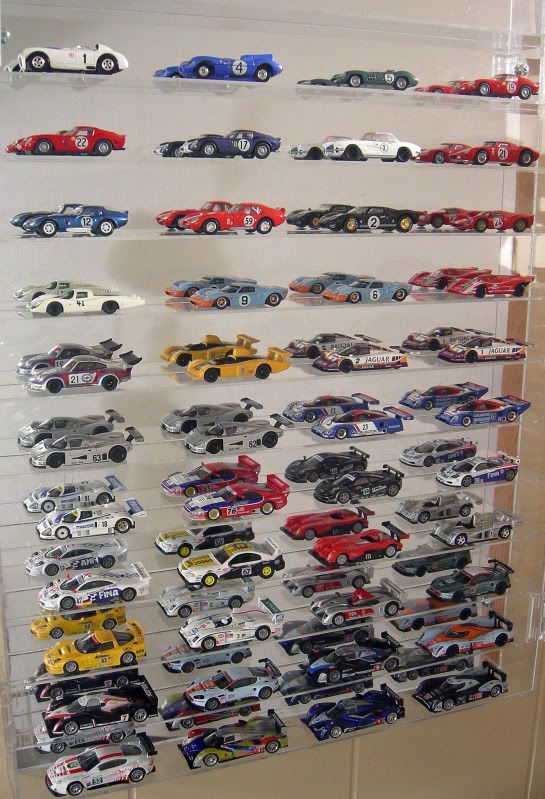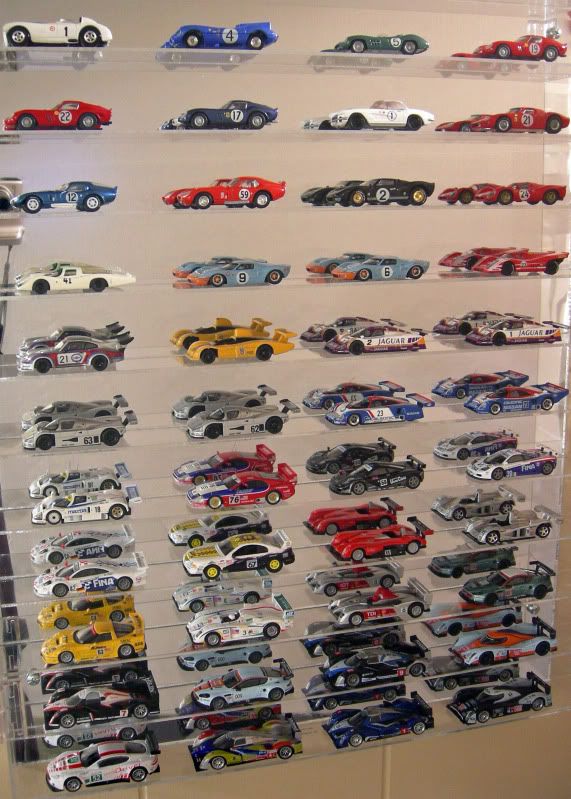 The Car of Le Mans (as of the start for the 80th running, June 16, 2012)
ROW 1
1952 #1 Cunningham C4-R by Hot Wheels (CW, 4th overall)
1956 #4 D-Type Jaguar by Hot Wheels (W)
1959 #5 Aston Martin DBR1 by Shelby Collectibles (W)
1962 #19 Ferrari 250 GTO by Kyosho (CW, 2nd overall)
ROW 2
1962 #22 Ferrari 250 GTO by Kyosho (3rd)
1962 #17 Ferrari 250 GTO by Kyosho (CW, 6th overall)
1962 #1 Corvette by Greenlight (29th)
1965 #21 Ferrari 250 LM by Hot Wheels (W)
ROW 3
1965 #12 Shelby Daytona by Johnny Lightning ( DNF at 23rd)
1965 #59 Shelby Daytona by Hot Wheels (DNF at 31st)
1966 #2 Ford GT MK II by Hot Wheels (W)
1967 #24 Ferrari 330 P4 by Kyosho (3rd)
ROW 4
1967 #41 Porsche 98 LH by Kyosho (CW, 5th overall)
1968 #9 Ford GT40MK I by Kyosho (W)
1969 #6 Ford GT40MK I by Kyosho (W)
1970 #23 Porsche 917 K by Hot Wheels (W)
ROW 5
1974 #21 Porsche 911 RSR Turbo by Kyosho (DNF at 37th)
1977 #8 Renault Alpine A442 by Tomica (DNF at 23rd)
1988 #2 Jaguar XJR-9 by Kyosho (W)
1988 #1 Jaguar XJR-9 by Kyosho (DNF at 28th)
ROW 6
1989 #63 Sauber Mercedes C9 by Kyosho (W)
1989 #62 Sauber Mercedes C9 by Kyosho (5th)
1989 #23 Nissan R89C by Kyosho (DNF at 32nd)
1990 #23 Nissan R90 CP by Kyosho (5th)
ROW 7
1991 #8 Mazda 787B by Kyosho (6th)
1994 #76 Nissan 300ZX by Kyosho (DNF at 47th)
1995 #59 McLaren F1 GTR by Kyosho (W)
1995 #39 McLaren F1 GTR by Kyosho (11th)
ROW 8
1995 #42 McLaren F1 GTR by Kyosho (DNF at 22nd)
1997 #67 Saleen Ford Mustang by Johnny Lightning (DNF at 32th)
2000 #11 Panoz LMP-1 Roadster by Hot Wheels (15th)
2000 #1 Cadillac LMP Northstar by Hot Wheels (21st)
ROW 9
2002 #63 Corvette C5-R by Kyosho (CW, 11th overall)
2005 #3 Audi R8 by NewRay (W)
2006 #8 Audi R10 TDI by NewRay (W)
2007 #007 Aston-Martin DBR9 (9th)
ROW 10
2008 #7 Peugeot 908 HDi FAP by Norev (2nd)
2008 #009 Aston Martin DBR9 by Kyosho (CW, 13th overall)
2009 #9 Peugeot 908 HDi FAP by Norev (W)
2010 #007 Lola Aston Martin DBR1 by Norev (6th)
ROW 11
2010 #52 Aston Martin DBR9 by Norev (22nd)
2008 #4 Peugeot 908 HDi FAP by Norev (DNF at 29th)
2008 #1 Peugeot 908 HDi FAP by Norev (DNF at 31st)
2010 #008 Lola Aston Martin DBR1 by Norev (DNF at 33rd)