Discussion Starter
·
#1
·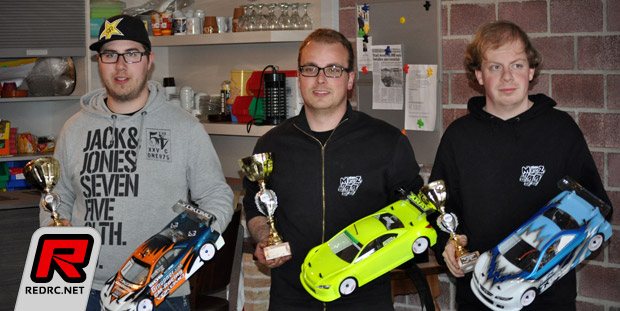 The fourth round of the Belgian TC Nationals was held at RCR in Roeselare last weekend. There was heavy rain expected but the weather turned out dry. This tear's Efra class is turning out to be a battle between Thomas Stockman and Olivier Bultynck for the title. Thomas, always strong on the track of RCR, drove two strong qualifications but in the last run Olivier put himself on the pole. Thomas was on the second spot and a surprising Rico Claeys on third place.
From the beginning of the first final, Olivier and Thomas pulled away from the pack. Thomas put a lot of pressure on Olivier and a fair and clean battle between these two fast drivers was exciting for the spectators to follow. But on lap 12 Ollie made a mistake and was rolling in to the grass. Thomas was gone and drove to the win. Ollie came in as second and Rico took third place.
Just before the second final in the warmup laps, Ollie broke his spur and asked for a delay. This means that he had to start from behind the grid. Thomas went away and Rico did everything to keep his second place. Ollie came back from behind but made some small mistakes to overtake and came in as fourth. Meanwhile Nick Joosens was putting pressure on Rico. Thomas took the win and was the overall winner. Rico managed to stay second and Nick came in as third.
The third final was not necessary for Thomas but he chose to start and try take a third win. Ollie went away from the start and Thomas made a mistake. A frustrated Nick Logie drove a fantastic final. After some bad luck in the finals Nick was fighting hard and came through as second. Nick Joosens was fighting against Thomas to hold his third place. Ollie took the win and secured his second place overall. Nick Logie finished second and Nick Joosens took third place. Overall result: Thomas Stockman (Xray) winner, Olivier Bultynck (Yokomo) second and Rico Claeys (Xray) third place.
Read the full report here.
More...