"This Bud's For You Bud, - - -and 39 more.
Let's return to NASCAR Racing without the big box store sponsors.
Without the homogenized, lack of character, bland look of a track full of identical cars.
Presenting "Custom NASCAR"
Owner/Operator Cars from the glory days of MuscleCarMania with Custom Paintjobs.
Forget about Tide, Office Depot or Coca-cola, these are Custom Race Cars built and driven by their owners and raced on the weekends.
Bud Harris aka Harley1Bud is a good friend here in Houston who brings me a box full of castings every month.
Whatever is showing up on the pegs that I need, Bud picks it up for me.
He ships huge boxes of factory cases of HW's, MBox and Jada to Australia every month and has some very unique Australian HW Convention cars from past years.
Not having to hit the pegs myself is an invaluable favor so I'm making up 40 of these for Bud to distribute to his DieCast Friends.
2 new Decal Flame designs were made specifically for these cars.
I like Traditional HotRod Flames.
Smooth, perfect flames with a symmetiric appearance.
Flames that enhance and accent the artistic body styles of certain Cars.
These new flames ae inspired by shapes in nature.
Plantlife, Birdlife and Aquatic life.
Here's some solid color Chevelles, the first 3 of the line, to see how things transfer from Monitor to Decal paper to Casting.
Primered and shot ShimrinWhite,
Decaled, Taillights detailed, Custom Chrome Center Caps
Cleared with HOK Urethane Clear and a dash of Brilliant Gold Pearl Powder
All Product Used Are Exclusively House Of Kolor, Of Course!!!!!!!!!!!!!!!!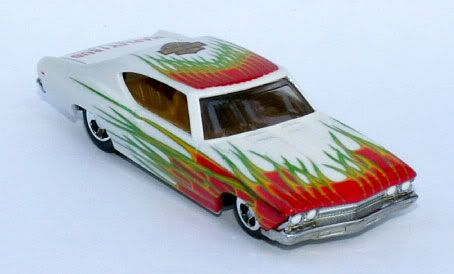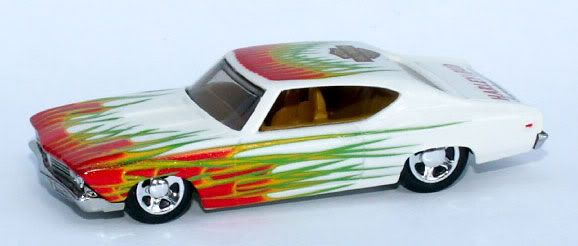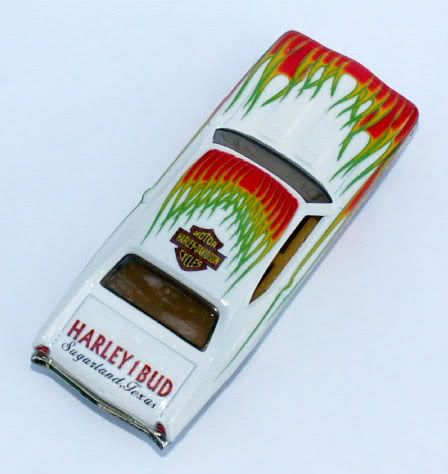 Bright Lemon Yellow, same Clear InkJet Decals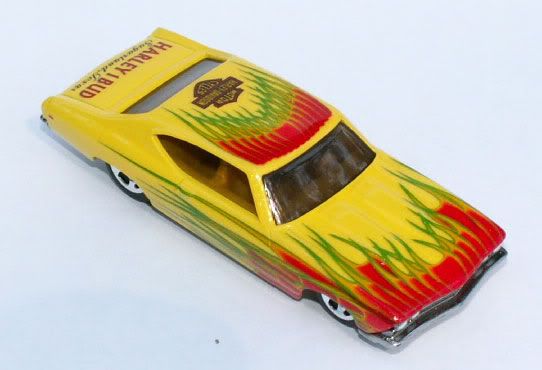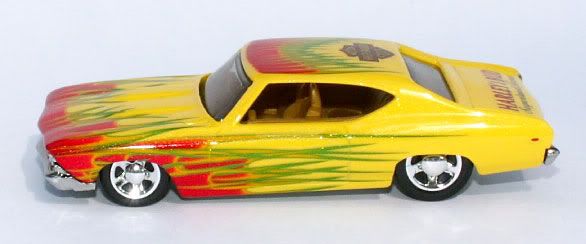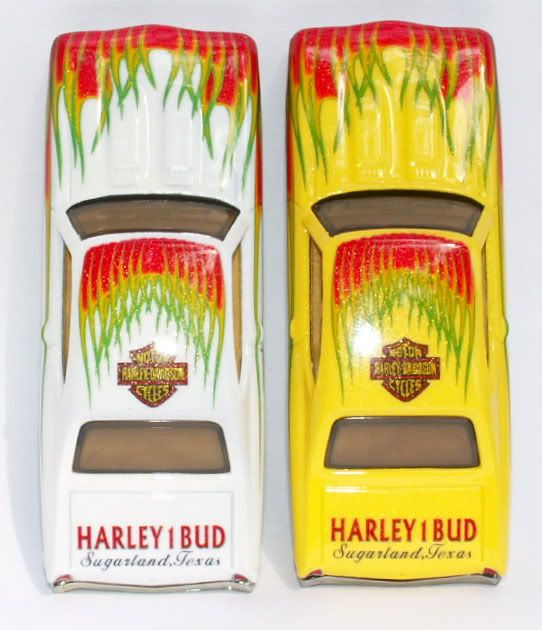 SnowWhite Pearl, Jungle Flames inspired by Siamese Fighting Fish in my aquarium.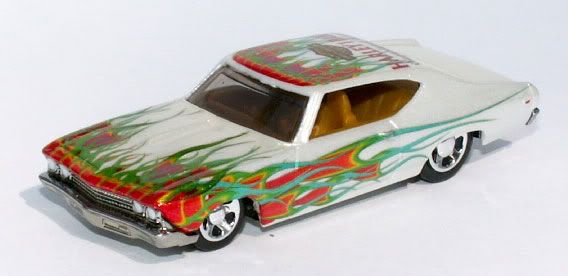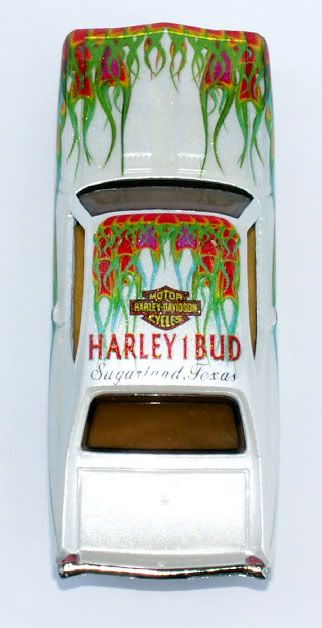 Each style of flames is created from a single flame I drew.
Just one single tongue of flame.
It is stretched, widened, distorted, rotated and stacked in layers to form a full image.
Everything is done in PhotoShop layers on top of a scan made of the '69 Chevelle.
This assures a perfect fit without having to use a trial and test method.
Clear InkJet Decal Paper is from Papilio.com
2 more in the oven with two tone paint jobs to be shown tonight.
"Custom NASCAR" a new genre of Customizing!!!!!!!!!!!!!!!!!!!!!!!!!!!!!
Cars that will look as good in the driveway as the do on the road or on the track.
--CadillacPat the UnCustomizer--
Keeping the ZING in CustomiZING!!!!!!!!!!!!!!!!!!!!!!!!!!!!!!