The Tingler Finished
This is The Tingler kit that I am currently working on. I've sculpted some wrinkles into the apron , which are difficult to see here, and made a teardrop shaped base from balsa wood that is sealed with modeling paste. The base sits atop a peanut butter jar lid, to make it float.
This is just roughed in, more sanding will be required and I have a Tingler cage to build. I may also extend the table with sheet styrene, depending upon how much room is going to be left on the base.
I have added Rick Evan's resin bookcase to the rear of the model, which I think looks good, but I am looking for a skeleton in scale with the kit. Vincent's character had a skeleton on a display stand in his lab. I may add the Pain Parlor skeleton rather than the bookcase, or possibly keep both.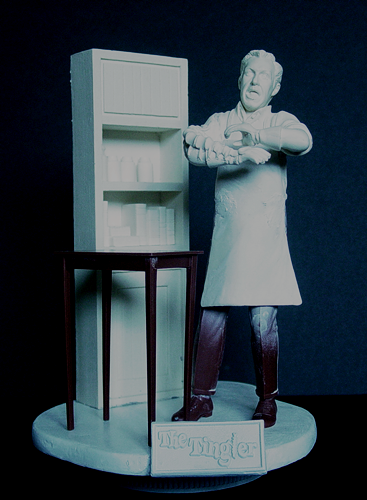 I am also thinking of scratch building an examination lamp similar to this one and placing it behind the table.