Discussion Starter
·
#1
·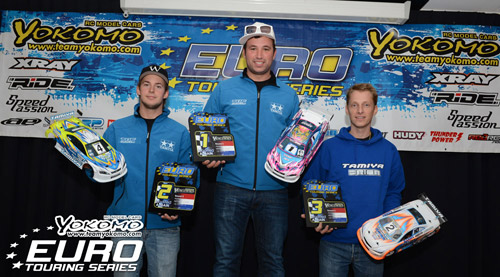 For the first time since Andernach in 2009, the fifth round of the Yokomo Euro Touring Series in the Netherlands was to be an all Tamiya podium with Marc Rheinard claiming his first win of the season ahead of team-mates Viktor Wilck and Jilles Groskamp. Having made the call to run two of the three A-Mains on Saturday night directly after qualifying due to the forecast giving rain for Sunday, it was to prove a smart decision by the ETS organisers as racers woke to a very wet morning in Apeldoorn.* With results from two dry legs to work from the result was declared on best result and fastest time giving Top Qualifier & Leg 2 winner Rheinard the win over the first A-Main winner Wilck with second in Leg 2 securing the former back to back champion Groskamp the final step on the podium. The win, and the tough weekend experienced by defending champion Ronald Volker, puts Rheinard in contention for the title with the season finale in Austria in a months time set to be a showdown between Yokomo, Tamiya, Kyosho and Xray for the title.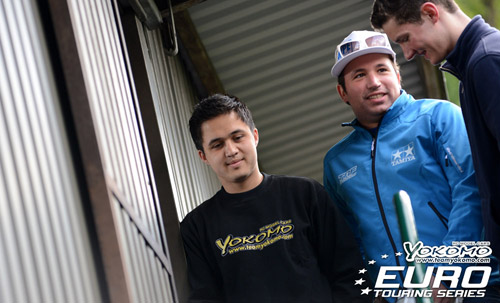 Attracting what was easily the Euro Touring Series' highest caliber of world class drivers to the Dutch event, endorsing the high regard in which the series is held internationally, the weekend was a difficult one for Volker and Yokomo.* The dominator of the opening two races of season No.5, he experienced his worst every ETS event in Apeldoorn managing* to complete only a single round of qualifying after experiencing tyres issues in Q1, a speedo shut down in Q2 and a stripped spur gear in Q4 leaving him 7th on the grid for the E Final. Credit to Volker, despite a weekend he will want to forget he raced his final, putting a great show and pulling off some rather impressive passing maneuvers that entertained the larger that normal amount of onlookers an E-Main normally gets.
For Xray the event gave them a full on experience of the highs and the lows of racing.* Having enjoyed their first ever ETS victory thanks to a great drive from Alexander Hagberg at the preceding round in Poland and the celebrations that go with that success, the team failed to get a single car onto the A-Main grid in the Netherlands.* Managing only one decent qualifying run when he set the fourth fastest time in Q2, Hagberg was the best placed Xray lining up 5th on the grid in the B Final.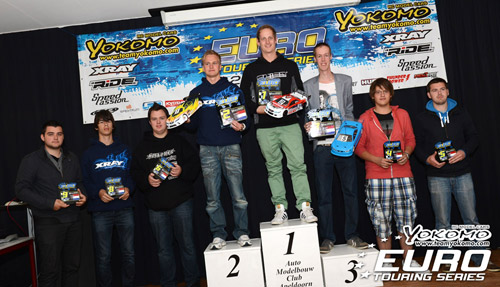 In Pro Stock just 16/100th decided the final result between Top Qualifier & Leg 1 winner Tony Streit and Leg 2 winner Vasco Christiaanse, the latter finally securing his and Kyosho's first ETS win in the class having previously been twice a race Top Qualifier.* As in the Ride Modified class it was not a good weekend for the defending Champion.* Starting off well with his Schumacher topping Friday's practice and topping the opening round of qualifying, Martin Hofer's weekend then went down hill with the German eventually classified 7th one place ahead of Xray's Zdenko Kunak.* The Slovak driver has enjoyed a really strong 2011/12 season, winning in Germany and Poland, but in Apeldoorn he struggled to find that form.
Ride Modified A-Main Overall Result
1. Marc Rheinard (DE) – Tamiya/Speed Passion – 1 pt
2. Viktor Wilck (SE) – Tamiya/Thunder Power – 1
3. Jilles Groskamp (NL) – Tamiya/Orion – 2
4. Yannic Prümper (DE) – Yokomo/Thunder Power – 3
5. Christopher Krapp (DE) – Kyosho/Orion – 3
6. Atsushi Hara (TH) – Team HB/Reedy – 4
7. Marc Fischer (DE) – Serpent/Speed Passion – 5
8. Cyril N'diaye (FR) – Yokomo/LRP – 5
9. Andy Moore (GB) – HB/Hobbywing – 6
10.Shin Adachi (JP) – Team HB/Reedy – 7

​
Xray Pro-Stock A-Main Overall Result
1. Vasco Christiaanse (NL) – Kyosho – 1 pt
2. Tony Streit (DE) – Xray – 1
3. Rob Janssen (NL) – Tamiya – 2
4. Marek Cerny (CZ) – Yokomo – 3
5. Bart Wubben (NL) – Xray – 4
6. Oliver Franke (DE) – Hot Bodies – 5
7. Martin Hofer (DE) – Schumacher – 5
8. Zdenko Kunak (SK) – Xray – 6
9. Remi Callens (FR) – Xray – 7
10.Ivan Laptev (RU) – Awesomatix – 8

​
View the complete event results
here
.
View the event image gallery here.
More...