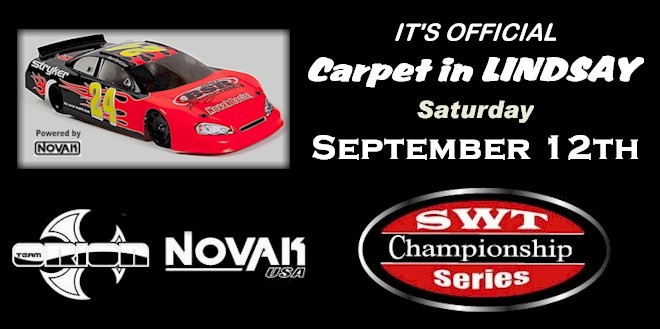 The next stop for the SWTour Series will be
Saturday Sept. 12th @ the STEVE GARVEY Jr. Hi. School Gym in Lindsay CA.
This date was moved forward one week to accomodate several racers schedules, to help draw a larger crowd...
Our regular classes
21.5/2s EXPERT
21.5/2s SPORTSMAN
NASTRUCK (17.5/2s)
will as always been on the ticket. The local on-road guys also like to show up and run their TC's with us on the OVAL, and they generally run 13.5 or 10.5 (Contact me if you are thinking about running this class, and we can make sure to get everyone on the same page)
For the 2010 season, I am hoping to see the return of the Pro17.5/2s class at several of our events. If there is enough interest in having this class next month, we'll put that on the track as well.
The
SWTour Series
is
sponsored by, and Powered by TEAM NOVAK Brushless Motors and Team ORION's 'Spec' 3400 2s Lipos
, and for this race the
BRAND NEW
Novak "Ballistic"
line of motors will be allowed in our "Expert" classes (Currently the only expert class is the 21.5 EXPERT class)
South-West Tour Series
​