Discussion Starter
•
#1
•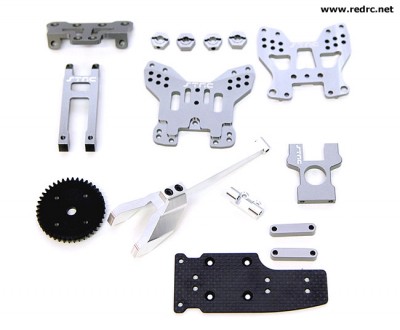 ​
New for the OFNA Hyper 10SC 4×4 short course truck, ST Racing Concepts have new line of option parts is ready to take your truck to a whole new level of performance, durability and great looks. Starting with the CNC machined aluminium heavy duty 5mm front and rear shock tower that replaces the stock 3mm shock tower and greatly reduces flex and keep the shock towers from bending due to hard impact. Next up is the aluminium front steering upper plate and front chassis "H" brace which reduces the flex and increase the strength of the front end. The upper plate tightens up the steering and provide much stronger support for the upper arm mount, while the "H" brace further increase the strength of the front of your Hyper 10SC against hard impacts.
The lightweight machined delrin 42T center spur gear helps reduces the transmission noise while adding efficiency and more importantly increases acceleration. Weighing in at barely 4 grams, this Delrin spur is nearly 1/5th of the weight of the stock steel spur (18.5 grams) and is also thicker than the stock piece, giving the pinion gear more gear mesh contact for more durability. An aluminium rear chassis brace and mount consist of three precision machined pieces, the upper brace mount, the chassis brace and the lower brace mount, again providing a much more rigid rear chassis support that tightens up the rear chassis of the Hyper 10SC while adding a bit of weight to the rear of the truck as well. The 12mm machined aluminium hex adapters mount on the axles perfectly and will not round off on the edges like the plastic pieces, providing a sure fit with today's popular 12mm hexed SC wheels. Finally the graphite center plate is lightweight and features two holes up front for AMB transponder mounting and the aluminum stand-offs replaces the kit plastic ones with more rigidity and great looks.
Source: STRC [teamstrc.com]
</img>
</img>
More...