Discussion Starter
·
#1
·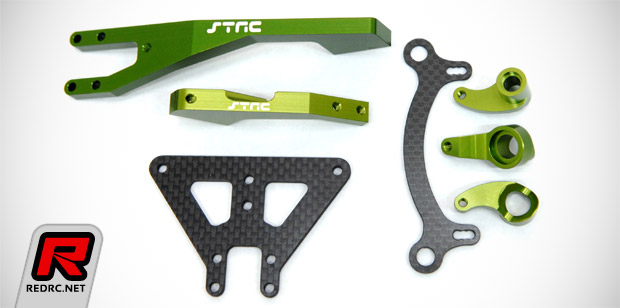 STRC have released a whole range of aluminium option parts for the Axial Exo Terra buggy. Add great looks and prevent your chassis from buckling during hard landing and crashes with these aluminium Front and Rear Heavy Duty chassis brace. The front brace features a high quality graphite steering upper plate and a solid one piece aluminium front chassis brace, while the rear features a heavy duty one-piece brace from the chassis to the rear gear box. The front steering system features a graphite steering rack that has more material around the screw holes and will not bend like the stock aluminium piece. Available in black, green, gun metal, orange, silver.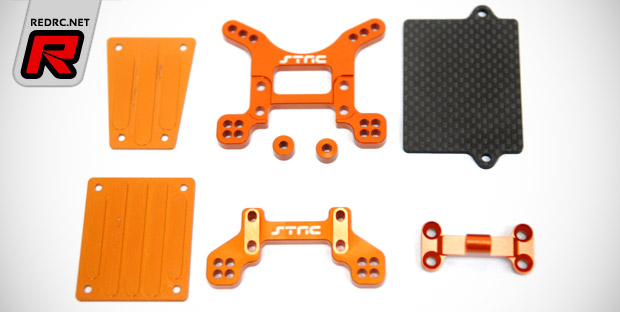 Increase the durability of the front end of your EXO Buggy with a combination of aluminium front shock towers and front bumper mount. The shock tower provides more strength to the front roll cage as well, while the front bumper mount provides a more solid base for the front skid plate/bumper. The rear camber link mount takes away any unwanted flex in comparison to the stock plastic piece and adds great looks to the rear of the buggy. The graphite electronics plate is lightweight and provides a large flat surface to mount any ESC. Finally, the CNC machined front and rear skid plate are available in a variety of colors that allow you to customize your buggy and put on that final touch to your EXO Buggy. Available in black, green, gun metal, orange, silver.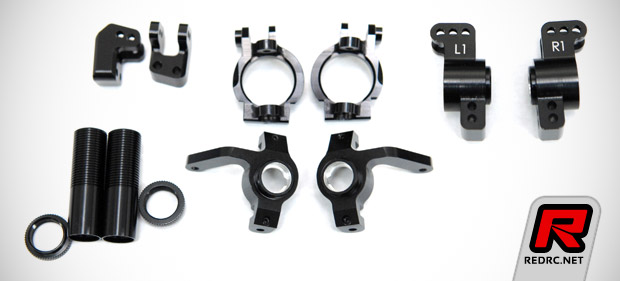 Our CNC machined aluminium HD front steering knuckles and rear hub carriers features the use of larger 5x11mm outer bearings (stock size is 5x10mm) increasing the durability and strength of your outer suspension components. The 1 deg. toe-in rear hub carriers are ideal for loose running conditions providing more rear traction for your EXO Buggy. The aluminium front caster blocks features the exact same dimension as the stock plastic pieces which retains the great steering angle of the EXO Buggy. The Front threaded aluminium shock bodies feature collars with o-rings on the inside that will firmly hold your ride height adjustment in place. The CNC machined aluminium lower shock mount replaces the more flexible plastic unit on the buggy and provides a stronger lower shock mounting point. Available in black, green, gun metal, orange, silver.
Source: STRC [teamstrc.com]
More...