Howdy all! This will be a progress thread.
Just to keep it all in one place, here's whats gone before.
http://www.hobbytalk.com/bbs1/showthread.php?t=354391
Layout Thoughts
Anyway, a friend that needed a hand-up stayed with us for a couple of months, and the impending slot cave ended up being her bedroom. Thank God that she moved out by the agreed upon time....I've seen so many of those end very badly. This one didn't, and now I have my space!
So I took my 15 yr old stepson to play slot cars one night and it turned out, much to my surprise, that he really dug it. (he's from the X Box generation and I just figured he wouldn't like it.) He's now become a regular...and has been using those xbox reflexes to beat my ass on the track.
So when I asked him if he wanted to turn my slot track project into "our" slot track project....well, he was on that like white on rice.
So, we started yesterday.
Basically, were following Greg Braun's table building advice, except I'm using OSB for the tabletop and framing it in 1x4. Other difference is that I'm building it with the idea of portability. I'm a renter, and I think its smarter to assume you might have to move it at some point. So it'll break into two 4 x 6 halves. (Tabletop is 4 x 12.)
So, not much to report at this point. We're doing it a little at a time, an hour here and an hour there. No real hurry, as slot racing with my little group comes to an end during 1:1 race season at our speedway. So I have till Sept to have it "race" ready.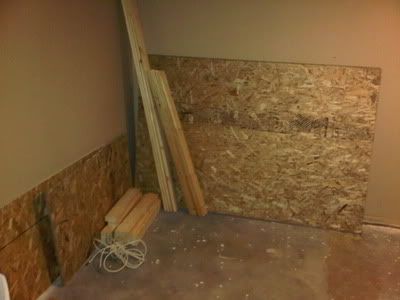 So we start with a pile of wood.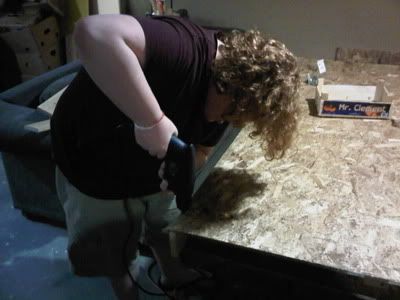 That's m'boy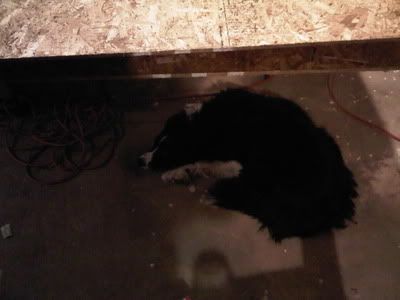 And our helper. Funny...if an airplane flies over, or a train goes by 5 miles away, he hides in the bathtub. Fire up a power drill and he takes a nap right under the workbench.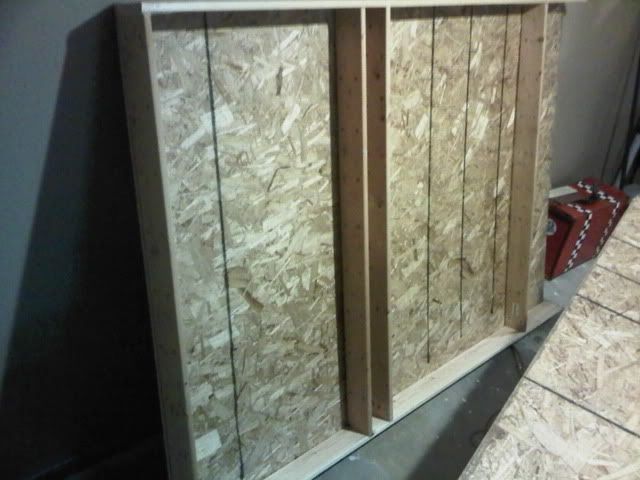 And that's the first half of the benchwork done.
Cost thus far: (assuming regular price @ Home Depot or whatever)
2 x 4x8 OSP boards cut $14.00
8 x 8' 1x4s ($1.75 ea) $14.00 (free for me cuz I found some discarded)
Box of 100 screws $5.00
2 x 10' 2x4s for the legs $7.00
Subtotal $40.00