Discussion Starter
·
#1
·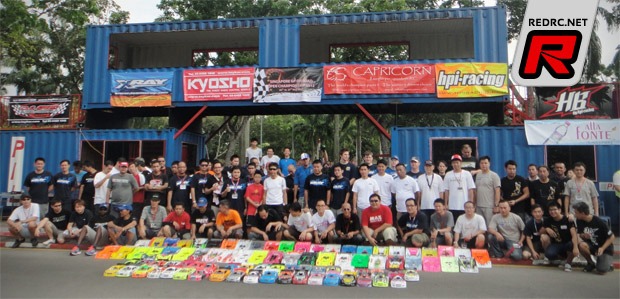 This year's Singapore Open had great attendance with 120 racers equally divided among the 1/10th and 1/8th GP categories.* This is the first time in several years that registration was full weeks in advance and a waiting list was needed. The big news this year was the level of competition, with top drivers attending the race from Thailand, Indonesia, Malaysia and Australia.* Even bigger news, was the very fast lap times set consistently by Meen Vejrak of Thailand and Nicholas 'IceMan' Lee of Singapore.* Nicholas Lee, a Singaporean, crossed over from EP to GP this year after a World Championship title in EP last year. Nicholas Lee TQ'd and won the 1/8 class with a RB powered Serpent 966TE.* He got 2nd place and set the second fastest lap time in the 1/10 class with his RB powered KM-HK1.
Meen's lap times for the smaller, more technical 1/10 layout were 0.5 seconds faster than the best lap times seen in races this year.* To put this into perspective, about 70% of the Singapore local drivers had switched their setups for the start of qualifying on Saturday to be more like Meen.* Everyone was softening their setup to better keep up with the KM Asia Team represented by Meen, Nicholas Lee, Charlee P and Azri Amin.* Singapore driver Barry Ng came the closest to the KM setup and was able to go approx 18.8 seconds by literally cutting, carving and softening his NT1 2012 spec in ways most had not seen before.* His modifications worked very well in qualifying.* Unfortunately, a widened 'flex hole' above the steering pivot post, caused him problems in the A-Main, when some contact on the first lap saw his steering bearing and top deck screw pop out.
The 1/10 A-Main was full of excitement with what appeared to be an e-clip issue causing Meen to lose 20 laps after leading for the first three laps.* Nicholas Lee and Charlee P. then led the race driving incredibly fast, precise and smooth laps.* Both then started to have issues with what appeared to be flame outs.
A-Main winner, Singaporean Ben Seet, drove a near perfect race!* He was very fast all weekend but was not on the radar–having starting from 9th position, with a fastest lap of 19.2 seconds.* Erwin 'the Lion' Luhur drove great 1/10 and 1/8 races in spite of hurting his neck on Saturday and not being able to turn his head more than a few degrees to the side.* Bowie Ginting (of Captain GP Indonesia) put in a great performance and was in second for a long time behind Charlee P.* Nelson Lee, who normally can make any car go fast, seemed to be having some engine issues.* With the help of his trusty mechanic and sidekick 'Bob,' Nelson still managed a good showing.* The A-Main ended with Nicholas Lee and Azri Amin only 2-3 seconds behind the winner Ben Seet.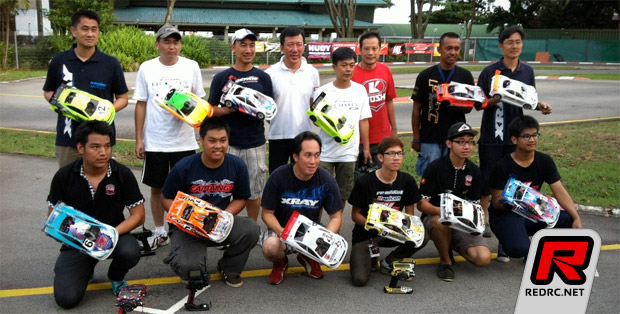 1/10 A-Main results
1. Ben Seet – 102L 35:01.0 – Singapore (Kyosho, Sirio)
2. Nicholas Lee – 102L 35:03.5 – Singapore (KM, RB)
3. Azri Amri – 102L 35:03.7 – Malaysia (KM, Nova)
4. Erwin Luhur – 102L 35:13.2 – Singapore (Xray, Max)
5. Bowie Ginting – 101L 35:02.1 – Indonesia (Xray, Nova)
6. Charlee P. – 101L 35:19.9 – Thailand (KM, Nova)
7. Philip Lee – 99L 35:06.8 – Singapore (Kyosho, Sirio)
8. Nelson Lee – 99L 35:10.9 – Singapore (Mugen, Nova)
9. Barry Ng – 99L 35:19.2 – Singapore (Xray, Nova)
10.Trin – 97L 35:16.9 – Thailand (KM)
11.Sadikin – 93L 35:08.9 – Indonesia (Xray, Max)
12.Meen Vejrak – 91L 34:52.1 – Thailand (KM, Nova)

​
The 1/8th scale raced utilized the full/large track layout, which is an incredibly fast layout.* With speed comes collisions, and the semi finals were full of disappointment for many drivers.* The big news in 1/8th was that Nicholas Lee can really make 1/8 cars go fast too; Singaporean Khamil is back; and Malaysian CK Lee bumped up from the 1/8th finals to finish 4th!* Team Australia seemed to be rather unlucky on Sunday after Leigh 'Snowy' Dytor and Blake Young put in the 2nd and 8th best qualifying runs on Saturday.* Indonesian driver Sadikin and Thai driver Trin had a race ending collision early in the race.* Sadikin who has always been considered an RC 'Super Hero' in the minds of many in Singapore will surely be back to try to win again next year.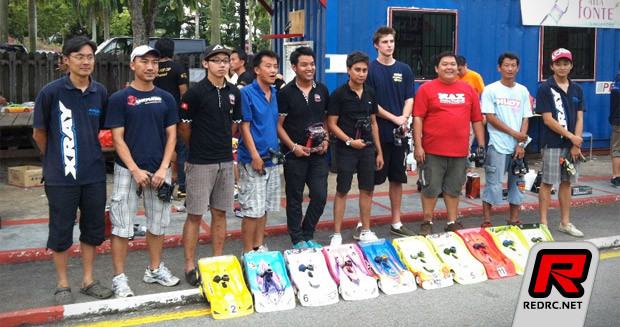 1/8 A-Main results
1. Nicholas Lee – 108L 35:00.6 – Singapore (Serpent 966 TE, RB)
2. Khamil – 108L 35:10.0 – Singapore (Capricorn, OS)
3. Erwin Luhur – 105L 35:07.2 – Singapore (Xray, OS)
4. C.K.Lee – 102L 35:09.2 – Malaysia (Serpent 966 TE, Nova)
5. Chee Lip Keong – 102L 35:13.0 – Malaysia (Mugen, OS)
6. Don Chng – 101L 35:02.8 – Singapore (Shepherd, OS)
7. Blake Young – 99L 35:09.5 – Australia (Mugen, Murnan P21)
8. Nelson Lee – 97L 32:42.1 – Singapore (Shepherd, OS)
9. Ben Seet – 86L 29:47.0 – Singapore (Mugen)
10.Jesse Wu – 26L 10:01.7 – Singapore (Xray)
11.Sadikin – 22L 08:21.6 – Indonesia (Xray, OS)
12.Trin – 21L 06:59.6 – Thailand (Capricorn)

​
With the 1/10 and 1/8 Worlds in Thailand and Japan this year and next, there is much speculation about how fast these Asian guys are compared to their Teutonic and Cowboy counterparts in Europe and America.* Only time will tell.* One sure thing is that next year's Singapore GP Open in May 2013 will be sure to see extra excitement in the lead up to the 1/8 Worlds.* If you ever considered coming to Singapore for a race, May of next year would be the time to pay us a visit.
Thanks to Sam Craig for the report.
More...