Discussion Starter
•
#1
•
Back in March I purchased the PL 1701 Refit & like everyone else I was blown away by how large, detailed & amazing the kit is. I however am a generation of the 1701-A version & was sad to see that the shuttlebay for that version was not included. After carfull consideration and much planning I decided to tackle this problem by building the shuttlebay from scratch, please keep in mind that this is my first attempt at scratch building & I send out my appreciation to all the people who gave me tips & tricks to help me with this project.
The following are pictures of the pieces built up from sheet styrene before any paint had touched them plus a few test fits. By the way for anyone new to this, a cool trick I stumbled upon was using an oversized door hinge with files or sand paper to keep all the edges and corners straight and at right angles, something very important if dealing with small measurements.
After I had hit this point in the project I stumbled upon difficulty with the roof and how i was gonna make it fit. After enjoying the summer with some camping & other activities I found my solution, some clear water bottles had just the right curvature for what I needed. Before I could get the roof done some sub-assembling was needed & before I could do that I needed to get some airbrushing outta the way. I am planning on lighting this thing so light blocking was needed as well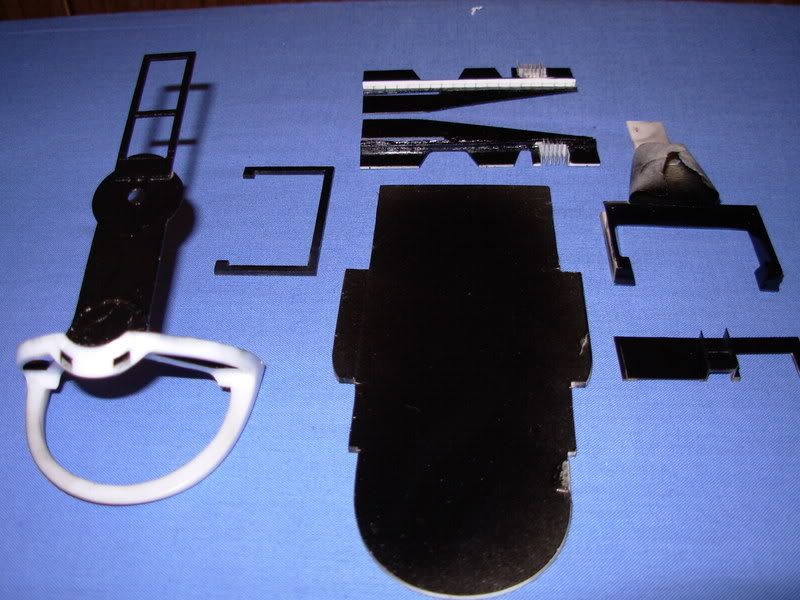 The windows of the control room I figured I would just make them black with a clear coat on top.