Discussion Starter
·
#1
·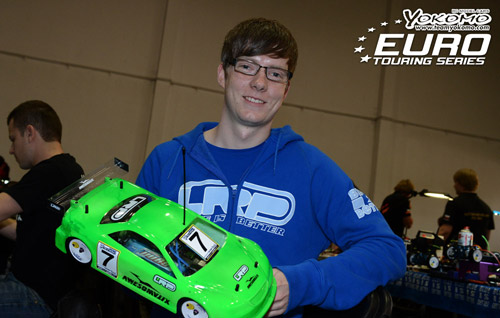 Awesomatix team driver Freddy Südhoff has taken the third round of qualifying at the Yokomo Euro Touring in Poznan, Poland. The 22-year-old, who is being tipped to be a strong title contender at this year's upcoming World Championships, is the first driver to top the time sheets as early event dominator Ronald Volker rolled his Yokomo out of a TQ run before pulling up after a second mistake in Q3.
Having described his A700 as feeling like a drift car in Q2, 'Fast Freddy' said a change to his tyre prep gave him the start pace he had been looking for but added that by the end of the 5-minutes it was starting to get a little loose. Having tried different tyre preparations for each of his runs so far this weekend the German, who just set the fastest lap of the weekend with 12.708, said he thinks now its time to focus on the set-up of the unique dampers on the Russian designed car.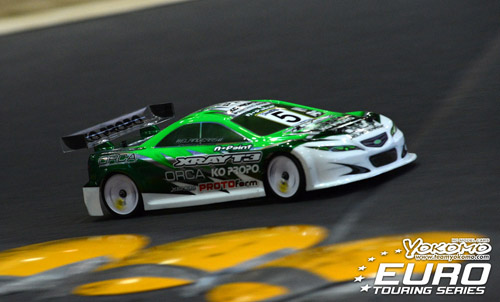 Losing out on a TQ run to Südhoff by 15/100ths following a messy final lap, Alexander Hagberg was still very upbeat about his latest run. The Swede has been fighting with his own driving since arriving in Poland but believes he has now got that under control. Admitting he lost out on taking the round due to some small mistakes in the final few laps, the Round 3 podium finisher said his Xray is working well and with his confidence coming back up he is determined to redeem himself in the final two qualifiers.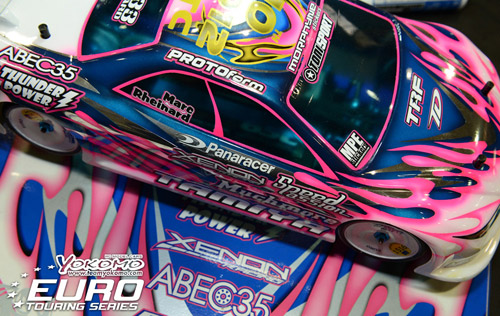 Another driver to throw away a TQ run was Marc Rheinard. The World Champion caught a dot coming onto the straight on his penultimate lap losing 1-second to finish third fastest 4/10th off the TQ pace. The Tamiya driver switched his front tyres from left to right for Q3 and said it reversed the problem he had in the opening two qualifiers of the car being ok through left corners and a handful when turning right. The German, who said the mistake was his own doing, also tried a front geardiff for the round but said he thinks he will revert to a spool for his next run.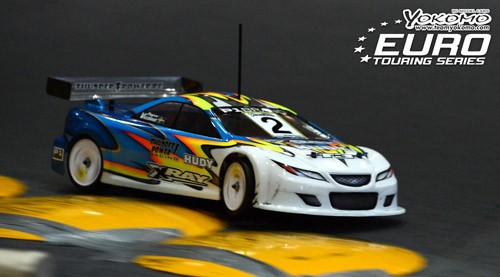 With his Xray a bit of a handful in Q2, Magnus Vässmar said he changed his tyre prep and rebuilt his shocks for the third round which slightly improved it but it was still too hard to drive and once again lead him to make a mistake. Taking fourth for the round which currently puts him fifth in the qualification ranking he plans to try a number of changes to the set-up for his penultimate heat. Making it three Xray's in the Top 5 young German driver Marco Kaufmann drove a strong round to set the fifth fastest time ahead of championship leader Christopher Krapp, the pair running in the second fastest of the heat groupings.
19-year-old Krapp said his Kyosho was the same as in Q2, in which he was 16th, only this time round he made no mistakes. Admitting his is still someway off the pace of front runners the German plans to try make the TF6 easier to drive for Q4 in the hope that he will be able to push a little harder without taking too much risk. He added that he is also starting to get more confident with the carpet track so all in all things are starting to look a lot more positive about making the A-Main.
Still the only driver to record 24-laps around the huge track here at the Poznan MotorShow, Volker ran the same set up for the third heat and said he wasn't sure if his traction roll was due to him driving a little to aggressive or due to a change in track conditions. After his roll the ETS Champion said he tried to make back the time but pushed too hard resulting in a second mistake after which he decided to pull up.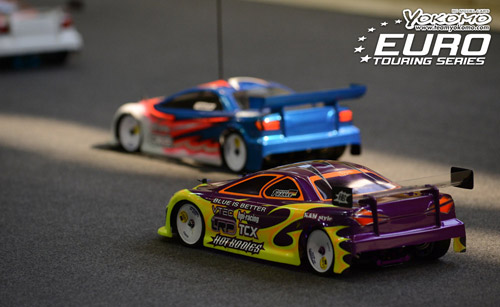 In the Xray Pro-Stock class we also saw a change at the top after the top qualifier from Q1 & 2 Zdenko Kunák also rolled his Xray. This left the door open for HB driver Oliver Franke to post fastest time. The German driver who rolled in the opening two qualifiers leaving him well down the order glued up his front tyre walls and opted to go for a clean rather than fast run and said the end result was 'near perfect'. Defending Champion Martin Hofer took second for the round with Polish Tamiya driver Michal Orlowski completing the Top 3.
Ride Modified Qualifying Round 3
1. Freddy Südhoff (DE) – Awesomatix – 23/5:00.562
2. Alexander Hagberg (SE) – Xray – 23/5:00.714
3. Marc Rheinard (DE) – Tamiya – 23/5:00.964
4. Magnus Vässmar (SE) – Xray – 23/5:02.668
5. Marco Kaufmann (DE) – Xray – 23/5:03.095
6. Christopher Krapp (DE) – Kyosho – 23/5:03.432
7. Eric Dankel (DE) – Yokomo – 23/5:03.615
8. Martin Hudy (SK) – Xray – 23/5:05.092
9. Tim Wahl (DE) – Xray – 23/5:06.250
10.Elliot Harper (GB) – Tamiya – 23/5:06.271

​
Xray Pro-Stock Qualifying Round 3
1. Oliver Franke (DE) – HB – 22/5:06.563
2. Martin Hofer (DE) – Schumacher – 22/5:06.736
3. Michal Orlowski (PL) – Tamiya – 22/5:08.648
4. Steffen Leinburger (DE) – HB – 22/5:09.009
5. Denis Zuykov (RU) – Awesomatix – 22/5:09.541
6. Jens Kroger (DE) – Kyosho – 22/5:09.616
7. Rob Janssen (NL) – Tamiya – 22/5:09.958
8. Tony Streit (DE) – Xray – 22/5:10.497
9. Marek Cerny (CZ) – Yokomo – 22/5:10.583
10.Fabian Boucher (DE) – Xray – 22/5:10.595

​
View the complete results
here
.
View the event image gallery here.
More...