Discussion Starter
·
#1
·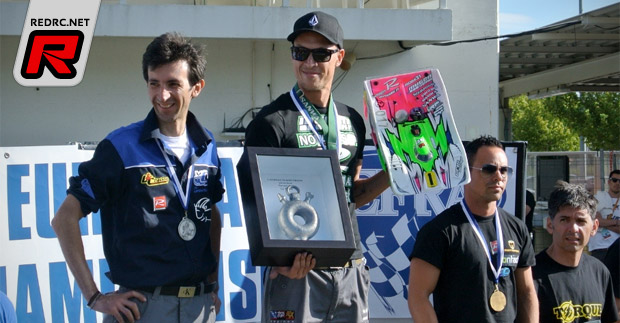 This week saw EFRA's annual 1/8th onroad European Championship held in Vila Real, Portugal. Approximately 80 drivers made the trip to the huge track in Vila Real. Built about 10 years ago by the local Government near the local Football stadium this is quite a unique place. The track is long, very fast and very demanding on tires. The average driver has probably spent 22-25 pairs of tires even before the final day. The weather in Vila Real was nice and not too hot with temperatures between 22 and 25 degrees with a nice breeze from time to time.
Due to its shape and length the engine needs to be 100% to make a good lap. The track has no difficult parts or chicanes that need special attention. Speed and power that's what you need here. From the beginning of qualifying it was a battle between Pietsch and Collari.
However with now no direct finalists you always have to wait to see who can survive the semis. The tire story, yes or no tire treatment has shown that you need extra time to prepare those tires and to make sure they do their work. Since they only work for a few minutes you can ask yourself if it is al worth the hassle. For the top of course 10 laps that are 0.1 or 0.2 seconds faster is a lot. But for the average driver where the lap times vary 0.5 seconds you must ask yourself if it is worth all.
After Qualifying it was:
1. Robert Pietsch (GER) – 22 laps 7.03.662
2. Lamberto Collari (IT) – 22 laps 7.08.827
3. Daniele Ielasi (IT) – 22 laps 7.09.782
4. Simon Kurzbuch (SWI) – 22 laps 7.10.185
5. Dario Balestri (IT) – 22 laps 7.10.283
6. Alberto Picco (IT) – 22 laps 7.10.431
7. Ilia van Gastel (BEL) – 22 laps 7.11.599
8. Andrea Pirani (IT) – 22 laps 7.11.718
9. Kyle Branson (ENG) – 22 laps 7.11.866
10.Francesco Tironi (IT) – 22 laps 7.12.834

​
Up till position 25 drivers were able to run 22 laps.
The sub finals on Saturday were a matter of choosing the right strategy. No tire change and start on big tires, or do a tire change and start smaller. The majority that moved to a higher final did that because of no change. Only in the semis the really fast drivers could afford to make a change and still maintain a good position.
Salven and Green were able to move from the quarters to the semie without a tire change and they moved also from the semis to the final thanks to that strategy. Collari, Picco, Pirani, Green and Tironi were the drivers that moved from the first semi. In the other semi it was a straight win for Pietsch followed by Balestri, Ielasi, Salven and Bertin.
In the final it was a battle between Balestri, Collari and Pietsch. They controlled the race and it was due to the different strategies for fuel stops and tires that gave us different drivers on the lead. In the beginning it was Pietsch that was flying up till 11 minutes, when he decided to make a tire change. That brought Collari in the lead. And so it went on with sometimes Pietsch in the lead, than Collari and on a few occasions Balestri. Pietsch opted for 3 changes on 11 minutes, 22 minutes and 33 minutes. Collari made only one and Balestri did it with 2 tire changes.
Pietsch really had to work hard, because after each tire change he needed to face traffic to find its way to the first position again. The strategy worked, but there was no room for a mistake. It was only in the last 2 minutes that he was able to pass Collari and to maintain in the lead till the 45 minutes.
So the final result:
1. Robert Pietsch (GER) – Mugen/Novarossi 134 45.14.979
2. Lamberto Collari (IT) – Capricorn/Novarossi 134 45.16.563
3. Dario Balestri (IT) – Motonica/Novarossi 133 45.03.194
4. Alberto Picco (IT) – Mugen/Picco* 132 45.02.703
5. Michael Salven (GER) – Serpent/Xceed* 132 45.13.100
6. Adrien Bertin (FRA) – J.Max/Orion* 131 45.02.488
7. Mark Green (ENG) – Serpent/Novarossi 130 45.14.633
8. Daniele Ielasi (IT) – Shepherd/Sonic 126 45.15.629
9. Francesco Tironi (IT) – Capricorn/Novarossi 86 29.28.457
10.Andrea Pirani (IT) – Shepherd/Novarossi 49 16.27.627

​
Thanks to Sander de Graaf for the report.
More...