Discussion Starter
•
#1
•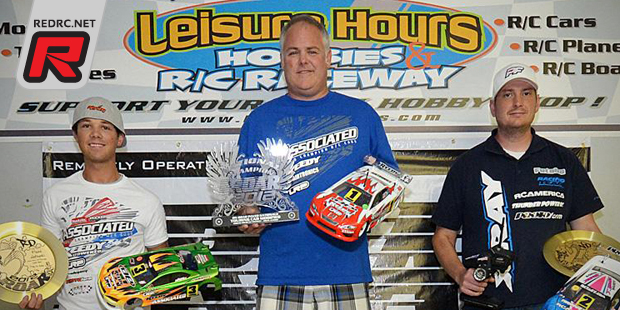 ​
The 2012 ROAR On-Road Nationals visited one of the finest on-road circuits in the USA. at Leisure Hours Raceway in Joliet, Illinois. Top racers from around the USA and Canada gathered over the weekend of August 23-26 to crown National Champions in six classes. The permanent track was configured to provide a mix of challenging technical corners as well as high-speed sections where speeds approached 65 MPH in the premier Modified TC class. A combination of power, handling, and driving would be the key to a successful weekend.
Qualifying turned out to be a head-to-head battle between Hohwart and Lemieux, with the drivers splitting the rounds wins at two apiece. The driver with the fastest combined time in the two runs would win the tie-breaker. In this case, Hohwart had the faster combined time and started from the pole position in the A Main. Lemieux had to settle for the second grid position with another pre-event favorite, Canadian Keven Hébert, rounding out the top three.
With rain forecast for Sunday afternoon, the decision was made to race some of the main events, including the first A-Main legs, on Saturday evening after qualifying was completed. Lack of sunlight and no track lights meant the remaining main events, including A2 and A3, would be run Sunday morning before the arrival of the expected thunderstorms.
A1 proved to be an epic battle. Hohwart led Lemieux and Hébert for the first couple of laps until Hohwart bobbled coming onto the straight, allowing Lemieux into the lead. The slight lead stabilized over the next few laps until Hohwart began to close the gap. Lemieux made a slight mistake, which let Hohwart back into the lead. The drivers battled nose to tail until Lemieux bit a little too much curb and rolled on his lid. Hohwart took full advantage and cruised to victory.
Sunday's rain reared its ugly head earlier than expected. It began falling at 9 a.m. and never let up, which forced ROAR to determine the final results based on the results of A1. Hohwart was crowned the National Champion with Paul Lemieux in second and Keven Hébert rounding out the final podium position
.
Source: Associated [teamassociated.com]
More...