Discussion Starter
·
#1
·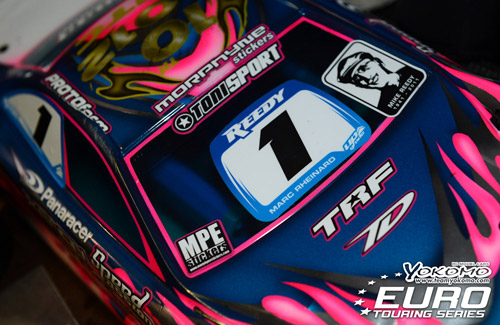 Top Qualifier Marc Rheinard has won the second A-Main at the fifth round of the Yokomo Euro Touring Series, the German driver heading a dominant 1-2 for the Tamiya team ahead of team-mate Jilles Groskamp with Yokomo's Yannic Prumper finishing third.* Benefiting from running on brand new tyres having saved them from qualifying, the former ETS Champions pulled clear of the opposition to win by 6 seconds from Prumper who after retiring after just 4-laps in the first A-main also had the benefit of fresh rubber.
Run just before 22:00 local time the cool conditions made for much faster conditions and if, as predicted, the rain arrives in the morning Rheinard will take his first win of the season thanks to his winning time being over six seconds faster than Vikor Wilck's Leg 1 winning time. If the rain holds off and the third Leg of the A-main gets to go ahead the race will be a showdown between the three TRF drivers.* After a great start in the opening A-Main, Wilck, who unlike his team-mates didn't have the benefit of a new set of controlled Ride tyres, wasn't able to repeat his performance and spent much of the race battling with Kyosho's Christopher Krapp.* While Krapp held on to finish fourth the Swede made a mistake four laps from the finish allowing Serpent's Marc Fisher through for fifth.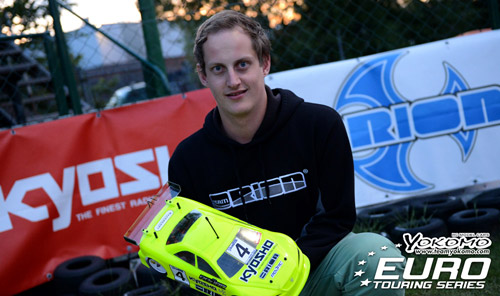 The second of the Xray Pro Stock A-Mains saw Vasco Christiaanse take the win for Kyosho after Top Qualifer & Leg 1 winner Tony Streit and defending champion Martin Hofer clashed while battling for the lead on the 3rd lap.* Running a faster time due to the cooler night time conditions the 2 time ETS Top Qualifier, who is still in search of his first win, is sure to be planning to do a rain dance tonight while Streit, whose winning time was just 16/100th slower, will be praying the weather holds up as he too looks to secure his first overall ETS victory.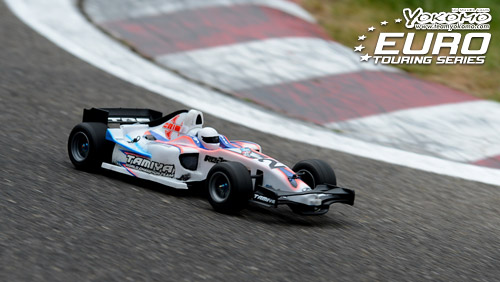 A entertaining second A-main in the Speed Passion Formula class produced the so far only guaranteed winner of the weekend as German driver Dai Sakaguchi took his second win of the day in Leg 2 after Top Qualifier and early race leader Michael Lepelaar rolled his Tamiya F104 as he came up to complete his 10th lap of 15.* Dropping to fifth, Lepelaar eventually crossed the line in 3rd behind fellow Dutchman Alexander Roeleveld.
Ride Modified A-Main leg 2 results
1.(1) Marc Rheinard (DE) – Tamiya/Speed Passion – 20/5:00.187
2.(2) Jilles Groskamp (NL) – Tamiya/Orion – 20/5:00.858
3.(5) Yannic Prümper (DE) – Yokomo/Thunder Power – 20/5:06.806
4.(6) Christopher Krapp (DE) – Kyosho/Orion – 20/5:08.781
5.(3) Marc Fischer (DE) – Serpent/Speed Passion – 20/5:09.840
6.(4) Viktor Wilck (SE) – Tamiya/Thunder Power – 20/5:14.009
7.(10)Andy Moore (GB) – HB/Hobbywing – 19/5:14.009
8.(7) Atsushi Hara (TH) – Team HB/Reedy – 19/5:04.049
9.(9) Cyril N'diaye (FR) – Yokomo/LRP – 19/5:05.433
10.(8)Shin Adachi (JP) – Team HB/Reedy – 12/3:24.318

​
Xray Pro-Stock A-Main leg 2 results
1.(4) Vasco Christiaanse (NL) – Kyosho – 18/5:15.440
2.(1) Tony Streit (DE) – Xray – 18/5:15.832
3.(5) Rob Janssen (NL) – Tamiya – 18/5:16.139
4.(3) Bart Wubben (NL) – Xray – 17/5:01.864
5.(2) Martin Hofer (DE) – Schumacher – 17/5:04.023
6.(7) Zdenko Kunak (SK) – Xray – 17/5:04.930
7.(9) Remi Callens (FR) – Xray – 17/5:07.485
8.(6) Ivan Laptev (RU) – Awesomatix – 17/5:07.975
9.(8) Oliver Franke (DE) – Hot Bodies – 17/5:10.334
10.(10)Marek Cerny (CZ) – Yokomo – 3/0:53.744

​
View the complete event results
here
.
View the event image gallery here.
More...