Discussion Starter
·
#1
·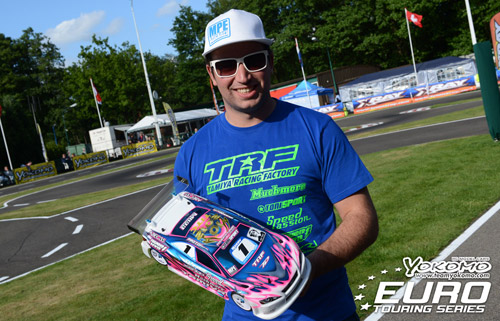 2011 Dutch ETS race winner Marc Rheinard has put himself in the best position possible to repeat that success and claim his first win of the current Yokomo Euro Touring Series season after the World Champion topped the final round of qualifying at Apeldoorn to secure the overall TQ honours ahead of Tamiya team-mate Jilles Groskamp and Serpent's Marc Fisher.* The biggest shock of qualifying is that championship contenders Ronald Volker and Alexander Hagberg have failed to make the A-Main.* Defending Champion Volker had a third DNF run in the final qualifier when his Yokomo stripped a spur gear while ETS Poland winner Hagberg struggled to the 23rd fastest time reporting a complete lack of traction.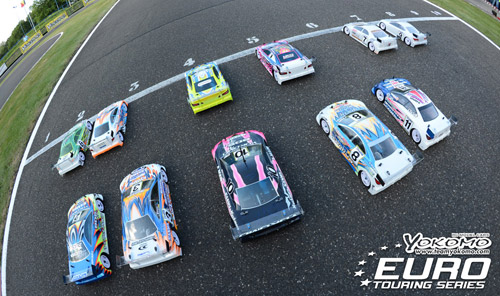 Rheinard said afterwards his Speed Passion powered Tamiya is working really well this weekend and its nice to finally start a race on pole position but the German ace said the race is wide open still with the starting position on the grid here not as critical as at other tracks.* Expecting the first final to be very close as all 10 drivers will be on fresh Ride tyres both he and Groskamp should have an advantage in the second A-Main as they saved one of their two allocated sets of tyres from qualifying.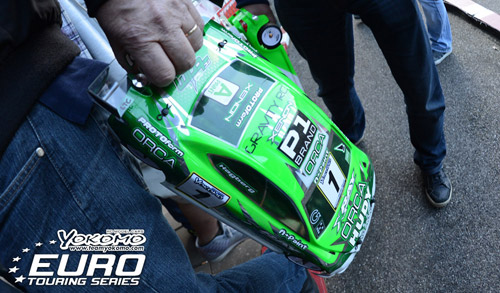 With Hagberg's title hopes ended as he line-ups 5th on the grid in the B-Final and Volker 7th on the grid E-Final, this opens the door for ETS Gran Canaria winner Christopher Krapp to try capitalize.* Turning around a bad start to his qualifying, the German ace lines-up sixth and is in no doubts that his Kyosho is capable of going for the win even despite his starting position.
While drivers normally have Saturday night to reflect on their qualifying performance at the ETS, tomorrow's weather forecast of 100% chance of rain means the organisers have decided to run two of the three legs of the A-Mains today so that should the track be wet in the morning they have results to call on at what is a very crucial point in the final championship standings for both the Ride Modified and Xray Pro-Stock classes.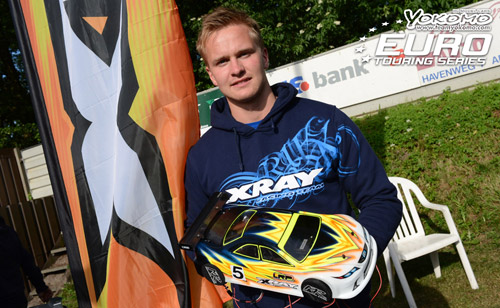 In Pro-Stock Xray's Tony Streit is the Top Qualifier ahead of current champion Martin Hofer with Bart Wubben set to line-up third.* The winner in Poland, Zdenko Kunák with have his work cut out if he is to bag his third win of the season as he starts only 7th just ahead of Polish Top Qualifier Oliver Franke.
Ride Modified A-Main Grid
1. Marc Rheinard (DE) – Tamiya/Speed Passion – 310
2. Jilles Groskamp (NL) – Tamiya/Orion – 308
3. Marc Fischer (DE) – Serpent/Speed Passion – 306
4. Viktor Wilck (SE) – Tamiya/Thunder Power – 305
5. Yannic Prümper (DE) – Yokomo/Thunder Power – 305
6. Christopher Krapp (DE) – Kyosho/Orion – 303
7. Atsushi Hara (TH) – Team HB/Reedy – 299
8. Shin Adachi (JP) – Team HB/Reedy – 298
9. Cyril N'diaye (FR) – Yokomo/LRP – 298
10.Andy Moore (GB) – HB/Hobbywing – 298

​
Xray Pro-Stock A-Main Grid
1. Tony Streit (DE) – Xray – 310
2. Martin Hofer (DE) – Schumacher – 307
3. Bart Wubben (NL) – Xray – 307
4. Vasco Christiaanse (NL) – Kyosho – 306
5. Rob Janssen (NL) – Tamiya – 306
6. Ivan Laptev (RU) – Awesomatix – 302
7. Zdenko Kunak (SK) – Xray – 299
8. Oliver Franke (DE) – Hot Bodies – 298
9. Remi Callens (FR) – Xray – 297
10.Marek Cerny (CZ) – Yokomo – 296

​
View the complete event results
here
.
View the event image gallery here.
More...