Discussion Starter
•
#1
•
"Removing Paint From Aerosol Cans To Use In Your AirBrush"
A great primer is Gray Equipment #20010 by Painters Place in the 11oz. aerosol can for 90cents at WalMart in the HousePaint aisle.
Several years ago I invented a way to remove aerosol paint from its container and Scale Model Magazine ran it in their magazine.
Simply remove the Gray Primer from the can and thin it 35% with Paint Thinner.
It will go on thin and smooth unlike the gritty, sandy effects you get from spraying it out of the aerosol can.
It's adhesive properties are superior.
Aerosol primers whether Enamel or Lacquer are way too thick and gritty for our 1/64 scale Customs.
When thinned they lay down smooth and of nominal thickness.
Here's a trick I came up with to transfer paint from the aerosol can to a container so I could spray it with my Airbrush.
Scale Model Magazine saw it online, contacted me and requested to publish it.
You will need a 3" - 4" length of plastic drinking straw, some 1" wide tape, and of course a suitable container.
I collect the empty film cans from local WalMart Photoshops. This soft pliable plastic will not react with automotive paints.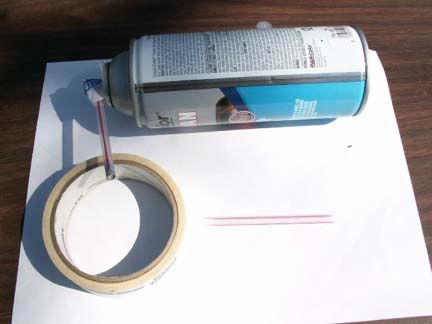 1st-----Butt the straw up to the hole in the button of the Aerosol can. In most cases with Duplicolor, the straw will actually slip over a short protrusion in the button.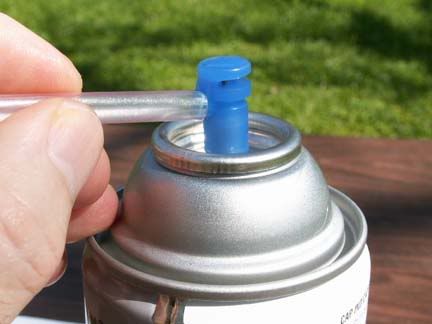 2nd-----Wrap the tape around the straw and button so they are held together firmly and tightly.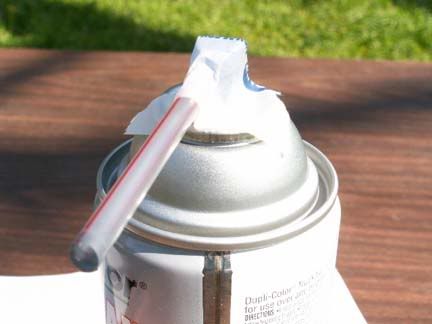 3rd-----Just spray your paint into whatever container you've chosen. The straw will perform like a muffler, choking down the escaping gases and allowing the paint to gently run out the end of the straw.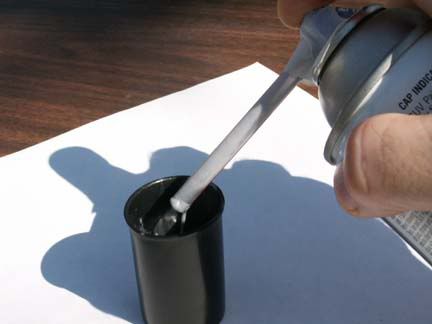 If you're only using small amounts of paint, you can just spray the paint directly into your paint cup.
I will add this note here although I haven't included it before for this post.
I have an alternate method for removing the paint from aerosol cans when I want to completely empty the can and transfer all its contents to another container.
You can of course use my above method to completely empty an Aerosol can but this second method is quicker.
Remove the spray button from the can.
Shake the can to thoroughly mix its contents.
Set the can down on a flat surface.
Using a file sharpen a small nail to a point and with a small hammer gently tap a pin hole just inside the lip at the top of the can.
A pinhole is all you need.
Just barely break the skin of the can.
Allow the pressure to fully escape, about 15 minutes.
Now similarly tap another pinhole opposite from the first on the other side of where the spray button was.
When all pressure has escaped enlarge both holes with a larger nail or phillips screwdriver.
These two holes will equalize the air pressure in the can so you may pour out the contents.
Now you need a suitable container to hold the contents.
You may use any soft plastic container i.e., polyethylene not hard styrene.
I choose either Ketchup bottles or Barbecue Sauce bottles.
Yeah, I do a lot of Barbecuing around here.
These bottles are constructed of soft vinyl like plastic which will not react with the chemicals in Enamel or Lacquer paints.
They also come with the benefit of having a small mouth opening so you may safely pour your thinned paint directly into your AirBrush Cup.
Gently pour the contents of the can into your new container and leave it open for about 4 hours.
Return every so often to swirl around the contents assuring that the gases get released.
The paint still contains propellant in liquid form and will create pressure in your new container if shaken.
Diluting it with the prescribed amount, 35%, of Paint Thinner will deactivate some of this tendency to bubble up and boil over.
I screw on the cap, gently shake the bottle and very easily loosen the cap 4 or 5 times repeatedly to allow all remaining propellant to escape.
So here you have methods of removing paint from aerosol cans allowing you to either release small amounts as in using the Straw Method or to completely empty the can and transfer the contents to another container.
All my painting is done completely with House Of Kolor products, Of Course!!
But I like to give alternate methods so that anyone can get perfect results using products they can easily obtain.
--CadillacPat the UnCustomizer--