Discussion Starter
•
#1
•
"Rainbow's End" All the colors of the Rainbow and then some!!!!!!!!!!!!
Here's another of those crisply cast Affinity Series HW '63 Impalas.
1963, just a couple of years before the whole Haight/Ashbury Freak Festival Love-In scene exploded West to East across young America.
These castings are $7 - $9 on the Internet.
Stripped, filed and sanded of all imperfections and then rubbed down with #3 Steel Wool for a spun lustre finish, perfect for good paint adhesion.
Primered and the Roof is then shot a mixture of SnowWhite Pearl with a drop of Oriental Blue Intensifier, then very lightly InterCoat Cleared and taped,
The body is then shot Shimrin White,
Decals are applied and front and rear Windshield trim is free handed.
Once again, thanks to the superior properties and capabilities of Tamiya Masking Tape, the tiny thin apron below the rear window is left intact as part of the roof, just as on the "Apache Summer '63".
4mm Center Caps cover up an open end axle rim and add to the Bling of this style wheel.
Clearcoated with HOK Urethane Enamel Clear and a dash of Brilliant Gold Pearl Powder Additive.
All Products Used Are Exclusively House Of Kolor, Of Course!!!!!!!!!!!!!!!!!!
Decals are created with Clear InkJet Decal Paper from Papilio.com
Rivet reassembly for that clean professional factory appearance.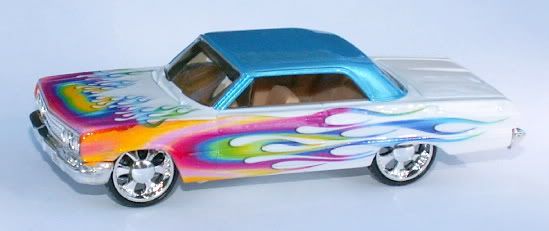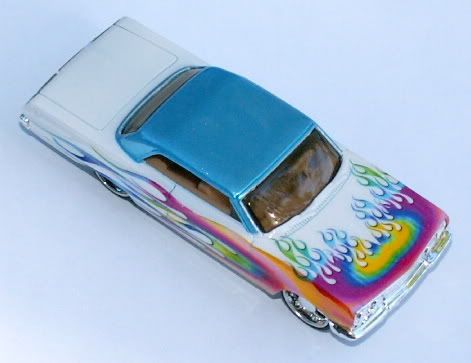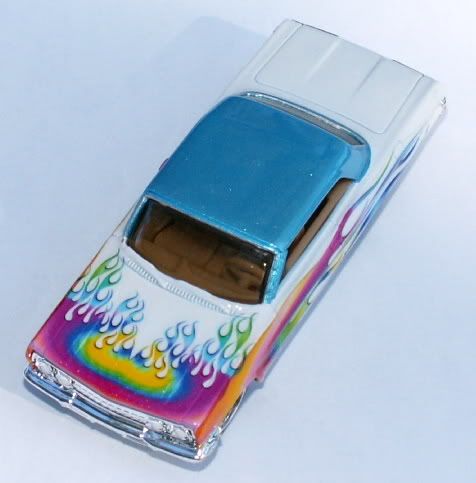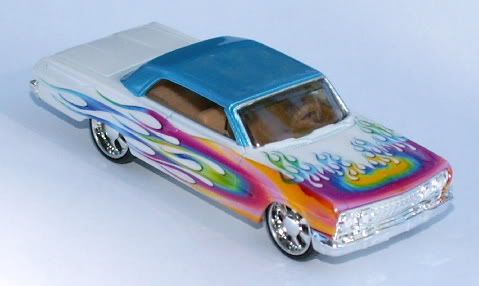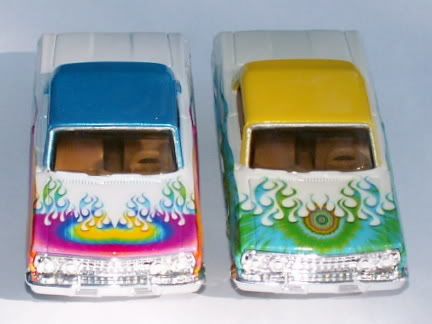 Stay Tuned for the "Octopus' Garden" 1963 Impala!!!!!!!!!!!!!!!!!!!!
--CadillacPat the UnCustomizer--
Keeping the ZING in CustomiZING!!!!!!!!!!!!!!!!!!!!!!!!!!!!!!!!!!!!!!!!!