Discussion Starter
•
#1
•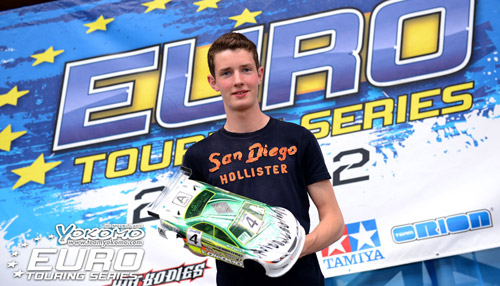 Team Yokomo's Yannic Prumper is Top Qualifier for tomorrow's 2011/12 Yokomo Euro Touring Series season finale after a bizzane change in track conditions in Traiskirchen, Austria, resulted in Turkish driver Mustafa Alp taking a surprise TQ for Q4. With just the top 3 heats left to run to complete qualifying the humidity suddenly shot from a 27% to over 66% resulting in a reaction with the sugar water on the roof covered asphalt track that left the worlds top drivers looking like drifters rather than touring car racers. While the freak track conditions didn't effect much at the front of the grid it was to cost former World Champions Atsushi Hara and Hayato Matsuzaki any chance of making the final.
Securing his second ETS TQ, the first of which he successfully converted into victory in Poland 3-years ago, Prumper said his Thunder Power equipped prototype BD5 has the pace to secure him his second ever win in the prestigious series and its just up to him to put in two clean races. Having dominated the opening qualifier on Friday by 4 seconds when on new tyres the young German is confident that tomorrow he can pull off a repeat performance as he still has his second set of allocated Ride controlled tyres while the No.2 starting Xray of Alexander Hagberg used both his sets in qualifying.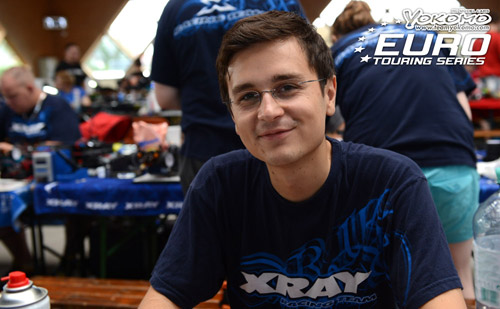 The best placed of the title contenders on the grid in second, Hagberg said he was happy with his starting spot and he is confident that his ORCA powered T3 is now competitive enough to challenge for the win tomorrow. The winner of his and Xray's first win in the ETS in Poland from second on the grid the Swede has little to loose as he needs the win, and a poor result from defending champion Volker, if he is to lift the title.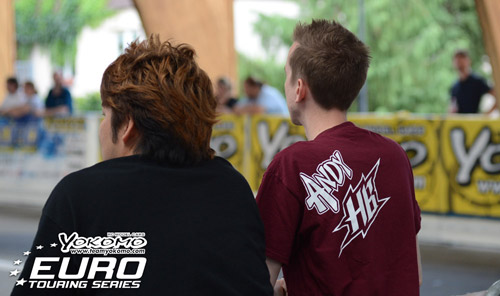 Starting third on the grid, Team HB's Andy Moore said the track layout is going to make overtaking in the finals difficult but his Hobbywing powered TCX has the pace to at least match Hagberg but added that if Prumper maintains his qualifying form through to tomorrow the teenager should easily cruise to victory.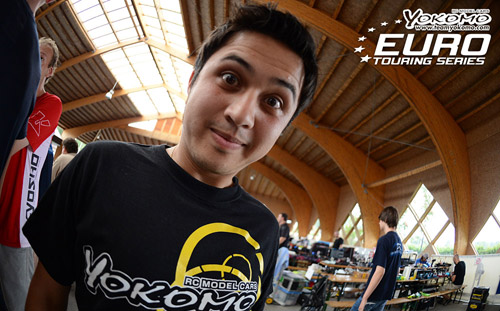 Lining up fourth on the grid defending champion Ronald Volker said he hopes his team-mate Prumper can pull off his first win with Yokomo and while he will be racing with his eye very much on championship points his goal is to try make it a 1-2 on the podium for the Japanese manufacturer. The other two title contenders Christopher Krapp and Marc Rheinard start 6th and 7th respectively with the two German's admitting they will have their work cut out for them tomorrow starting so far back on such a track. Rheinard added that even if there where good opportunities to pass on the track he doesn't feel he has good enough pace to work his way through the field quickly enough to be able to challenge even for a podium finish. The World Champion, who leads the points standings has been on the podium at every ETS encounter so far this season.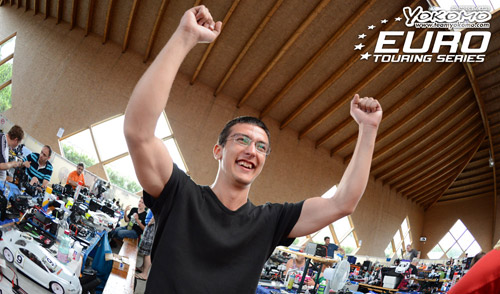 With factory Serpent driver Marc Fisher unfortunately having to cancel his trip to Austria following a fever that saw the German spend two days in hospital no one expected an S411 to top the time sheets at the season finale not least Mustafa Alp. Describing the result as the highlight of his 5-year involvement in the sport, the 19-year-old said he knows it was luck rather than speed that allowed him to take the round and it was a story that he was going to enjoying telling people about for many years to come. Only his second ever international electric touring car race having made his debut at Apeldoorn last month the TQ run will see him start pole in the B-Main his target for the weekend having been to make it on to the back of C-Main grid! Making the most of his 5-minutes of fame Alp said he wanted to use the opportunity to thank Serdar from Evil Hobby Shop and Team NCRC for the small but much appreciated support this season.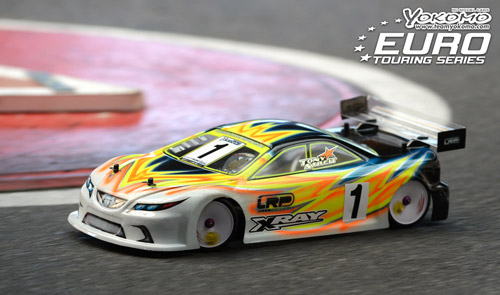 In the Xray Pro Stock class Apeldoorn Top Qualifier Tony Streit gave himself the perfect birthday present as he made it two in a row with a TQ run in Q4 securing him pole position for tomorrow's A-Main ahead of title contender Oliver Franke and out going champion Martin Hofer. Unable to convert his Dutch pole position into a maiden ETS victory, the 23 year old Xray driver said if the race starts are clean he is confident that he can get the job done as his T3 was perfect in the final qualifier after a set-up change gave much better overall traction. Although third in the standings Streit can not win the championship but a win tomorrow could lead to him helping Xray claim a 1-2 in the championship behind Zdenko Kunak who starts seventh on the grid. The only double winner in the ETS' largest class the Slovak driver need to finish 6th or higher to secure the Slovak manufacturer's first ETS championship title.
In the Speed Passion Formula class Austrian driver Martin Szunyogh took the TQ honours ahead of championship leader and fellow countryman Hebert Weber with Polish race winner Roman Pichler set to line up third on the grid.
Ride Modified A-Main Grid
1. Yannic Prümper (DE) – Yokmo/Thunder Power – 310 pts
2. Alexander Hagberg (SE) – Xray/ORCA – 305
3. Andy Moore (GB) – HB/Hobbywing – 303
4. Ronald Volker (DE) – Yokomo/LRP – 303
5. Vitkor Wilck (SE) – Tamiya/Thunder Power – 302
6. Christopher Krapp (DE) – Kyosho/Orion – 300
7. Marc Rheinard (DE) – Tamiya/Speed Passion – 300
8. Magnus Vässmar (SE) – Xray/Thunder Power – 297
9. Freddy Sudhoff (DE) – Awesomatix/LRP – 294
10.Martin Hudy (SK) – Xray/LRP – 294

​
Xray Pro-Stock A-Main Grid
1. Tony Streit (DE) – Xray – 310 pts
2. Oliver Franke (DE) – HB – 306
3. Martin Hofer (DE) – Schumacher – 305
4. Morten Iversen (DK) – Awesomatix – 305
5. Marek Cerny (CZ) – Yokomo – 304
6. Philipp Neudinger (AT) – Awesomatix – 303
7. Zdenko Kunak (SK) – Xray – 300
8. Dominic Vogl (AT) – Awesomatix – 299
9. Bernhard Bopp (DE) – HB – 296
10.Ivan Laptev (RU) – Awesomatix – 294

​
View the full event results
here
.
View our event gallery here.
More...