Discussion Starter
•
#1
•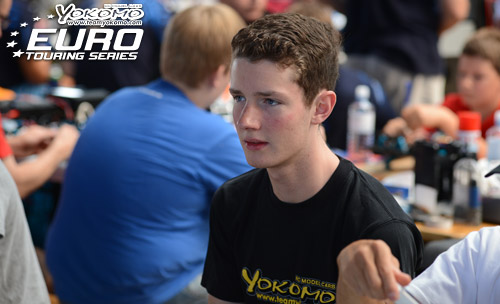 Top Qualifier Yannic Prumper took an easy and comfortable win in the opening A-Main at the season finale of the the 2011/12 Yokomo Euro Touring Series heading a Yokomo 1-2 in Austria with defending champion Ronald Volker finishing 2.6 seconds adrift of his younger team-mate. Following his blistering pace in qualifying, Prumper was always expected to control the 5-minute encounter but as if the German needed any help he was practically handed the race at the first turn as the very fast starting No.3 HB of Andy Moore made contact with the No.2 Xray of title contender Alexander Hagberg. This dropped the pair to the tail end of the field, both eventually pulling off to save tyres, and allowed the No.4 prototype BD5 of Volker up to second where he would run untroubled for the entire race.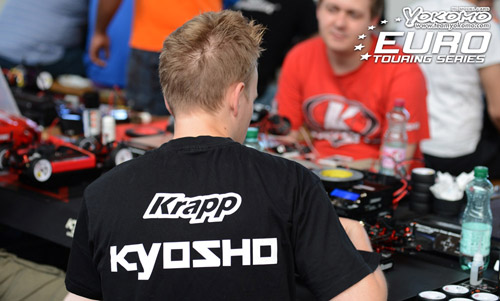 Starting from sixth Kyosho's Christopher Krapp completed the Top 3, the Gran Canaria winner & title contender seeing off an early challenge from current standings leader Marc Rheinard who finished just ahead of Tamiya team-mate Viktor Wilck.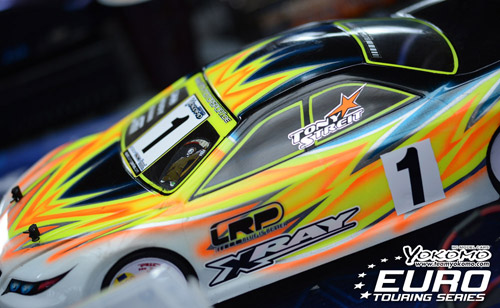 In the Xray Pro-Stock class, Tony Streit drove a faultless race from pole position to win by 1.5 seconds from the Schumacher of out going Champion Martin Hofer with local driver Philipp Neudinger completing the Top 3. For the two title contenders it was tough race. Starting from second on the grid Oliver Franke try a move on the Top Qualifier into the hairpin after the sweeper but the pair touched and Franke's spun resulting in him being swallowed up by the pack. A few laps later contact resulted in a body tuck on the HB after which the German pulled off to save his tyres. This looked to play into the hands of factory Xray driver and standings leader Zdenko Kunak as he moved up to 4th from a starting position of 7th. Chased by the faster No.10 Awesomatix of former race winner Ivan Laptev, the Russian made contact with the rear of the Slovak dropping him back to seventh. The pair would again come together in the closing laps of the race for which Kunak recieved a penalty that left him classified 9th.
Ride Modified A-Main Leg 1 Result
1.(1) Yannic Prümper (DE) – Yokmo/Hobbywing – 21/5:01.140
2.(4) Ronald Volker (DE) – Yokomo/LRP – 21/5:03.742
3.(6) Christopher Krapp (DE) – Kyosho/Orion – 21/5:05.975
4.(7) Marc Rheinard (DE) – Tamiya/Speed Passion – 21/5:07.217
5.(5) Vitkor Wilck (SE) – Tamiya/Thunder Power – 21/5:07.651
6.(10)Martin Hudy (SK) – Xray/LRP – 21/5:12.560
7.(9) Freddy Sudhoff (DE) – Awesomatix/LRP – 20/5:04.745
8.(8) Magnus Vässmar (SE) – Xray/Thunder Power – 6/1:24.758
9.(3) Andy Moore (GB) – HB/Hobbywing – 5/1:10.919
10.(2)Alexander Hagberg (SE) – Xray/ORCA – 3/0:36.146

​
Xray Pro-Stock A-Main Leg 1 Result
1.(1) Tony Streit (DE) – Xray – 20/5:11.989
2.(3) Martin Hofer (DE) – Schumacher – 20/5:13.490
3.(6) Philipp Neudinger (AT) – Awesomatix – 19/5:00.208
4.(8) Dominic Vogl (AT) – Awesomatix – 19/5:02.082
5.(5) Marek Cerny (CZ) – Yokomo – 19/5:02.418
6.(9) Bernhard Bopp (DE) – HB – 19/5:02.996
7.(4) Morten Iversen (DK) – Awesomatix – 19/5:08.427
8.(10)Ivan Laptev (RU) – Awesomatix – 19/5:12.858
9.(7) Zdenko Kunak (SK) – Xray – 19/5:13.466
10.(2) Oliver Franke (DE) – HB – 7/1:46.845

​
View the full event results
here
.
View our event gallery here.
More...