Discussion Starter
•
#1
•
"Pistachio" 1964 Impala with Far Out Flames
I've got more than enough of these little HW 1964 Impalas on hand but if anyone is looking for the casting it is back out on the pegs in a repaint.
On a scale of 1 - 10 in needing the necessary filing and sanding for cleanup, it's a 5.
The front edge of the Hood is horrible but a little filing and sanding and wrapping the front cap with Decals and she comes out nice and sharp.
I left the black interior in this one and the next one to show just how nice a clean white interior is.
This one is Primed and then the Roof is shot a special mixture of SnowWhite Pearl and a drop of Organic Green Intensifier, changing it intoa Minty Pearl Green.
The Roof is then lightly InterCoat Cleared, taped and the body is shot Shimrin White.
Custom fit Psychedelic Flames are applied,
Front and Rear Windshield trim is freehanded,
Tailights and rear badge is detailed,
Headlights are detailed,
Custom Cut Chrome Center Caps change ordinary HW rims into exact copies of a period correct '63 ThunderBird Rim.
Rivet Reassembly for that permanent clean professional look.
ClearCoated with House Of Kolor Urethane Enamel Clear and a dash of Brilliant Gold Pearl Powder!!!!!!!
All Products Used Are Exclusively House Of Kolor, Of Course!!!!!!!!!!!!!!
Decals are printed on Clear InkJet Decal Paper from Papilio.com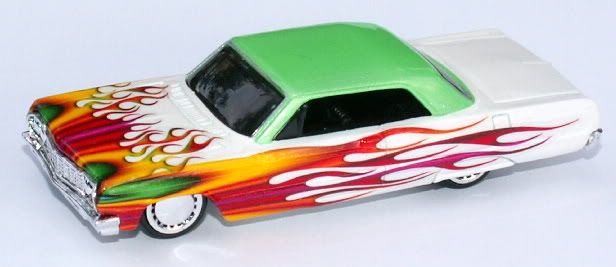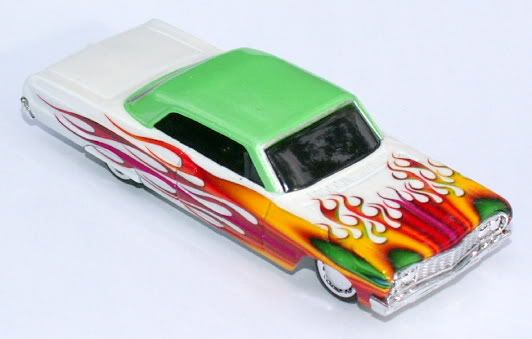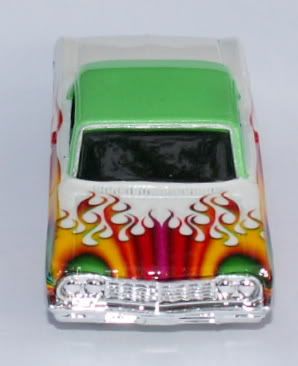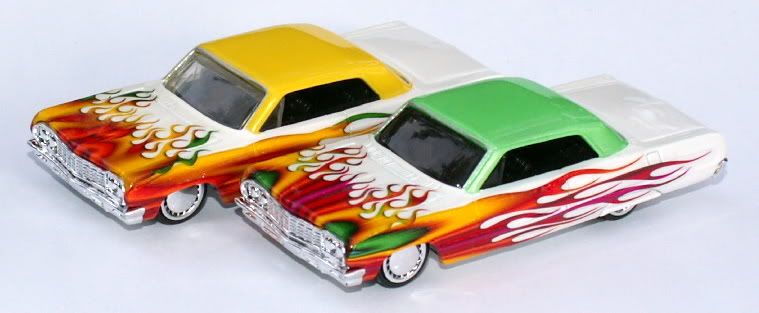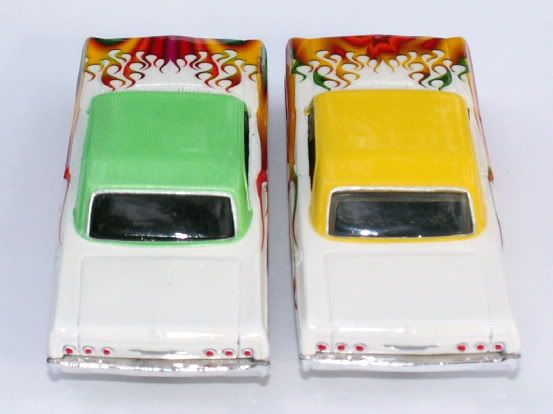 With 2 different Chevy Clubs coming to the 50th Annual Houston AutoRama I'm trying to finsh as many of these Impalas, Chevelles and Novas as I can.
--CadillacPat the UnCustomizer--
Keeping the ZING in CustomiZING!!!!!!!!!!!!!!!!!!!!!!!!!!!!!!!!!!!!!