Discussion Starter
·
#1
·
Ok gang...
Here is a picture comparision of 4 different copper Tjet pick up shoes.
Based on the picture below I will give the following description of the shoes.
Note! I did not become so anal as to break out my micrometers to measure width, length and thickness of the various shoes. (But that doesn't mean I won't...)
The Slottech shoe (top) is the new entry in the pick up shoe selection. Long contact patch, pronounced stock style step.
The BSRT shoe (second) seems to be thinner copper and has a very shallow step. The shallow step helps with lowered chassis.
The American Line shoe. Long time replacement for an Aurora shoe. Has squared off ends on rear hangar.
Aurora stock shoe.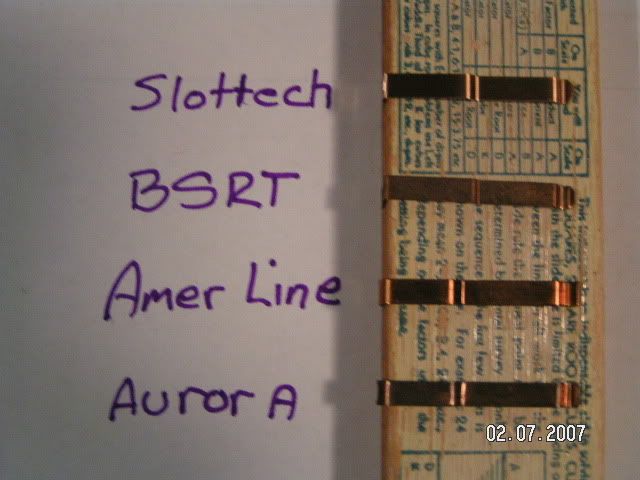 The next picture shoes the front of the shoe.
The Slottech shoe (top) has a narrower (?) and shorter opening on the front of the shoe to limit travel and side to side play.
BSRT shoe (2nd), copy of Aurora style
American Line shoe (3rd), copy of Aurora style
Aurora stock shoe (bottom)