Executive Replicas' The She-Creature Statue
HYPNOTISED! You will definitely be hypnotised by this stunning release from Executive Replicas. And yes, I plan on talking this one up.
The last thing I remember was lying back comfortably in the warm Executive Replicas' office..... counting backwards....... and I was getting very sleepy.......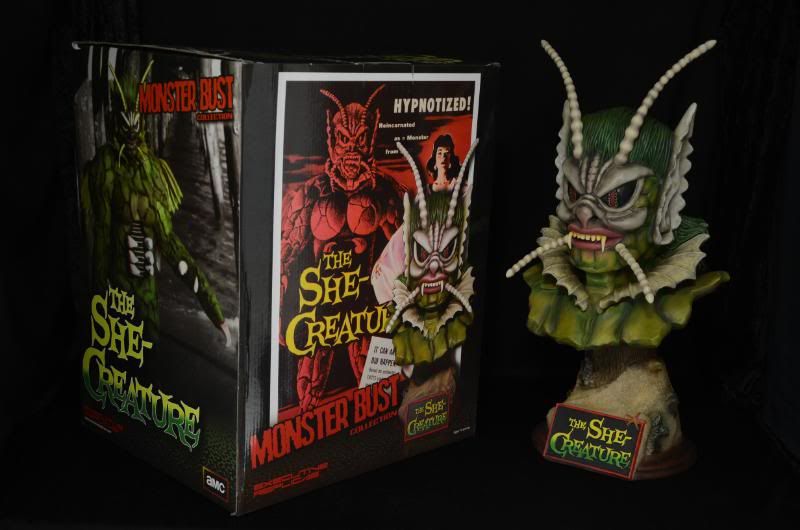 Behind the Scenes
According to Randy Palmer's article in Cinefantastique May 1990 (the one with the cool colour photo of the She-Creature on the front), Paul Blaisdell was signed up to design/build two new monsters for a couple of Sam Arkoff films. The movies were It Conquered the World and The She-Creature. Since both pictures were to be made together, Roger Corman could only direct one, so Edward L. Cahn was assigned to direct The She-Creature. Blaisdell accepted the challenge of doing both monsters and spent most of his time on the She-Creature as she was supposed to be mobile and would appear in close-ups in the movie.
After a period of negotiation and compromise, the She-Creature design was finally agreed upon and the dynamic duo (Paul and Jackie) began the task of building the suit out of long-johns, rubber cut into thick scale-like pieces, candles and latex, amongst other things.
This suit would have to be strong enough to enter and leave the water, so it was built to last. It lasted so well, that it was subsequently used again in Voodoo Woman (1957) and Ghost of Dragstrip Hollow (1959), with some modifications.
Interestingly, when Paul Blaisdell built the She-Creature suit and showed it to Cahn, Cahn decided to add his own touch. He sent her back for implants. Cahn wanted a SHE creature. Men!
I must have seen The She-Creature movie a dozen times over the past 10 years, mostly for glimpses of the She-Creature suit, but the story is OK too. I thought I'd watch it again recently. As soon as Dr Ted Erickson appeared, I'm thinking "Check out that high forehead. This guy would look more at home on Metaluna". As all the film buffs here know, Lance Fuller played the role of Erickson in The She-Creature and the role of Brack in This Island Earth. I can't believe I hadn't spotted that before. But then again, I usually fail to notice when my wife has her cut, too.........
Movie Poster
Based on authentic FACTS you've been reading about! Those advertising men certainly gave it their all.
Stills
Avon calling!
The 50s/60's were terrible when it came to "door to door" sellers. Beauty products, vacuum cleaners, encyclopaedia - you could buy it all. Here's Kathy Burns (left) and Jackie Blaisdell (right) telling the sales lady they aren't interested in whatever she is selling. The photo comes from Vincent Sassone on IMDb.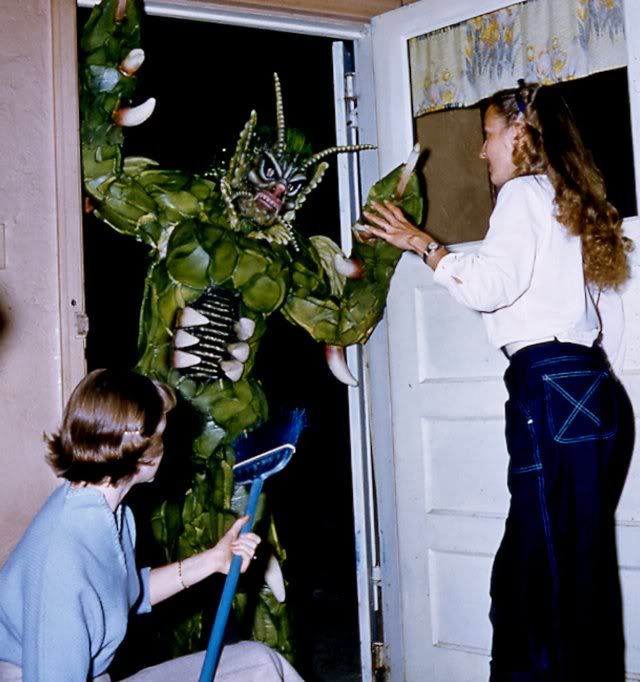 YouTube

The She-Creature painted statue


Limited Edtion of 200, individually numbered on the base (The Exec Rep website says 350 worldwide. Maybe that included the red variant which hasn't been produced?)

Starring
Sculptor: Steve West
Producer: Executive Replicas
Saucer-man mold master supplied by: Earthbound Studios
Saucer-man paint master by: Steve Riojas
Authorized and approved: American Movie Classics Company

Material: Resin
Scale: ¾ approximately
Size: H 19 1/4" x W 9" x D 11"
Parts: 7
Packaging box: Full colour glossy box with photos / art on 5 sides
Inclusions: Nil
Do I need anything else?: Yes, you will need some 5 minute epoxy to glue some of the parts in place
Executive Replicas Price: US$249.99+$20 S&H within the USA
Website: http://www.executivereplicas.com/shecreature.htm
Contact: Mark Brokaw at Earthbound Studios –

[email protected]