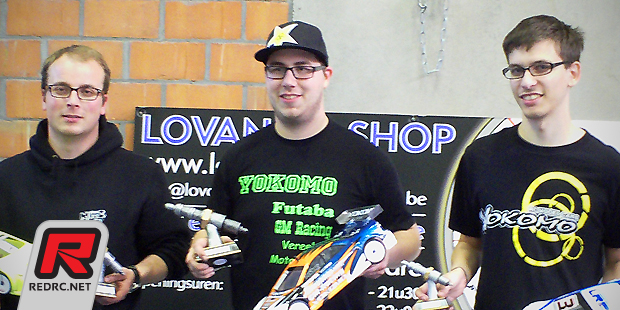 ​
Round two of the Belgian touring car nationals took place at indoor track of Lovanrc in the town of Zarren. The EFRA class was dominated by Thomas Stockman for the first two qualifiers but at the end it was Olivier Bultynck who took TQ followed by Thomas and Nick Joosens in third. The first A final saw a four minute battle for the win between Olivier and Thomas, who kept all spectators in suspense until Thomas made a small mistake giving Olivier the chance to pull away. Oliver was able to keep his pace and took the victory with Thomas came in second. Nick Joosens secured the third place.
For the second final Olivier Bultynck used a different setup for his Yokomo and was able to pull away from Thomas Stockman right from the start. Thomas made a mistake which let him drop to sixth place giving Nick Joosens the chance to pass. Olivier came in as the winner, Nick as second and Thomas was able to grab third place after a decent recovery.
In the third final Olivier opted for a DNS as he already secured himself the overall win after the second A final. This meant Thomas and Nick went to the battle for second place overall. The field saw a fifteen laps fight between the two with the better end for Thomas after Nick made a small mistake. Nick came in second and Rico Claeys took third place after a duel with Manuel Henriet.
Top 3 result
1. Olivier Bultynck – Yokomo
2. Thomas Stockman – Xray
3. Nick Joosens – Yokomo

​
Many thanks to Krist Bultynck for sending the report.
More...