Welcome to the Official Line Preview Ambassador Report. This replaces the usual monthly Ambassador reports I create which will return next month.
The 2008 Matchbox Line Preview was held on Thursday March 27th 2008 at the Design Center at Mattel in El Segundo, California. In attendance were 22 members of the collecting and Matchbox club community (including myself) along with the majority of the Matchbox team in some capacity. Some people only had a short journey (I believe the closest was 8 miles from the design center) and only myself had travelled from outside the USA. However, our story does not begin here.
After taking over the role of Matchbox Ambassador last July, I was asked by many members of the collecting community if I could arrange a line preview. Many months of badgering and Mattel relented. It was arranged that before the event on Thursday that a special meet and greet was to be held at Hennessey's bar in Hermosa Beach, CA. This was an informal affair and many members of the Matchbox team duly arrived along with a bunch of collectors all ready to talk about Matchbox. Sadly, Felix Holst and George Benz were unable to make the meet and greet due to work conflicts but the rest of the team and the many members of the collecting community shared a lovely evening of drink, food and chat.
So, after a good night sleep we all met up at the Design Center at 10am sharp(ish) on Thursday. Felix met us all at reception, and after signing in and receiving our name labels, we headed into the presentation room which had all been decked out with various Matchbox paraphernalia as well as a number of specially designed posters adorning the walls. These posters were fantastic, as they depicted models from the basic range, as well as the Line Preview logo that Michael Heralda had created especially for the event.
After a quick informal chat, and various scanning of the items on show, we sat down and Mattel began. Felix Holst started the proceedings by introducing the team, some of which we knew, but many were new faces. After the introductions, George Benz took over the reigns. He discussed at length the position that Matchbox is now in within the corporate umbrella of Mattel. 2007 has seen Matchbox sales rise by double digit percentages over 2006, which is an increase on the rise in sales of 2006 over 2005. This is clearly the highest brand increase within Mattel and the Matchbox team are very proud of their accomplishments. The Shark Ship Mega Rig is now the best selling Mega Rig that Matchbox have ever created. Retail space is now increasing in stores due to these phenomenal figures.
Finally, George and Felix spoke on how they wanted to give the factory workers ownership of the products they produce. They spoke on the elephant and what it means to people in Thailand. The elephant is now adorning the bases of the newest castings.
Steve Ziemniak then spoke on the basic range itself. For 2008 we have an increase in the basic range from 75 to 100 models in some markets, due to the retailers requesting more products. They are being released in 11 batches throughout the year, with new additions each month. The Matchbox team are striving to produce the best detail replication for the under $1 market.
We then moved onto licences. Matchbox is trying to garner many new licences, not just for the vehicles, but also for the liveries included on them. Pictures were shown of the some of the recent livery licences, like the Brazos County Sheriff Dodge Magnum and the El Segundo models. Of course they are always on the lookout for more exciting licences from around the world that they may be able to use on future models. One of the more important issues with this is that the licences can be used on models that they currently have in their database of castings, and that they are appealing to look at. The range does still need to attract the buyers. If people work for companies that they believe the company logo/livery would look good as a model in future Matchbox ranges, please let me know and I can pass on the information to the Matchbox team. However, this would need to be on a model that Matchbox currently does have a casting for. Of course this does not automatically mean approval for the licence, as for instance a police department desires that Matchbox make a model of their livery on a Matchbox car, the Matchbox team would also need to get approval from the town or city as well as the police department. This could take a matter of months, or it could take a few years. Each licence request is handled differently.
A small mention was made over the Alfa Romeo Giulia Sprint GTA, and how Alfa Romeo have now decided that only red or white models can be made as these were the only 2 factory authorised colors made at the time. 2008 was going to see a green example in the basic range, but Alfa Romeo declined it, and the model is now going to be white. The poster was about to go to the printers when this came through, and as such a quick change resulted in the model being covered up in the poster, and it's deletion from the Matchbox.com website. With such a limited color palette being used in real life on the Alfa, Matchbox are going to try and take more time in considering models to be included in future ranges, and try to take the factory colors into account when making decisions. As to the Alfa, there was talk that it may be slightly modified in the future to a different version (for instance the Alfa Romeo Sprint Junior is similar) which could open up avenues for a wider variety of colors. Although no official decision has been made yet.
The British International Motor Show takes place from Wednesday July 23 until Sunday August 3. At this event Lotus will be unveiling their brand new vehicle, which Matchbox have been privileged to have been able to work alongside with in creating a miniature of the new vehicle whilst Lotus were working on the full size version. As such, Matchbox will be in attendance at the event to pass out some promotional items. Of course the name of the new Lotus is still a mystery and will be unveiled at the event.
We were then shown a preview of the new Haunted House 360° playset. This features sounds and plenty of trap doors and revolving features, as there was one in the room shown off. It looks like a lot of fun. It also has a removable ghost. The set includes the debut of the updated MB746 1939 Chevy Van. This vehicle has been reconstructed from the original MB215 that was quite difficult to fix together. Although looking pretty similar, it has been re-tooled to make it easier to affix in the factory. One of the updates has been the base being updated and now featuring an elephant logo.
We then moved into a preview of the new Mega Rig that will be debuting later this year. The Shuttle Mission set comprises a space shuttle and UFO that, just like previous Mega Rigs, can be dismantled and re-assembled in different combinations. A separate Space Rover will also be available to help to create a whole space scenario. A set was on hand which was shown (and played with) to those in attendance. With plenty of moving features, lights/sounds and self propelling features this looks like it will be a huge hit.
We then moved onto the latest new range that Matchbox will shortly be launching in USA. They are called Matchbox Power Scouts and to begin with will consist of 6 castings. These are the Land Rover Defender, VW 4x4, Baja Bandit, Ridge Raider, Badlander and Desert Thunder V16. The names may sound familiar, but they are not simply the same castings with slight alterations. The new range are roughly 1/50 scale, and feature large wheels on a basic frame with the plastic body that snaps on top and working lights. With the aid of an AA battery they also roll too. These new vehicles are much easier than most to activate, as you simply press down on them to activate. By pressing down again they stop. There will also be accessories (like winches) that can be attached to the front of them. As well as these there will be a number of playsets launched alongside. The largest of the playsets (Skull Challenge) was set out on the table to demonstrate. The sets incorporate a monorail style system that the vehicles will roll along with a number of obstacles along the way. These obstacles will have 3 different setting that you can adjust to make them easy or harder to navigate.
Dave Weise was up next to talk on the premium die-cast ranges. He started off by discussing the Best Of.... series. A mention was made of a gentleman by the name of Ray Goudy, who is the person behind the artwork for the boxes on these models. Slides were then shown of the next batch of Best Of. We saw a black MB680 Dodge Magnum; tan MB609 Ford Mustang GT Concept with black hood stripes, red MB630 Chevy Corvette C6, white MB517 Dodge Viper GTSR with dual blue stripes, yellow MB663 Ford SVT Lightning and blue MB669 Ford Shelby Cobra Concept with dual white stripes for the Best of US Muscle. We also saw a lovely zamac plated MB587 Shelby Cobra 427S/C with 98 roundel, pale greeny-blue MB735 1968 Citroen DS, cream MB709 Chevy Van, white MB715 Alfa Romeo Giulia Sprint GTA and purple MB363 1962 VW Beetle for the Best of International range. Sadly there was no slide for the MB320 1957 Chevy Bel Air Convertible. Preproduction samples were on hand for us all to look at, and the talk was really over the fantastic looking zamac plated Shelby Cobra. With the 98 roundel and detailed lights this model really does look amazing. Production of these should be beginning soon and are currently slated for a fall release. Mention was also made of a third series of Best of British with other Best of ranges too for 2009. There will be a 3rd series next year.
Superfast was up next, and again preproduction examples were shown of the next batch that is due in June. The MB726 Audi R8 was silver, the MB715 1965 Alfa Romeo Giulia Sprint GTA was red, MB714 Lexus GS430 was black, MB138 Jaguar XK120 was pale blue with a 23 roundel, MB728 Mercedes Benz U300 Unimog was green, MB693 Ford Transit was blue with dual white hood stripes and a fishing logo on the sides, MB705 Honda Ridgeline was plum (a street tampo design in a similar vein to the first blue release – as many people have been asking for more street Ridgelines), MB731 Baja Bandit was bronze, MB706 Lotus Exige was yellow with dual stripes (one white and one gray) and finally the MB358 1955 Chevy Bel Air Hardtop was orange/white.
At this point I should remind everyone that these are preproduction samples, and are subject to change when production starts.
The Superfast series is selling well in Wal-Marts, and they are increasing the amount of stores that sell them. In fact Wal-mart have already requested more for next year. As some may be aware, 2009 is the 40th Anniversary of the Superfast range. A sneak peak was shown of the proposed special 40th Anniversary logo that Michael Heralda has been working on for the next year. We were also shown a prototype of the new Superfast 5-star wheel that will be debuting next year. An example was shown on a preproduction MB749 2008 Chevy Corvette ZR-1. The wheel design was proving another big hit with the collectors in attendance.
After this Gerardo Lopez showed us a detailed video of the engineering process a model needs to go through from beginning to end at the factory. The video was first shown at the 2008 Matchbox Gathering, but was previewed again for those that were not in attendance last year.
Michael Heralda and Jeremy Cox were up next. Michael Heralda is in charge of Graphic Design of the Matchbox vehicles, but introduced his new partner in crime, Jeremy Cox. With so many different liveries to work on at one time, it was felt that Michael really could do with some help, as he has [jokingly] won the award from Mattel the last few years for doing the most work. They previewed the pre-design process, working with the vehicle manufacturers in receiving an official color palette from each manufacturer, and then trying to match up as close as possible to the real colors that the vehicles come in. Discussion was brought up again over how Alfa Romeo have requested only red or white for the Alfa Romeo GTA, but with some of the vehicle manufacturers, if the range of colors is rather limited, they are able to come up with their own colors once the palette has been exhausted. However, for the most part, each release of a model is in an authorized factory color.
We were also shown a board that contains the full mixes for each batch of models. Part of their job is to try to ensure that a broad range of colors appears in each batch, and we don't end up with too many of a particular color appearing in one go. This is very important to try to show a nice range of colors across the pegs. You do need to factor in models from previous batches whilst working on these boards, as it is not simply a case of looking at the new issues, but working on the broader picture.
Michael then showed us a slide show of some of the pictures he takes while out and about of vehicles with logos that he likes the look of. These give him some of the ideas for the logos he comes up with himself for future models. He also discussed the problems with some logos. For instance it has recently been discovered that the National Highway Traffic Safety Administration (NHTSA) owns the rights to the "Star of life" (the six-pointed star with a snake) that adorns emergency medical units and personnel. The Star of life should not be used on anything that is not actually able to save a life. Although Matchbox were placing it on Ambulances as they appear on in real life, because the model cannot save a life, the NHTSA are not keen for it to be printed on the models. We were all amazed at some of the little stumbling points and roadblocks that Matchbox comes up against whilst working on models and liveries.
Ryu (don't call him Lewis) Asada from Matchbox design was up next. He is the guy who actually created the castings of the models in question. First of all he showed us a slide show of the process (shown at the Albuquerque convention last year) and then previewed a video that Dave Weise recorded of Ryu at work on the MB756 Toy Box Motor Home on the 3-D program he uses.
A small raffle took place where prizes included a 2008 Toy Fair MB734 VW T2 Bus, and a 2009 Pre-Toy Fair MB713 1965 Austin Mini Van which has not come out yet (we were shown a slide of what it will look like) which will be mailed out once the fair has concluded. We were also handed a special bag of goodies, including a 2008 US poster, bumper stickers, a 2008 catalog and a special limited edition 1 of 30 MB712 Desert Thunder V16 in gold that Michael Heralda had designed especially for the event.
We then were shown a few of the licenses that Mattel are hoping to obtain for use in the 2009 range. Unfortunately we are unable to pass this information on as most of these are still not confirmed or even applied for yet. But let me just tell you this; there were some real corkers they hope to create. 2009 is looking to be another fantastic year for Matchbox die-cast collectors.
A small question and answer followed and then we had a chance to spend some time looking at some of the preproduction items on show. A few items of note we saw were the new classic wheels which are almost ready for production. These consist of a small disk with a gap and an outside rim. We also saw work on the new wheel almost identical to the current Convoy wheel that is planned for some of the utility style vehicles. We also noticed that the MB741 VW Caddy does not feature the name on the base of the model. Although VW have agreed to packaging and artwork depicting it as such, they requested that the name of the vehicle not be added to the base of the model. The base simply states "Licensed by Volkswagen".
It was at this point that we were joined by a special guest. Bob Eckert, the CEO and Chairman of Mattel Inc personally came over to the Design Center from Mattel HQ to pay us a visit, pass on his praise of the work that the Matchbox team has done, and to sign various items of paraphernalia for some of those in attendance.
By this time it was mid-afternoon and so was about time to wrap things up. All that was left was for a little photo session. As photographic equipment is not allowed inside the design center, we adjourned outside to the parking lot, where the Matchbox Shuttle had conveniently parked waiting for us. The Matchbox shuttle is one of 2 that Mattel own to help shuttle people (staff and guests) back and forth between Mattel HQ and the Design and Research Center. The other shuttle is a Hot Wheels liveried shuttle with a rather simple design, whereas this one has been fully decked out with a dinosaur theme. Kids in particular seem to prefer this one over the other shuttle.
This first picture shows most of the collectors in attendance at the line preview, with the Matchbox Shuttle that travels between the HQ and Design & Research Center.
l-r Jason Meeker, Eva Gal, Steve Gal, Shabbir Malik, Dean Dierschow, David Tilley, Larry Scaduto, Jeff Koch, Brian Slater, Terry Ozima, Mark Nagel, Mickey Kosko, Chuck Wiersma, Jim Gallegos, Tom Larson, Dan Bush, Shaun Gallegos, Kimmo Sahakangas, Dave Lee.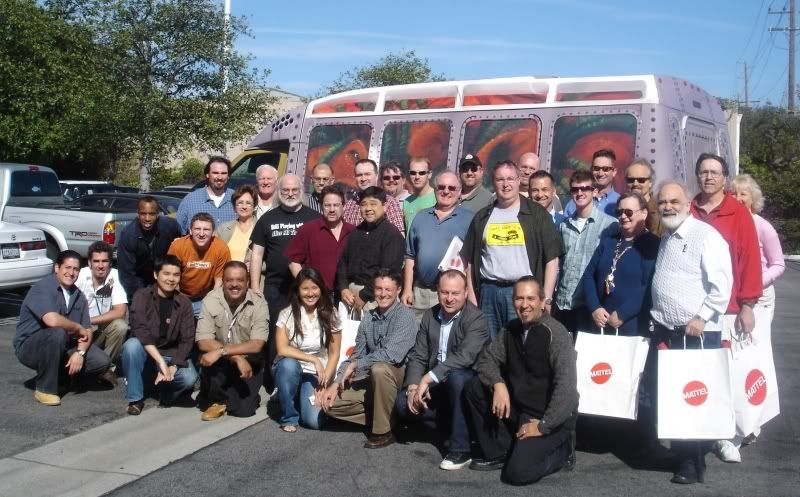 The second picture shows all the collectors in attendance this time, but have also been joined by members of the Matchbox team across the front.
(new additions - Matchbox team unless noted) l-r Gerardo Lopez, Jeremy Cox, Carey Lyn, Ryu Asada, Steve Ziemniak, Dave Weise, Samantha Lau, George Benz, Felix Holst, Michael Heralda, Charlotte Fitzgerald (collector), Robert Rowland (collector), Vicki Gallegos (collector).
We said our final goodbyes, thanked the team again for having us and headed off happy.
Particularly myself. Jim Gallegos had held on to my Toy Preview Desert Thunder for me until we got outside. Finally, I got my hands on it, and opened it up.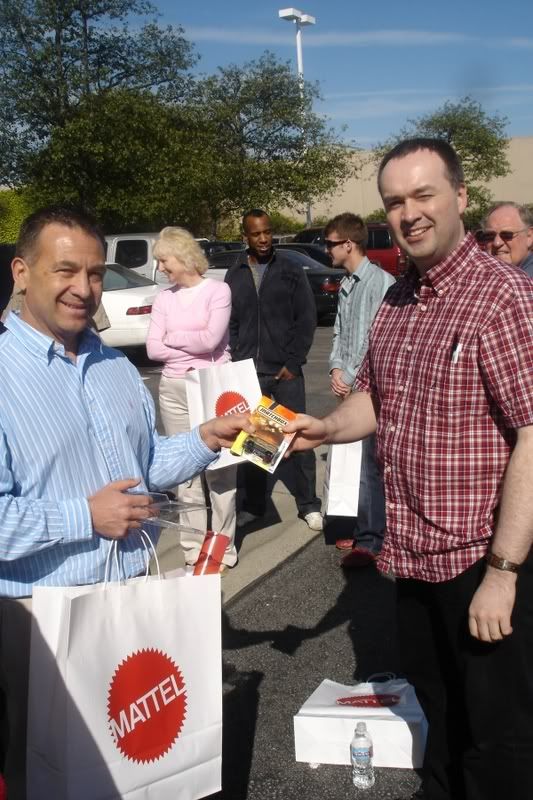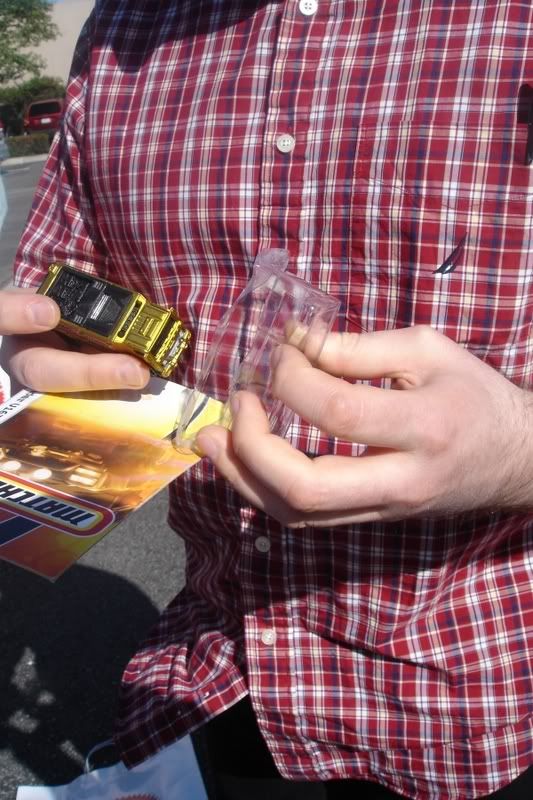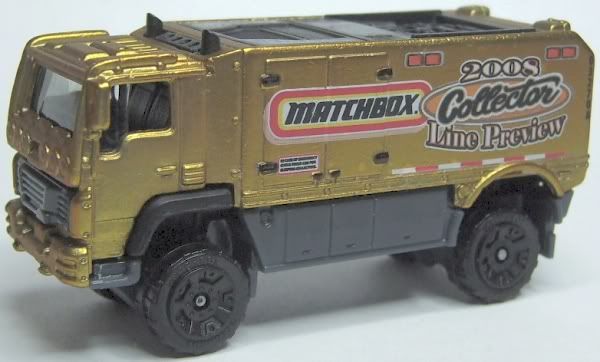 All in all a great trip. As a small addition, I was lucky enough to visit with Felix the following weekend. We had a great chat (intermixed with a strange lady from London who was astonished to find 2 people in Los Angeles with British accents) and I had a chance for a little trip in Felix' little baby.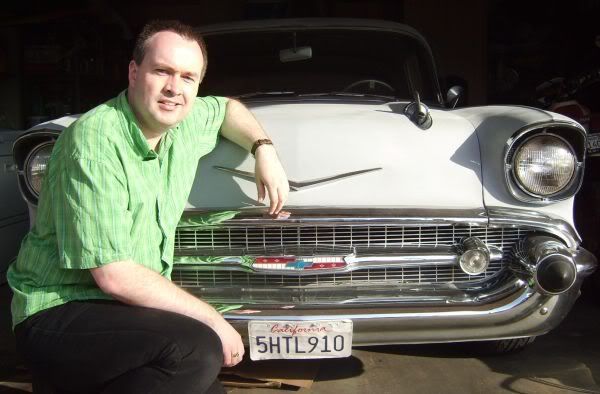 A 1957 Chevy Bel Air. This is actually one of his little babies (the other being the Hearse).
What a week.
Well, May sees me back to what you know best, a monthly Ambassador report. Until then....
Your Ambassador hic et nunc
David