Discussion Starter
·
#1
·
On Saturday, I decided to go to the annual Open House at the Wings of Freedom Aviation Museum in Horsham, PA, on the site of the former Willow Grove Naval Air Station. I'm glad I went! I learned a lot, met some great folks, and got to see a bunch of cool old military aircraft up close and personal. Here are just a few of the 90+ photos I took:
Pitcairn Super Mailwing. Not military, but this plane deserved to be shown because of it's history relative to the museum. It was a gift of the Pitcairn family. These planes were built at this site, in a building that's still there (Willow Grove N.A.S. was originally Pitcairn Field) Harold Pitcairn was the originator of the concept of rotary-wing aircraft, but his fixed-wing craft like the Mailwing, a favorite of Air Mail contractors, came first. Pitcairn's Autogiros, a predecessor to today's helicoptors using an unpowered rotor, were quite popular in the 1930's:
This is Harold Pitcairn's original wooden model of the modern helicopter/autogiro rotorhead. Dating back to the late 1920's, it is still the basis for the rotorheads used to this day:
Bell H13-G "Sioux". You remember these nimble and dependable early helecopters from M*A*S*H*: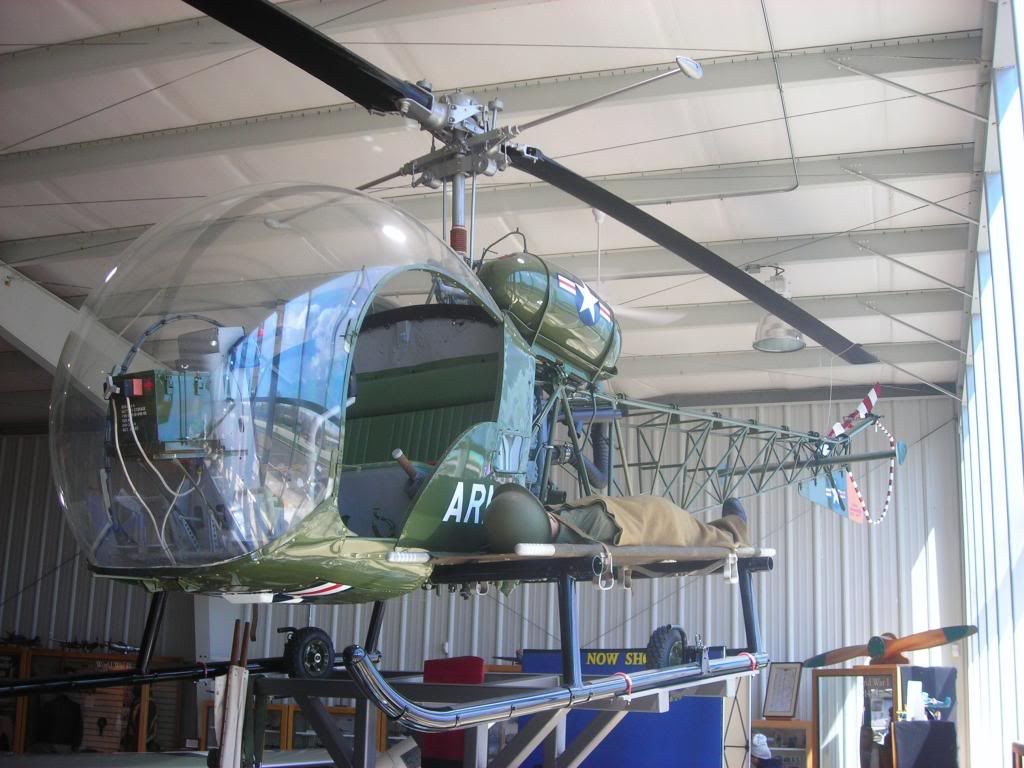 Gyrodyne QH-50C D.A.S.H. (Drone Anti-Submarine Helicopter). You thought drones were something new? This type goes all the way back to 1961! They were based on destroyers and other small ships for long-range submaring detection. In use through about 1980, most of these unique aircraft were destroyed as targets for missiles.
Convair YF-2Y "Sea Dart" Supersonic seaplane prototype. One of only 5 built, 4 remain. Proven to be an unsound concept due to salt spray being sucked into the jet engines.
Grumman F9F-2 "Panther". This was the main fighter/bomber used by U.S. forces in Korea. Combined, they amassed over 78,000 sorties. One Panther alone (not this one!) dropped over 400,000 lbs of bombs and fired more than 100,000 rounds of ammunition, wearing out 16 guns in the process! On top of all that, in my opinion it's just one great-looking warbird!
Bell UH-1V "Huey". The workhorse helicopter of the Army in Vietnam, used primarily for Air Cavalry insertion and extraction and air ambulance duty. A good friend of mine from work was a Huey pilot in Vietnam, and he told me that they would take all the abuse the enemy would throw at them. He had several of them shot up over his tour but never lost a one of them. Unfortunately, he did lose a soldier to a fluke bullet that came up through the floor of the aircraft:
North American FJ4-B "Fury Bravo". Most folks are more familiar with this plane by it's Army and Air Force designation of F-86 "Sabre". This is the Navy's carrier-based version of this versitile attack fighter/bomber. In service from 1956 through 1966, it saw much service in the early days of Vietnam:
If you're interested in more, here's a link to my Photobucket album of all the shots I took at the open house:
http://s1305.photobucket.com/user/C...3&page=1&_suid=139866448136706980801424656411
I haven't arranged them yet (I plan to do that soon... ), but I posted pics of the placards that go with all the planes so the info about them is there for you.