This one was a contest to see if I would finish it, or it would finish me first. I have a few cars that I originally planned on doing. But between problems with my airbrush clogging and a few other problems, I nearly hung it up. At this point, I am going to see if practice not only makes perfect, but makes it easier on my back and neck. So I'm going to push forward with the cars I took apart and sanded already for a couple of people...and take it as far as my current supply of paint allows.
This is for a friend of mine who also likes flames. I did it as an Easter present. I added some background for these first few pics.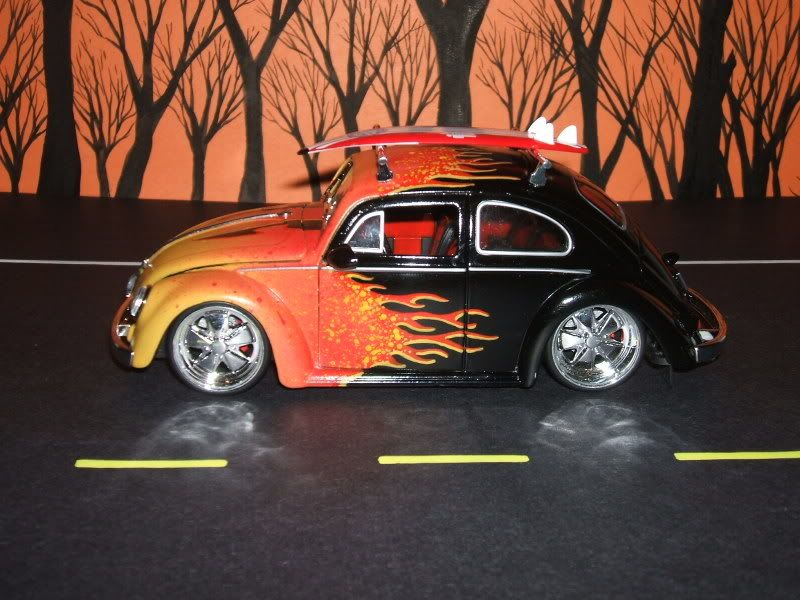 There are a few imperfections. The flame tails were painted by hand...and I didn't sand down the layer of paint where the airbrush ends and the hand painted stuff begins (what I believe John called feathering. I now understand the meaning of the term). So you can see a line if you look close between the paint applications. There's also some less than precise lines, especially where I tried to underscore the red flames with a bit of yellow. This was the most discouraging (for personal reasons) and most painful part when you have neck and back injuries. But I kept going back to it and bit by bit finished it off.
And here it is all boxed up and awaiting it's Easter recipient. But it seems I'm going to have to pull it back out and touch up those spots near the one side of the hood where it looks like the paint cracked or didn't cover right and black is showing through.