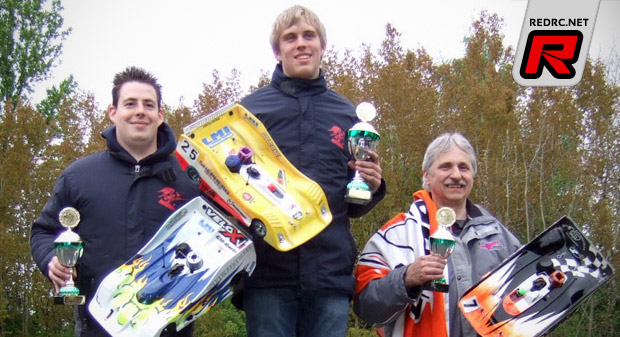 6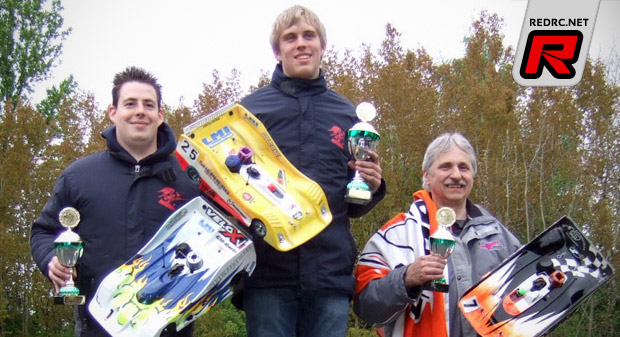 The first round of the North German Championship took place in Hamburg under perfect weather conditions with 35 racers in attendance. For Team Shepherd it was a great weekend with victories in the 1/8th scale expert class as well as in the 1/10th scale class. In the 1/8th scale class it was was a close fight between the 2011 Euro B finalists Lars Hoppe and Timo Schröder, both driving with a Shepherd Velox V8 "eleven". At the start of the final Hoppe's engine stalled and Schröder took over the lead. But lap by lap Hoppe closed the gap and took over the lead after some minutes. Unfortunately he suffered again some problems and dropped back to 5th position by the middle of the race. Again Hoppe caught up brilliantly but the gap to Schröder was too big this time. He managed to get back to second position and crossed the finishing line one lap behind Schröder who drove a flawless race.
1. Timo Schröder – Shepherd Velox V8
2. Lars Hoppe – Shepherd Velox V8
3. Friedrich Röhrs

​
In the 1/10th scale class it was new Shepherd driver Marcel Henriksen taking his first victory with his new Velox V10 "eleven". After winning his semi-final he also had no problems to claim the victory in the 30min main final two laps in front of Jan Moehlmann with Michael Pätz another lap down.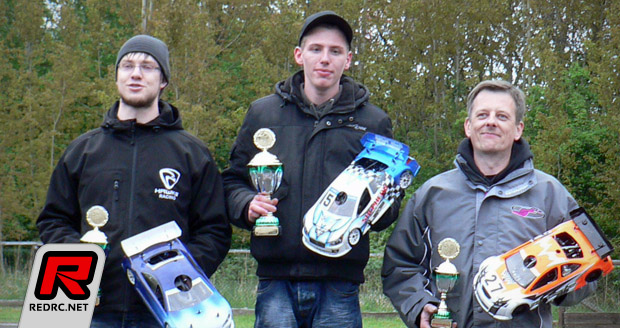 1. Marcel Herniksen – Shepherd Velox V10
2. Jan Moelhmann
3. Michael Pätz

​
Source: Shepherd [team-shepherd.com]
More...