Discussion Starter
·
#1
·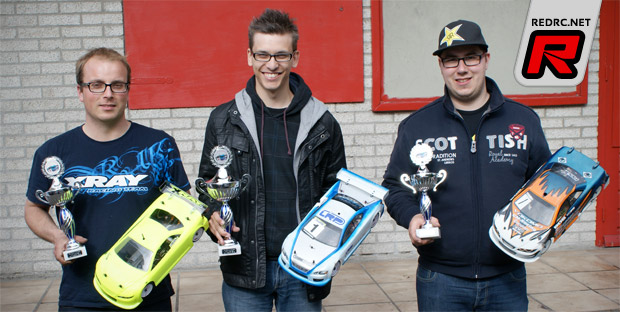 For the 5th round of the Belgian Electric Touring Championship they visited the track of the Baanbrekers in Rucphen in the south of Holland. The forecast for the weekend wasn't looking that good with rain predicted for Saturday and a little better on Sunday. As everyone arrived on the Sunday morning, they were surprised to see sunshine and an almost dry track. In the Efra class qualification it was Nick Joosens who took TQ in front of Olivier Bultynck and Thomas Stockman. It was very close and those three guys running very similar lap times. All the drivers had a good start in the first final. Nick took the lead followed by Olivier and Thomas. For fourth place there was a battle between Geoffrey Vekemans, Rico Claeys, Nick Logie, Patrick Jongenelis and Nicolas Delise. After almost three minutes Ollie's car had no more traction. The rear right driveshaft was broken. Nick cruised to the win and Thomas took second place with Patrick Jongenelis in third place.
In the second final Nick was showing his dominance at this track and pulled away from the start. Ollie tried to follow but made a mistake and lost 6 seconds. Thomas was second and secured his place. Ollie was fighting back from last and had a nice battle with Nick Logie for third. Nick took the win and Thomas was a lucky second. Ollie overtook Nick Logie and took the third place. Nick Joosens took the start in the third final and built out his lead lap after lap. Olivier could follow but could never put some pressure on Nick. Thomas did what he had to do and stayed third. It was Patrick Jongenelis who was the best from the rest and took fourth place. Nick finished first, Ollie second and Thomas third. Overall result saw Nick Joosens winner, Thomas Stockman second and Olivier Bultynck third.
Source: Swingman [google.com]
More...