Many of us are slowly adding this little BMW to our collections, and I am next in line. After spending some time with the real 1:1 at Road Atlanta this year, I knew this was my next Kyosho purchase. Thanks for looking at the pics...
From the KYOSHO 1:64 BMW collection comes the wonderful GTO classed BMW 3.0 CSL. This represents the first win for the newly formed BMW North American Motorsports. Bringing two "batmobile" 3.0 coupes to Sebring in March of '75, BMW had one goal in mind...overall victory in the IMSA sanctioned 12 Hours of Sebring. As a well known President might have said..."mission accomplished!"
Though listed with Peterson and Redman on the door (as was the real 1:1), Ronnie never drove that car that day, instead the race was run by Brian Redman (GB), Allan Moffat (AUS), Sam Posey (USA) and Hans-Joachim Stuck (D). Posey and Stuck jumped in helping share the driving duties after their entry was withdrawn due to an oil issue (leaving that car with a 39th place finish).
This car (chassis #2275984) also won at Laguna Seca (100 Miles II) and the Daytona Finale 250 both in 1975. This is one of the few 3.0 Coupes left with the group 4 body work (as shown here) and not updated to the more radical group 5 specs. The 3.0 designation is a bit confusing as I find references to both 3 litter and 3.5 litter cars campaigned, and though Kosho list this as a 3.5, the model replicated ran with a 3.0 (3000 cc) engine.
What a wonderful casting, thanks for the read and I hope you find one of these beauties for your own collection.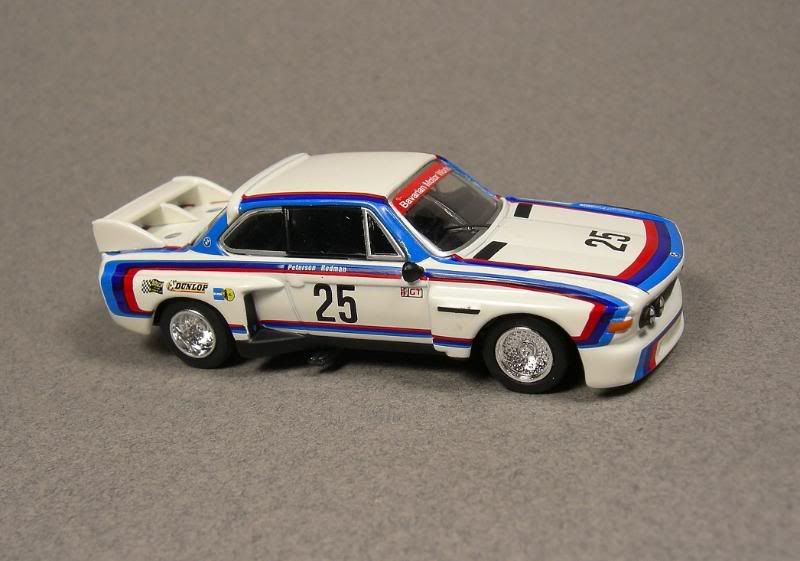 Real photo's of the car currently (snapped at this years ALMS PeTite Le Mans)
ORGIONAL CAR AT SEBRING! Photo by Fred Lewis (visit his site at
www.fredlewisphotos.com
)