What a crazy few weeks it's been around my part of the globe, but I did want to share a pure fun purchase I made recently.
Like most, my car buying habits are limited to the available funds to support them, so when you find that "one in a million" opportunity, you jump on it! That was my recent reaction when I noticed these three Porsche 917-10 Can Am racers on Ebay. I would like to thank each and every one of you for placing NO bids, as I won this set uncontested and delivered for just $30.00! And 30 bucks is a small price to pay for two cars that changed American motorsports forever.
While not always lured by the toyish look of Solido castings, my recent experience with this casting ( Verem Brumos 917-10) had made me a believer if the price was reasonable. So when I saw this three car set, I thought I would throw out a minimum bid and see what happened. What happened, is a GREAT addition to my collection, as one of these was a very nice STARTER model.
For those that do not know, I am fairly obsessed with Mark Donohue and the cars of his too short carrier. Mark was one of my first childhood heroes and that fascination has only increased through the years. I have 16 cars currently in my Donohue 1:43 collection and even though it was rough, the #6 would fit my growing family as an acceptable filler. At this point, the other two were not even on my radar, but being a Can Am fanatic, I knew the Follmer car was pretty rare to have in the correct livery.
1971 saw intense development with Porsche as they prepaired the current iteration of the famed 917 line for the North American Can Am series. While the few '71 appearances failed to threaten the stranglehold of the McLaren's, it was clear that the engineers were on to something quite special. Mark spent considerable time in Germany working to sort out the car for the upcoming season. In spring of 1972, Porsche shipped three of the 5 liter, twin turbo cars to Penske Racing for that year's campaign. The results were even more than hopped for! With approximately 880 horsepower on the ground, the 917-10 is often referred to as the first successful Turbo car in road racing history.
Mark en-rout to 2td, Laguna Seca 1971 (Image by Dave Leong from Racing Sports Cars.com)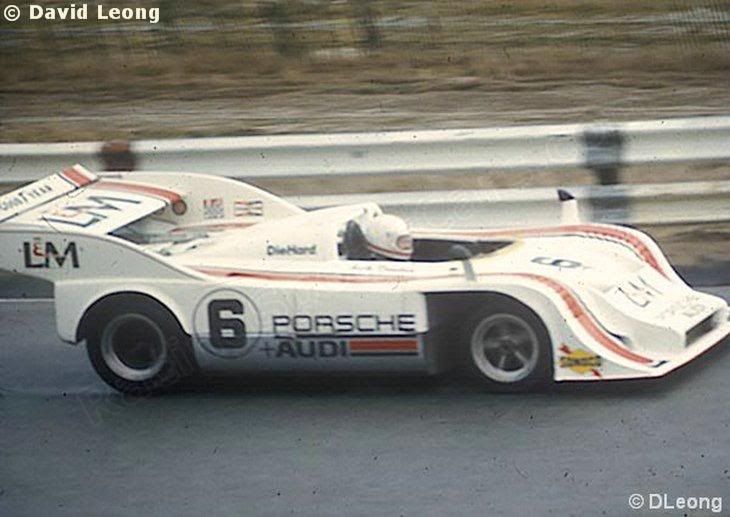 After a great start (finishing 2td) in the opening round at Mosport, Mark was injured in a brutal testing crash as he was preparing for round two at Road Atlanta. For those keeping count, that leaves us with just two cars in the Penske stables. Roger looked to George Follmer to fill the seat for the recovering Donohue and the rest as they say, is history. George went on the win the 1972 title with the returning Mark finishing 4th even after missing 5 of the 9 races.
Follmer in his last race and win of the 1972 season, Riverside California (image by Jean-David Decrevel from Racing Sports Cars.com)
In the course of the year, George drove the #6 (Mark's number) to three victories including his first time in the car at Atlanta. After Marks return, George was so deep in the championship battle, Penske made the decision to campaign both of the remaining cars. At this point, Follmer switched to running the #7 where he saw yet two more victories in route to the championship.
THE REPLICAS….
The set as they arrived…
An easy one to knock out is the unliveried Verem casting. While a rather crude presentation by todays standards, the car does hold its own for it's age. Based on the rough condition of the Donohue #6, I hope to find a nice set of decals to transform this blank into a nicer replica.
Marks #6….
Mark's Solido version is in a word…rough! This was the factory release by Solido (reference #1944...thanks Karl). But it was included in the set and I'm still glad to have it as the aforementioned shelf filler. I do like the Goodyear lettering on the plastic tires. If I am successful in finding new #6 L&M decals, I will transfer these to the other casting.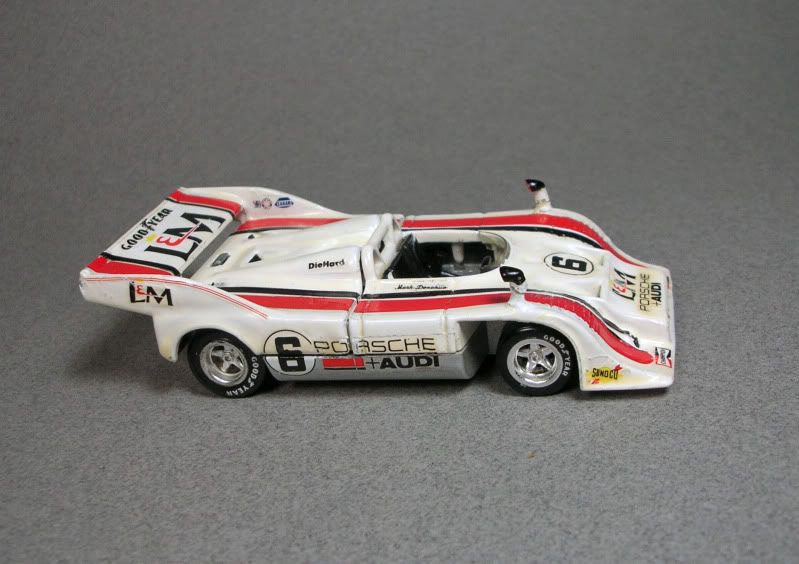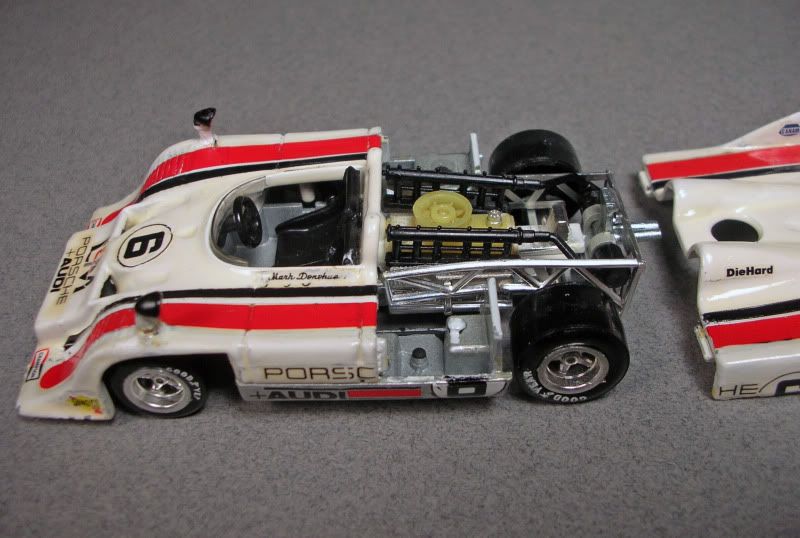 George Follmer's #7 Replica by Starter….
Oh, how this car makes me happy! I've no idea if this is a self-produced kit or was factory built, as again, I could find no definitive record for a factory release. George ran the #7 twice to overall victories in closing out his season (Laguna Seca and Riverside). I think this model is very well appointed and has held up very well for it's age. Again, I do hope one of you can offer some insight on this Starter release. I wonder if this was ever offered as a factory built model of only sold in kit form. Either way, someone did a nice job!
After the 1972 season, Roger Penske sold #003 (George's car) to Rinzelr Racing where it became the #16 RC Cola Can Am special. George stayed with the car and finished second in the 1973 Can AM behind Marks 917-30 Panzer. As I mentioned earlier, these cars all but killed the once thriving Can Am. From this point on, we began to see motorsports being reigned in all across North America. And after the unrestricted 917-30 hot rod, the game was truly changed!
One last note is the upcoming auction of this car (Chassis #003) at the US based Mecum auctions this August at Monterey. If you have a few free moments, the video and prepared booklet is outstanding. I will be watching with great sorrow that I'm not invited to the party!
http://www.mecum.com/auctions/lot_detail.cfm?LOT_ID=CA0812-135064
Gooding & Company recently sold a 917-30 with NO racing history for 4.4 million dollars, so I can only imagine what this car will do. This might be one of the rarest sports racers on the planet.
As always, thanks for staying with me. It's a long read and a lot of photos for a few cheap cars, but they do make me smile!
Ward