While I was updating my 1:64 Le Mans collections, I realized I had gathered several nice castings by the French maker Norev. I thought it would be fun to group them together and see what Norev cars you guys could add.
These castings have no scale marked on them, but I see them often marketed as 1:64. According the companies web site, they do produce cars in 1:64 scale, but also 1:50. While I did not see any of these listed on the site, I would guess they were somewhere in between, around 1:55 to 1:60 (though I know they are not). But at any rate, they still fit that wonderful, universal description of, "approximately 3" long"!
Being an endurance racing collector, these are truly some of my favorite purchases in the last year. And I owe a shout out to one of our guys for helping me get the 3 car set from the 2008 Le Mans. Hope you like.
Ward
First a GAGGLE of Peugeot 908 HDi FAP Prototype LMP1 race cars!
These are....
#7 Chassis #05, 2td at 2008 Le Mans
#8 Chassis #03, 5th at 2008 Le Mans
#9 Chassis #04, 3td at 2008 Le Mans
#9 Chassis #03, 1st at 2009 Le Mans
#1 Chassis #09, DNF at 2010 Le Mans
#4 Chassis #04, DNF at 2010 Le Mans
Close up of the 2009 Winning 908!
#007 Aston-Martin DBR1-2, chassis #B0960-HU02, 4th at 2009 Le Mans
#008 Aston-Martin DBR1-2, chassis #B0960-HU03S , DNF at 2010 Le Mans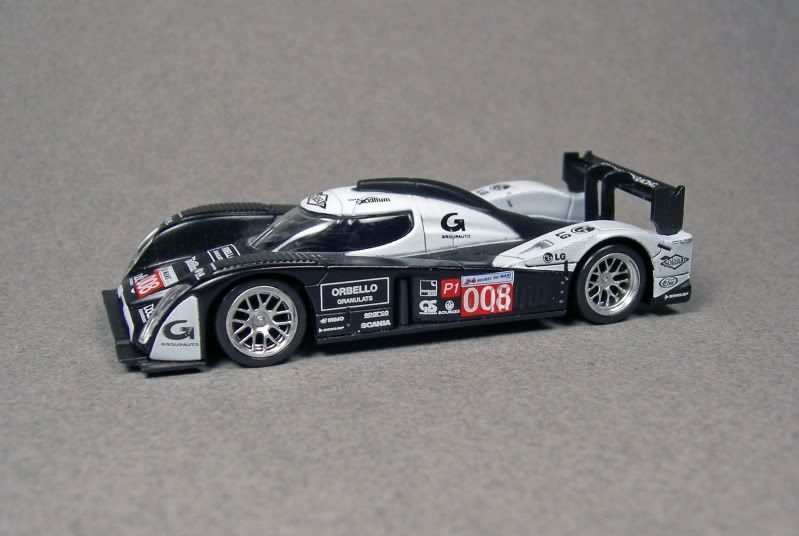 #52 Aston Martin DBR9 GT1, chassis #106, 22td at 2010 Le Mans, 3td in LMGT1 class