·
Lifetime Monster Modeler
Jerseyfest 2012 was AMAZING!
Major kudos go to Dave Tomarchio and his team to put all of this together!
I attended the airbrush class taught by Steve Parke, Rick Cantu, Jim Capone, and Saul Alvarez!
A 55" LCD TV was used to show everyone the close-up steps that were being discussed. Top notch planning was done to not miss a thing!
The morning started out with two demos/lectures by Steve and Rick. The techniques they both used were incredible. Steve worked with a 1:1 bust of Christopher Lee Dracula and Rick worked with a 1:1 wallhanger bust of the Alien creature. Things got started just after 10:00am and by the time they both finished up...it was already after 1:00pm. Time flew by really fast. Lots of note taking and learning.
By 1:30pm, we started the hands-on airbrushing class with Saul Alvarez assisted by Jim Capone. Saul would give us step by step instructions starting out by getting airbrush set-up / air pressure/ paints/ cleaner...etc.
Then he would walk us through the process. There were about 35 attendees doing the same kit at the same time.
Here are a few pics of my Curse of the Werewolf "wallhanger" kit by Black Heart Enterprises
http://www.blackheartmodels.com/
in order of steps...
This was what we started with...already primered in black.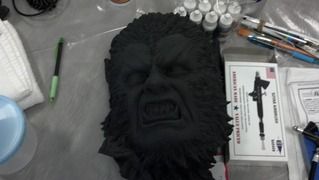 Then we began to apply the pale flesh base coat:
Then some depth was added by airbrushing brown into the recesses of the skin, eyes, mouth areas:
Then some red was added to the eyes and gum line in the mouth with pastels, oil washes, and hand painting ...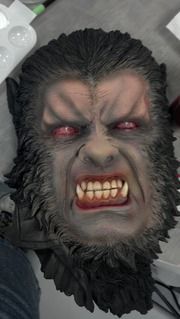 Then we worked on the eyes...absolutely incredible techniques were learned...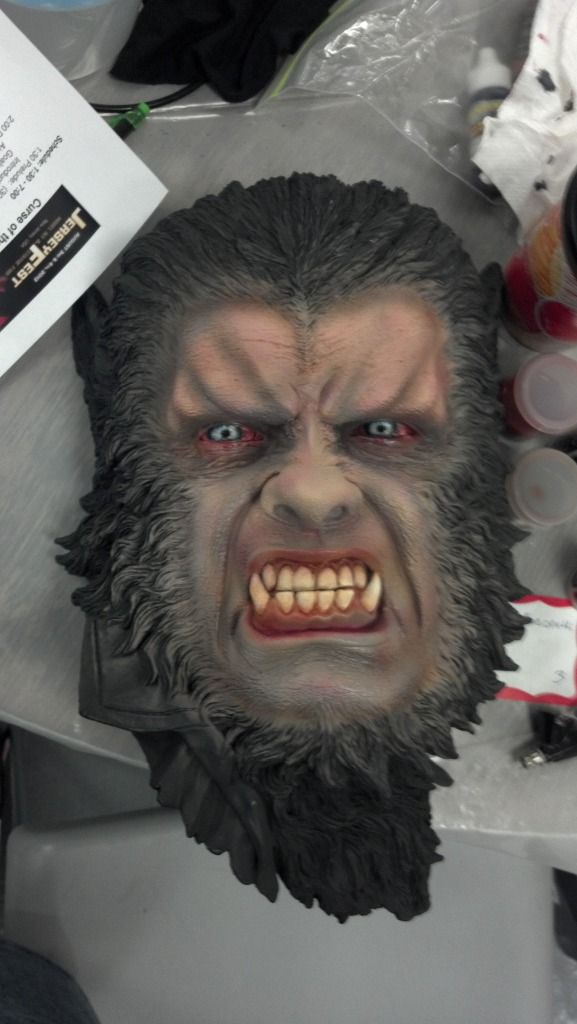 Here is a quick shot of the kit about 90% done (flash washed out the pic. The fleshtones are more like the pic above...lighting was poor in the hotel room) ...shirt not finished, hair still needs some details and blood not applied yet to the mouth...we ran out of time in the class to finish: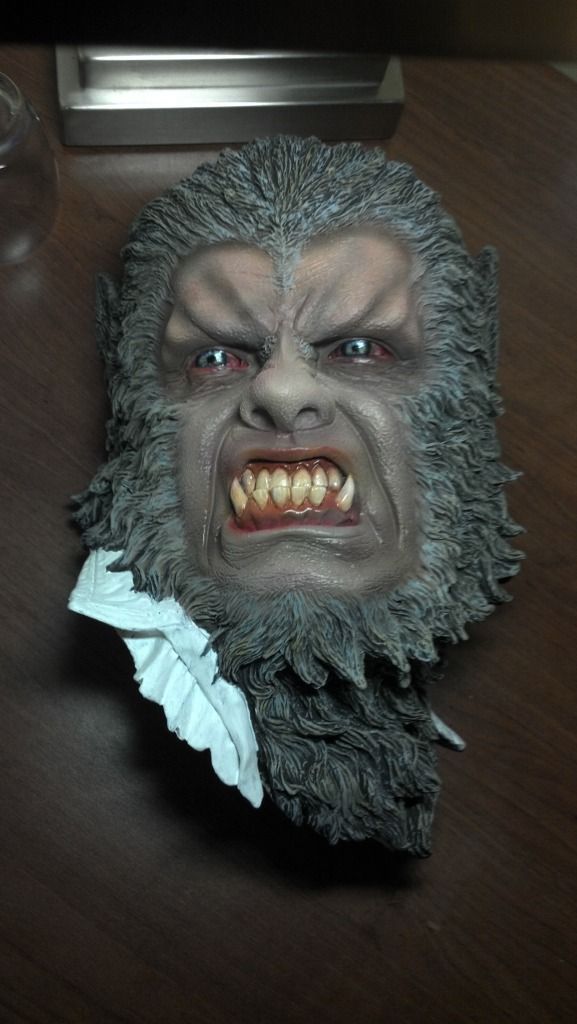 All comments and constructive critisizms are welcome!
MMM