Discussion Starter
·
#1
·
I came across this Automobile magazine today and found one of the best auto articles I've read in a long, long time... 2010 Mustang GT vs. 2010 Camaro SS... I took some pics from the mag the best I could, so check it out !!!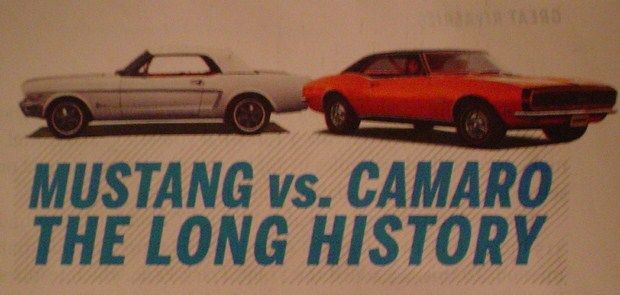 By David Zenlea
The Mustang / Camaro rivalry is about as subtle as the cars themselves. What's not to like about America's big volume, blue collar brands slugging it out with affordable V-8 muscle ? It all started in 1964, when the Mustang, a brainchild of Ford general manager Lee Iacocca, scored a record breaking 418,812 first year sales and caught Chevrolet decidedly off guard. Chevy had primarly counted on it's Corvair and Nova to hold the line aginst the newcomming Mustang, but they were no match for the Mustang's sex appeal and V-8 performance.
Chevrolet's answer, the Camaro arrived for 1967 and aimed squarley at the Mustang, but with a personality all it's own. Where the Mustang came off pretty and eligant, the Camaro looked to be spoiling for a fight. It was behind those blacked out headlights lurked as many as 396 cubic inches of V-8 power.
With their warriors cast, Ford and Chevrolet launched a fierce pony car war. The most heated battles took place on tracks across America, where Parnelli Jones's Boss 302 Mustang traded paint with Mark Donahue's Z/28 Camaro.
Meanwhile, street racers craved - and got - even more power.
In 1969 an enthusiast could order either a 427 cubic inch V-8 in a Camaro or 429 cubic inches in the aptly named Boss 429 Mustang. It was no doubt a golden age.
What distinguishes this rivalry from other great muscle car stories, though, is that it didn't end with the oil shortages of the 1970s. Although their performance declined, both carssurvived, and when horsepower recovered in the 1980s and 90s, these pony cars went at it again. The Camaro bristled with fuel injected Corvette engines, Ford fired back with ever more brutal SVT Cobras. By the dawn of the new millennium, versions of each car left the factory with more than 300 hp.
And then, just like that, the game ended. In 2002, the Camaro left the field. Declining sales had convinced GM executives that Americans no longer wanted coupes. But as in 1964, the Mustang threw egg in their faces. The redesigned 2005 model racked up 160,412 sales, spurring Chevrolet back into action.
So here we are once more, trying to decide which pony car accelerates faster, handles better, and has a more tasteful interior and style. One could argue that both companies have more important concerns than winning a performance car grudge match. Their combined market share is two thirds of what it was in the 1960s, and then there's the matter of rising fuel economy standards. But in this uncertian new world, we're glad that we can at least cling to a simple rivalry, one all about the sound of V-8s in full fury and the smell of burning rubber.
My JLs help me keep the rivalery going !!!