Hi there
I posted a bit on the general die cast collecting page about me picking up the Pixar movie car and BMW motor bike model. I also picked up the Motormax dragster motor bike, It was in the set of motor bikes I picked up. I am posting it here because it needs a bit of work on the customizing front to make it better. I am posting a picture of it as it stands now. I still need a few parts to make it at least look now like a proper dragerster motorcycle. The bike itself basicly uses the Kawasaki Ninja 250 sports bike frame set. The forks are made in a way to increase the angle of the front wheel.
Without getting into too much cutting into the frame of the bike, the simplest change to make it look more like a proper drag bike is to remove the rear wheel and replace with a rear wheel from one of the Motormax Iron Chopper series of chopper bikes. That rear wheel has a far better look for the dragster motorcycle. The other change would be to build up a rear wheelie assembly to be added to the rear of the bike. This will make the bike look much better then it looks now.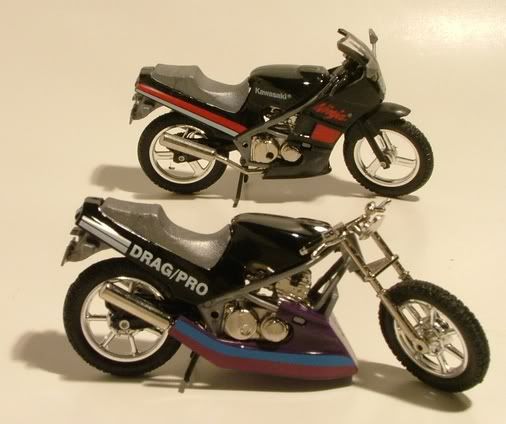 The out of box dragster bike next to the Kawasaki Ninja 250 sports bike model.