Discussion Starter
•
#1
•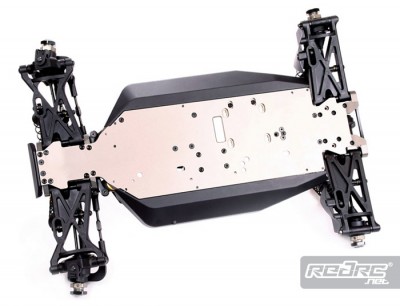 ​
Having shown us some
CAD images and photos
of pre production parts, Team Durango have now released more photos of their pre production prototype DNX408 1/8th scale buggy. Along with the photos they have also released the car's feature list together with the public buying price, which they expect to be US$699 or 457 Euros or 417 UK pounds, minus sales taxes. Not a bad price considering the spec of the car out-of-the-box, which features alloy suspension holders, alloy bulkheads, 5mm shock towers and a 5mm chassis all of which are hard anodised, plus black/gold alloy CNC machined engine mount and a lightened transmission.
Some of the standard features of the DNX408 only from Team Durango
- 5mm thick hard anodised chassis & one of the narrowest, if not the narrowest on the market
- Hard anodised alloy bulkheads front & rear (colour shown is pre-production; production will be hard anodised)
- Gearbox cases front & rear are moulded & separate from the load bearing bulkheads; this gives minimal flex, best bearing alignment, best dirt shielding & easy removal of whole diff & CVD, just like the DEX410
- 15mm bore alloy shocks, PTFE coated ultra smooth & threaded. Alloy caps, alloy cartridge bottom & polished shock shafts; shocks are everything, so these are quality throughout
- 5mm hard anodised shock towers front & rear, as standard
- Forward mounted engine (20mm further forward than some leading race buggies) this gives ideal weight distribution & room for everything to be mounted as low as possible. The RX pack goes under the rear CVD, which is another Team Durango first
- One piece CNC machined engine mount with gold anodised memory plate is standard in the kit & is designed for maximum engine performance & easy maintenance with a marked-up chassis for easier engine alignment
- Rear of the car has maximum ground clearance for smoothest landings so you can get the power down faster
- Radio tray is mounted into the chassis to get centre of gravity as low as possible, but still only 5 screws to slide it out for easy maintenance
- Lowest possible centre of gravity the servos and RX battery are laid down & mounted into the chassis. Engine & tank are also mounted as low as possible
- Top quality, hard anodised suspension holders as standard front & rear with full range of precision moulded inserts for geometry changes
- Angled down stop screws ensure maximum solidity & consistency, without adding weight
- Lightened transmission parts are used throughout as standard
- In board & out board CVD joints front & rear protected with rubber CVD boots
- Centre mounted fuel tank inlet for easy access in any pit lane, with dirt guard as standard
- Super low body to ensure maximum flow over the adjustable rear wing, while the rear wing sits low to again minimise CofG, while oversized end plates (ROAR legal) ensure stability & protect the engine head in crashes
- We have built & tested all the leading cars & our plastics fit, finish & durability is second to none & better than many
- Body, air filter, cultch, once piece CNC engine mount & wheels all included in the kit
​
Source: Durango [team-durango.com]
</img>
</img>
More...