Discussion Starter
•
#1
•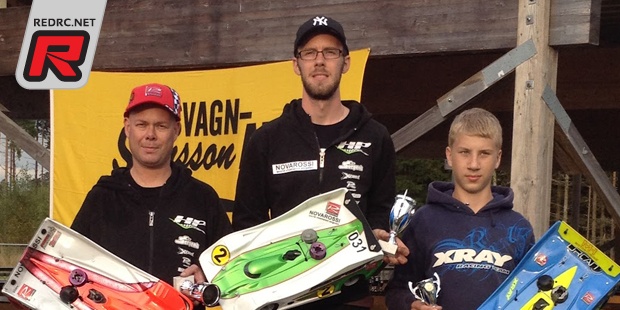 ​
The 6th round of the Swedish 1/8th on-road Cup took place at the fairly new track in Lidköping in the Western part of Sweden. The track was build a couple of years ago but up until now no rational races have been run at the challenging track that is located in the middle of a motor racing area. The track itself is a challenging combination of fast sweepers and slow corners and very narrow at times. Due to a bad weather forecast it was decided to cut the schedule to a one day event with fast qualifying rounds that were lead by Niklas Johansson in front of Marcus Lindner and Christofer Hedlung.
Qualifying result
Niklas Johansson – 23R 7:16.450
Marcus Lindner – 22R 7:05.016
Christofer Hedlund – 22R 7:10.562
Magnus Bengtsson – 22R 7:15.001

​
With only 60 minutes between the last qualifier and the start of the finals the pilots had a busy time preparing their cars and to decide on tyre strategy. The A final saw Marcus taking the lead from Niklas who had to start from 11th place due to a time out just before the start. After being caught out by the green stuff beside the track Marcus dropped to 3rd place some 10 minutes into the race with Niklas working his way up the list. With 25 minutes to go it started to rain and many drivers changed to wet tyres with others trying to gamble and staying out on dry tyres. Niklas and Marcus tried to keep their dry tyres on and pulled away from the field. Midway through the final Niklas got issues with a broken drive shaft and Marcus could take the lead. The leader now was able to control and finish the race with two laps ahead of his closed rival Bengt Andersson. Third on the podium was Karl Ullenius.
Result
1. Marcus Lindner – 131R 45:14.216
2. Bengt Andersson – 129R 45:03.166
3. Karl Ullenius – 128R 45:13.536
4. Magnus Bengtsson – 126R 45:18.673
5. Jan Nilsson – 122R 45:35.686
6. PH Persson – 114R 45:02.133
7. Michael Hahne – 114R 45:13.260
8. Niklas Johansson – 107R 36:25.715
9. Christofer Hedlund – 24R 7:57.836
10. Johan Bornetjarn – 17R 6:20.690
11. Sören Olander – 0R 0:00.000

​
Source: Serpent [serpent.com]
More...